A Fortuitous Connection
Vice President Kamala Harris's Mother and Her NIH Collaborations
Vice President Kamala Harris was raised in a family in which science was interwoven with everyday life. After all, her mother, Shyamala Gopalan (professionally known as Gopalan Shyamala), chose to make NIH a vital part of her remarkable career as a breast-cancer researcher. "NIH was such a huge part of my youth," said Harris. She and her husband, Second Gentleman Douglas Emhoff, were visiting NIH on January 26, 2021, to receive their second doses of the Moderna COVID-19 vaccine.
The NIH connection began in 1987 during a hilly bus ride in Colorado: Two scientists struck up a spirited conversation as the Rocky Mountains faded away through the bus's rear window. The pair had attended a scientific conference in Keystone, Colorado, and were headed to Stapleton International Airport in Denver. Stephen Ullrich would return to his lab at the National Cancer Institute (NCI) in Bethesda, Maryland, and Gopalan to Lady Davis Institute for Medical Research (Montreal, Canada). Their dialogue did not end there—the auspicious meeting catalyzed a collaboration that would give rise to new paths of discovery, many of which are still being explored today.
Ullrich was a senior staff fellow in Ettore Appella's group in the Laboratory of Cell Biology at NCI. His lab focused on tumor immunology and was working on identifying antigens that could inhibit tumor growth in mice. In the process they discovered that mammals had two isoforms of the heat shock protein (HSP)—HSP90-alpha and HSP90-beta. Initially observed in the cells of fruit flies (Drosophila melanogaster) responding to heat-induced stress, HSP90 had never been identified in mammals before. It was just becoming clear that HSPs played key roles in cellular machinery and were synthesized in response to a variety of stressors beyond heat including infection and malignancy. While serving a protective and quality-control function in normal cells, HSPs also appeared to play a role in facilitating pathology, such as in tumor growth. To test exactly how HSP activity changed when faced with disease, scientists first needed a biological model: Appella's lab had cloned the first mammalian HSP90 to be used for answering questions about the newly discovered protein. And they had developed the antibodies and DNA probes used to detect it.
Meanwhile, Gopalan was already a pioneer in the field of breast-cancer research. Born in Chennai (also known as Madras), India, she came to the United States and earned her Ph.D in nutrition and endocrinology from the University of California at Berkeley (Berkeley, California) at age 25. Her talent as a researcher took her to universities around the world, building relationships along the way. She became a leader in the study of progesterone receptors in both normal tissues and breast cancer, and was intrigued by the role that HSPs might play in tumor development. After the Keystone conference, Ullrich sensed the possibilities of a joint effort and invited her to partner with NIH. "She was a generous collaborator and positive person, a kindred spirit and down to earth," he recalled. "She had a great sense of humor and liked to laugh at life's absurdities."
Gopalan's group in Montreal began collaborating with Ullrich and the Appella lab in 1987, and they produced two publications with lasting impact. Using NCI's antibodies and DNA probes, they were the first to show that both isoforms of HSP90 were regulated by estradiol in mouse uterine tissue (HSP90-alpha showed a significantly stronger response). This inaugural study established an important link between hormone modulation and a protein that could potentially be augmenting tumor growth (Mol Cell Biol 9:3567–3570, 1989; DOI:10.1128/mcb.9.8.3567).
Gopalan "exhibited a level of energy and enthusiasm for scientific research that was contagious," said Stephen Moore, who was a senior staff fellow in Appella's lab and a co-author of the first study. "She was always asking the next question."
The second publication followed five years later and yielded similar results. This time the researchers used human mammary tissue and found a positive correlation between estrogen-receptor stimulation and the increased expression of HSP90. Their finding would have important implications for the treatment of breast cancer (Breast Cancer Res Treat 26:95–100, 1993; DOI: 10.1007/BF00682704).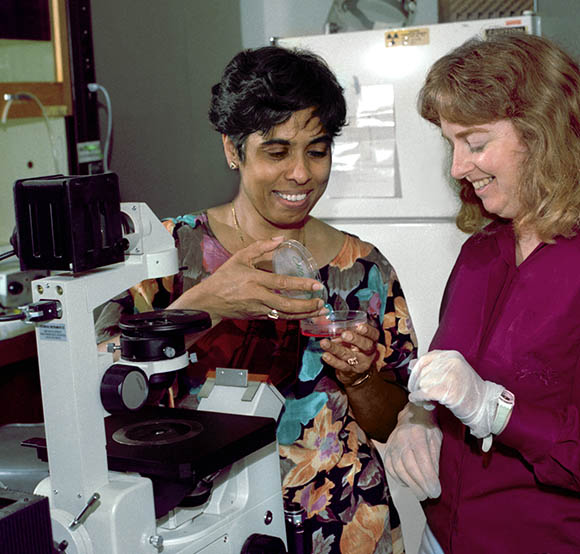 The formal partnership ended in 1992, but Gopalan maintained her relationship with NIH as a peer reviewer for the Biochemical Endocrinology Study Section and would visit the Bethesda campus each year to reconnect with colleagues. Gopalan eventually left Canada and returned to California to continue her work on the role of hormone receptors in breast-cancer development at Lawrence Berkeley National Laboratory (Berkeley, California). She was awarded several NIH grants supporting her research through 2001, and her lab published their findings in 2006 (Cancer Res 66:10391–10398, 2006; DOI:10.1158/0008-5472.CAN-06-0321).
"What we started had real significance and promise," said Appella. The discovery that arose from his NCI lab over 30 years ago has branched out to influence our understanding of immunology in unexpected ways. Recent research has further defined the role of HSPs as molecular chaperones, coordinating the function of a wide range of proteins. HSPs can act as stabilizers not only for normal cells but for cancer, neurodegenerative diseases, and even viral and bacterial infections. Additional studies have shown that partial inhibition of HSP90 function may have profound antitumor effects and can even inhibit the replication of coronaviruses such as SARS-CoV-2, which causes COVID-19.
Successful women often wear more than one hat. Gopalan was simultaneously raising her two young daughters, Maya and Kamala, alongside a career rich in discovery and partnerships. "My first job was cleaning pipettes in my mother's lab," said Harris. "I grew up around science. [It was] taught to me by someone who was so profoundly passionate about a gift, which is what scientists give to us."
Gopalan died in 2009 after a battle with colon cancer, but her personal and professional legacy is clear. "I should not be surprised at the accomplishments of her daughter," said Ullrich. "It's comforting to know that some of [Shyamala Gopalan's] beautiful spirit lives on in her. The NIH community should be reassured knowing that Shyamala's daughter understands the important role of biomedical research for advancing our understanding of human disease."
---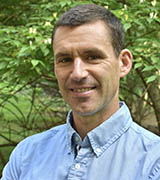 Michael Tabasko is a science writer-editor for the NIH Catalyst.
This page was last updated on Thursday, February 3, 2022