Announcements
COPING WITH THE MENTAL HEALTH EFFECTS OF COVID-19
NIH presents a lecture by George Everly Jr., psychologist and professor at The Johns Hopkins University Bloomberg School of Public Health, on coping with the mental effects of the COVID-19 pandemic and a discussion between Everly and NIH Director Francis Collins on the scientific research behind mental health responses to emergencies.
---
FIFTH VIRTUAL TOWN HALL
We'll provide an update on pandemic-related research (featuring no less an authority than Dr. Fauci), ongoing efforts to coordinate the return of staff to physical workspaces where necessary, discuss resources available for staff grappling with dependent care and home/work life balance, and provide updates on safety guidance and safety issues at NIH facilities. We also want to address your questions that are not currently on the Frequently Asked Questions page of the NIH Guidance for Staff on Coronavirus intranet page. There are more than 140 FAQs on this page, and if you have a question not represented, please submit it to CoronavirusStaffQuery@od.nih.gov by 5:00 p.m. ET on Friday, September 11. The top frequently asked questions will be responded to during the town hall.
---
2020-2021 PRINCIPLES OF CLINICAL PHARMACOLOGY COURSE
This free online lecture series covers the fundamentals of clinical pharmacology as a translational scientific discipline. Topics include pharmacokinetics, drug metabolism and transport, drug therapy in special populations, drug discovery and development, and pharmacogenomics. This course will be of interest to graduate students, postdocs, medical and pharmacy students, scientists, and health professionals interested in expanding their pharmacology knowledge base. For questions, contact the course coordinator at odpcp@mail.nih.gov.
---
2020-2021 INTRODUCTION TO THE PRINCIPLES AND PRACTICE OF CLINICAL RESEARCH COURSE
This free online course trains registrants on how to conduct clinical research effectively and safely. Graduate students, post-doctoral fellows, medical, dental, pharmacy, and nursing students and other health professionals are encouraged to enroll. The course textbook, Principles and Practice of Clinical Research, Fourth Edition (2018) is available for purchase from several online book retailers. For questions, contact the course coordinator at ippcr2@mail.nih.gov.
---
THE NIH CYBER SAFETY AWARENESS CAMPAIGN
The high resale value of protected health information (PHI) on the black market and doctors' increasing reliance on technology to provide care make the health–care industry a prime target for cybercriminals. Unfortunately, the NIH is not immune from these threats. Our systems are constantly being probed by individuals who wish to access, sell, and misuse our data or otherwise do us harm—in fact, more than 98% of email to the NIH (over 23 million emails a day) is blocked because it contains dangerous malware or spam.
Protecting the NIH from these mounting threats is not just an IT or security responsibility–anyone who accesses NIH data and systems, from doctors to administrators, has a responsibility to protect them. Unsure what that means for you? The Cyber Safety Awareness Campaign, an Optimize IT Security initiative, is here to help. The campaign is leading the charge in increasing awareness of cyber-safe behaviors across the NIH and is helping staff across all roles understand the true value of cyber safety. To learn how to keep yourself, your team, and the NIH secure, visit the NIH Cyber Safety Awareness Campaign website, (NIH login credentials required) where you'll find one-page tips and tricks on cyber safety, contact information for security and privacy staff, stories about real-life incidents at the NIH (Under "Resources," click on "Sharing Our Cyber Stories", and other helpful resources. Please contact Jothi Dugar (jothi.dugar@nih.gov), Cyber Safety Awareness Campaign Lead, with any questions.
---
NLM HISTORY OF MEDICINE LECTURES FOR 2020
Wednesday, September 9, 2020, 2:00–3:00 p.m.: Sara Farhan, 2019 NLM Michael E. DeBakey Fellow in the History of Medicine, and Assistant Professor of History, Department of International Studies, American University of Sharjah, offering the 4th Annual Michael E. DeBakey Lecture in the History of Medicine on DeBakey in Baghdad and Beirut: "The Internationalization of Surgical Education, 1945-1970."
To be rescheduled: Naa Oyo A. Kwate, Associate Professor of Africana Studies and Associate Professor of Human Ecology, Rutgers University, and recipient of a 2018 NLM G13 Award for Scholarly Works in Biomedicine and Health for Race and the Transformation of the Food Environment: Fast food, African Americans, and the Color Line, 1955-1995. Dr. Kwate will offer the 11th Annual James H. Cassedy Lecture in the History of Medicine, speaking on "Savages cry easily and are afraid of the dark": " What It Means to Talk about Race and African American Health."
Thursday, October 15, 2020, 2:00–3:00 p.m.: Cynthia Connelly, Professor of Nursing, Rosemarie B. Greco Endowed Term Chair in Advocacy, and Associate Director, Barbara Bates Center for the Study of the History of Nursing, University of Pennsylvania School of Nursing, speaking on New Drugs, Old Problems: The Sulfonamide Revolution and Children's Health Care Delivery in the United States, 1933–1949.
Thursday, December 3, 2020, 2:00–3:00 p.m.: Ashley Bowen, Editor, Perspectives on History, American Historical Association, speaking on Rise, Serve, Lead…and Publish: Including Women Physicians' Writings in Rise, Serve, Lead: America's Women Physicians.
All are warmly welcome! Mark your calendars, participate in the Q&As, look for speaker interviews on our popular blog Circulating Now, and watch archived livestreams of previous talks in the NIH Videocast archive of History of Medicine programs including the research symposium Reporting, Recording, and Remembering the 1918 Influenza Epidemic held in cooperation with Virginia Tech as part of the ongoing NLM/National Endowment for the Humanities partnership to collaborate on research, education and career initiatives.
---
WALS RETURNS ON SEPTEMBER 23 WITH VIRTUAL LECTURES
The NIH Director's Wednesday Afternoon Lecture Series (WALS) kicks off its 2020-2021 season on Wednesday, September 23, 2020.
The fall WALS lectures will be held most Wednesdays, 3:00–4:00 p.m., and can be viewed live online at videocast.nih.gov. The lectures will also be archived for later viewing. To view the full list of speakers this year and download the season's poster, please visit the WALS web site at http://wals.od.nih.gov. For any questions or requests, please contact Jacqueline Roberts at robertsjm@od.nih.gov.
September 23: Joan Steitz, Ph.D., (Yale University) "Viral Noncoding RNAs: Approaching Answers"
September 30: Caetano Reis e Sousa, Ph.D. (Crick Institute) "Dangerous Indigestion and Immunity to Cancer"
October 7: William E. Paul Lecture; Michel C. Nussenzweig, M.D., Ph.D. (The Rockefeller University) "Human Antibody Responses to SARS-CoV-2"
October 14: Mark T. Nelson, Ph.D. (University of Vermont) "Translating Thought into Blood Flow in the Brain: Capillaries as Sensors of Neural Activity"
October 21: Carolyn R. Bertozzi, Ph.D. (Stanford University) "Therapeutic Opportunities in Glycoscience"
October 28: Rolla E. Dyer Lecture: Lisa A. Cooper, M.D., M.P.H. (Johns Hopkins University) "Deep and Wide: The Voyage to Discover Local and Global Health Equity"
November 4: Astute Clinician Lecture: Ellen Sidransky, M.D. (National Human Genome Research Institute) "Gaucher Disease: How a Rare Disease Provides a Window into Common Neurodegenerative Disorders"
November 11: No Lecture, Federal Holiday
November 18: DeWitt Stetten Jr. Lecture: Emery Brown, M.D., Ph.D. (Massachusetts Institute of Technology) "Rethinking General Anesthesia"
November 25: No Lecture, day before Thanksgiving
December 2: Cathy Drennan, Ph.D. (Massachusetts Institute of Technology) "Shake, Rattle, and Roll: Capturing Snapshots of Ribonucleotide Reductase in Action"
---
COVID-19 VIRTUAL LECTURE SERIES
The COVID-19 SIG and the Office of Intramural Research have organized a virtual lecture series for the first and third Thursdays at noon. All are welcome to watch the live videocasts or the archived ones (they will be archived soon after each talk). The following talks are scheduled:
October 1: Paul Bieniasz, "Neutralizing antibodies to SARS-CoV-2"
October 15: Kizzmekia Corbett, "SARS-CoV-2 mRNA Vaccine Development Enabled by Prototype Pathogen Preparedness"
November 5: John Wherry, "Immune profiling to understand COVID-19 pathogenesis"
November 19: Christine Grady, "Ethical Quandaries in the COVID-19 Pandemic"
December 3: Helen Su, "Genetic studies illuminating pathways important for controlling COVID disease"
December 17: Jim Collins, "Harnessing synthetic biology and deep learning to address the COVID-19 pandemic"
Lectures in 2021: Speakers to be announced (Jan 7 and 21; Feb 4 and 18; March 4 and 18)
---
10TH ANNUAL WOMEN SCIENTISTS ADVISORS SCHOLARS SYMPOSIUM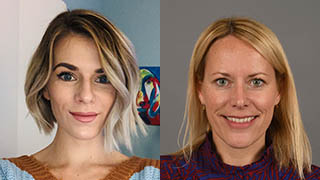 The 10th Annual Women Scientists Advisors (WSA) Scholars Symposium will be presented by postdoctoral fellows Alix Warburton (NIAID) and Ida Fredriksson (NIDA). Warburton is a fellow in the lab of Alison McBride who is the chief of the DNA Tumor Virus Section. Fredriksson is a fellow in the lab of Yavin Shaham who is the chief of the Behavioral Neuroscience Research Branch and of the Neurobiology of Relapse Section. Warburton and Fredriksson were selected as WSA Scholars from among the women who were Fellows Award for Research Excellence (FARE) awardees in 2020, in recognition of their outstanding research achievements. Alix Warburton's talk is titled "Mechanisms of Tandem Repeat Formation at HPV Integration Sites in Cervical Carcinoma Cells"; Ida Fredriksson's talk is titled "Incubation of Oxycodone Craving After Conflict-induced Voluntary Abstinence." This symposium highlights the research accomplishments of women fellows in the NIH Intramural Research Program.
---
Last year brought unprecedented changes to the world with the COVID-19 pandemic. In response to this challenge, the scientific community has mobilized on many fronts with advances in vaccines, diagnostics, treatments, pathology, immunology, virology, structural biology, cell biology, and many other areas. To help facilitate interactions and highlight work from NIH/FDA investigators, the NIH COVID-19 scientific interest group is hosting a virtual workshop for NIH/FDA staff on Thursday, October 29, and Friday, October 30, 2020, from 11:00 a.m. to 5:00 p.m. We look forward to your active participation to make this workshop a success during this challenging time.
---
NIH HEAL VIRTUAL WORKSHOP ON MYOFASCIAL PAIN
NCCIH and NIBIB have co-organized this virtual NIH Helping to End Addiction Long-termSM (HEAL) Initiative workshop. Other NIH partners in this trans-NIH meeting are NIAMS, NICHD, NIDCR, and NINDS.
Myofascial pain syndrome (MPS)—pain originating from muscles and/or associated soft tissues such as fascia—affects an estimated 30 to 85 percent of patients with musculoskeletal pain. Compared with those of the skeletal and central nervous systems, the contributions of myofascial components to this kind of pain are mostly unknown. Many patients with chronic musculoskeletal pain develop side effect issues with opioids, don't respond to surgery, or both. Myofascial tissues are among the last "unturned stones" for research on the tissue types involved in musculoskeletal pain.
The workshop's focus is research and technology opportunities for addressing MPS. Presenters include clinical research experts, imaging and biomechanics experts, and computational modelers.
---
"HUMAN MICROBIOME: FRIEND AND FOE"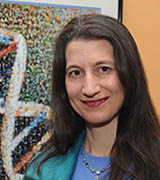 Senior Investigator and Chief of the Translational and Functional Genomics Branch Julie Segre (National Human Genome Research Institute) will be the featured speaker at the 2020 Anita B. Roberts Lecture. Segre's research integrates high-throughput sequencing, algorithm development, and clinical studies to explore the microbe diversity of human skin in both healthy and disease states. Her team established the first topographical maps of human skin bacterial and fungal diversity, enabling the study of alternations in those populations that are associated with eczema and other microbial-associated infections. Segre's laboratory also integrates genomic tools to track hospital-acquired infections, model outbreaks, monitor evolution of antibiotic resistance, and develop risk assessment strategies. She is a fellow of the American Academy of Microbiology and the National Academy of Medicine, and she received the Service to America Medal in 2013. She is also an outstanding mentor and currently serves as a member of the NIH Woman Scientist Advisors Executive Committee.
The "Anita B. Roberts Lecture Series: Distinguished Women Scientists at NIH" is sponsored by the NIH Woman Scientist Advisors Committee and honors the research contributions Roberts and other female scientists have made. Roberts, who spent 30 years at NCI before her death in 2006, was known for her groundbreaking work on transforming growth factor–beta. The lecture will be presented virtually and can be viewed by logging onto the website listed above. To arrange sign-language interpretation, please contact Joy Jackson Farrar or Dee Andrews at jacksjoy@ors.od.nih.gov or dandrews@od.nih.gov.
This page was last updated on Tuesday, March 22, 2022