From the Deputy Director for Intramural Research
Safety First in the Era of COVID-19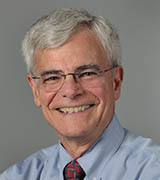 The COVID-19 pandemic has brought dramatic changes to the way we operate our laboratories and clinics at NIH. We are continually making adjustments as the pandemic progresses and we learn more about how COVID-19 spreads. Although NIH leaders have to respond to a variety of changing circumstances, I want to assure you that there is one overriding principle: Safety first!
As government employees, trainees, and contractors we have a primary mission, and an obligation to the taxpayers who support our research, to carry out research to improve the public health and train the next generation of researchers. But we must first ensure that the conditions under which we do this work are safe. As I always point out in my annual safety memo each spring: Safety is my primary concern.
So how has NIH done its best to assure the safety of our staff? First and foremost, we restricted attendance in the workplace to mission-critical employees (clinical staff, animal-care staff, security staff, and maintenance staff) and, more recently, to scientists whose work cannot be done through telework. The goal is to keep the density of people low, ensuring physical distancing (of at least six feet) that reduces the risk of transmitting COVID-19. Added protections include mandatory safety training, use of masks that cover the nose and mouth, and appropriate sanitizing of shared working surfaces and high-touch areas. These precautions create what are considered low-risk circumstances for transmission of the virus. Although we cannot completely rule out some limited workplace transmission in a few cases, the vast majority—and quite possibly all—of the cases detected in NIH employees have resulted from community transmission.
Recently, the NIH Clinical Center has begun to offer free testing for SARS-CoV-2 infection to asymptomatic D.C.-area staff whether they are working onsite (members of Groups 0, A, or B) or are not yet eligible to return to the physical work space.
Certainly, anyone experiencing COVID-19-like symptoms should not schedule an appointment for asymptomatic testing. Instead, follow the procedures outlined on the "What to Do if You Have Symptoms" page. NIH's Occupational Medical Service will determine whether you need to come in for testing and provide instructions (the on-campus testing site for symptomatic individuals is not the same as the asymptomatic testing location).
The asymptomatic testing service is voluntary and was initially available only to on-site staff to allow the Clinical Center time to expand its capacity to meet the demand for testing all NIH staff. These tests involve taking samples using a nasal mid-turbinate swab (inserted about an inch into the nose); the samples are analyzed using a highly sensitive and specific reverse-transcription polymerase chain reaction (RT-PCR) assay at the Clinical Center. In general, the results are available within 24 to 48 hours. Testing is by appointment only; to schedule one, go to https://clinweb.cc.nih.gov/cct.
Other NIH locations in Baltimore, Maryland, Montana, and North Carolina have also begun conducting asymptomatic testing for staff and shipping the samples to the Clinical Center for analyses. The mode and location of testing may be changing in the future to make it easier, so keep an eye on notices to NIH staff.
There is good epidemiological evidence and data (obtained from contact tracing) indicating that individuals who are completely asymptomatic or pre-symptomatic are responsible for up to 40% of the transmission of COVID-19. By finding such individuals and having them leave the workplace temporarily, we can reduce the risk of transmission.
Carson Chow, a biostatistician in the National Institute of Diabetes and Digestive and Kidney Diseases and a leader of our COVID-19 scientific interest group, has demonstrated that the efficacy of testing to prevent transmission depends on how effective our physical distancing and mask-wearing is, and whether there is herd immunity in our population. If we assume that there is less than 100% efficacy of the physical protections (or the failure of some people to abide by these requirements) and no significant herd immunity, then testing every 7 to 10 days appears to be optimal in preventing disease transmission in the workplace.
So clearly if you want to protect yourself and your colleagues, you should physically distance, wear masks, wash your hands frequently, sanitize public areas, and be tested every 7 to 10 days. Our recent survey indicated that about 95% of our staff would be willing to be tested. I urge all NIH staff, especially those coming to the physical workplace, to be tested to help NIH reduce the risk of transmission at our facilities.
But safety is more than just physical safety. We are also concerned about your sense of well-being and the trying circumstances under which you are doing your best to adapt to the pandemic changes. Lack of child care, schools not opening, loss of personal interactions that drive so many transactions at the NIH—all of these are stressful and affect mental health. The Office of Research Services (including the Division of Occupational Health and Safety and the Occupational Medical Service), the Office of Acquisition and Logistics Management, and the Office of Human Resources have been working on providing the support needed to address these issues.
Our staff, particularly trainees, are anxious about the effects of the prolonged hiatus in their research. The Office of Intramural Research and supervisors have provided the flexibilities needed to ensure that you are not penalized for this enforced pause in research activities by extending appointments, delaying Boards of Scientific Counselors reviews, and providing a means to fund enforced quarantine requirements. In addition, the Office of Intramural Training and Education has provided many sessions aimed at reducing stress on trainees and the principal investigators who supervise them. The results of the recent survey that most of you filled out about how the pandemic is affecting your life will be very helpful as we develop new strategies for dealing with stress in the workplace.
I am proud to say that you all have demonstrated, once again, your adaptability and willingness to suffer inconvenience to keep all of us safe. Compliance with safety requirements is very high, and patience with all of the other impediments to a more normal existence is impressive. I have not listed everyone whose hard work has kept us safe, but I can assure you that this is a full-time job for quite a few dedicated individuals.
Please stay safe, and continue to show concern and respect for your colleagues by physical distancing, wearing masks, washing your hands, sanitizing public spaces, and getting tested.
And please continue to review the following websites, which are updated regularly:
This page was last updated on Tuesday, March 22, 2022