Taking the Conference Hall to the Computer Screen
2020 Postbac Poster Day Goes Virtual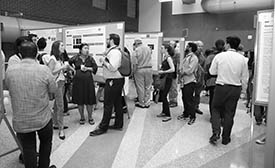 Postbac Poster Day is a yearly tradition marked by the familiar sight of crowded halls of postbacs, all professionally dressed and eager to share their hard work—via colorful posters—with family, friends, and colleagues. This year, however, as the COVID-19 pandemic spread throughout the United States, sickening more than 1.5 million people, large gatherings of all kinds were prohibited. But thanks to the ingenuity and hard work of event coordinators Yewon Cheon and Virginia Meyer from the NIH Office of Intramural Training and Education (OITE), the three-day poster day event took place after all—virtually. With the help of the Center for Information Technology (CIT) and weeks of training sessions and practice meetings, Cheon and Meyer magically transformed what would have been a bustling event in Natcher Conference Center (Building 45) into a WebEx teleconference extravaganza with 875 presenters, 345 judges, and 132 virtual "rooms." The event took place April 28–30.
Each "room," or session, could accommodate five-to-seven postbacs, three-to-five judges, and dozens of observers. Like the coordinators, the postbacs and judges rose to the daunting task of dealing with the unfamiliar virtual format.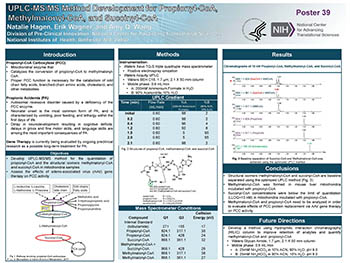 "Having to present a poster virtually "really challenged me to think deeply about my project and how to explain it as concisely as possible," said Natalie Hagen (National Center for Advancing Translational Sciences), whose poster had the complicated title of "UPLC-MS/MS Method Development for Propionyl-CoA [PCC], Methylmalonyl-CoA, and Succinyl-CoA." Translation? She had helped develop a method to measure the activity of PCC, an enzyme important in energy production, in order to assess the effectiveness of gene therapy in replacing a defective PCC gene. Although Hagen was initially sad when she learned that the traditional, more celebratory, poster day was cancelled, she enjoyed that the virtual format allowed her to hear many of the questions that judges and attendees asked during other poster presentations.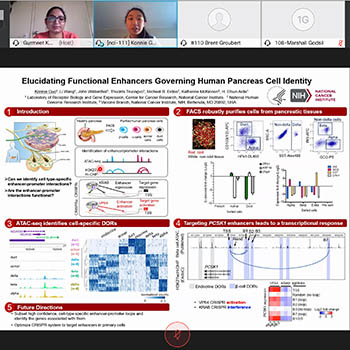 Konnie Guo (National Cancer Institute) presented her project, "Elucidating Functional Enhancers Governing Human Pancreas Cell Identity," which described how cutting-edge genomics techniques have helped identify functional enhancers (noncoding genetic elements) that regulate gene expression among different pancreatic cell types. Guo was initially caught off guard by the unfamiliar virtual format, the five-minute time limit, and the inability to have one-on-one interactions with her audience. She was, however, grateful for OITE's ability to make the poster event happen and the fact that the event was accessible to so many people.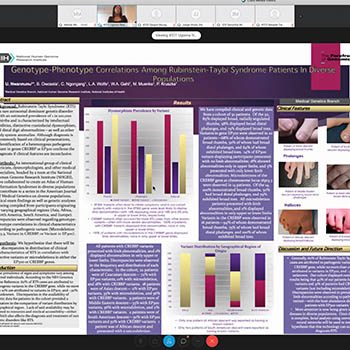 Because she was already preparing for an American College of Medical Genetics virtual meeting, Ugonna Nwannunu (National Human Genome Research Institute) wasn't surprised that Postbac Poster Day was going to be virtual, too. Her poster, "Genotype-Phenotype Correlations Among Rubinstein-Taybi Syndrome [RTS] Patients in Diverse Populations," reported correlations and discrepancies between genetic causes and symptoms of RTS (characterized by broad thumbs and toes, short stature, distinctive facial features, and developmental disabilities) in varied populations and geographical regions. Although she missed the interactive nature of a traditional poster presentation, she enjoyed the added feedback from scientists and clinicians who were able to attend because of the convenience of a virtual meeting.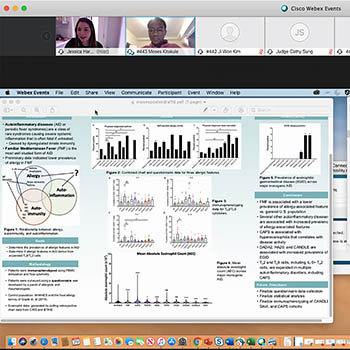 Postbac Poster Day wasn't the first time that Moses Kitakule (National Institute of Allergy and Infectious Diseases, NIAID) had presented a poster, but it was the first time he did so virtually. His project, "Systematic Analysis of Allergic Features in Autoinflammatory Syndromes Reveals Disease-Specific Associations," examined the relationship between allergy-associated features and autoinflammatory disease. Condensing his research into five minutes was a little tricky because he wanted to include a lot of background information, but he loved how certain functions on Webex, such as the "zoom" camera setting, allowed him to emphasize sections of his poster.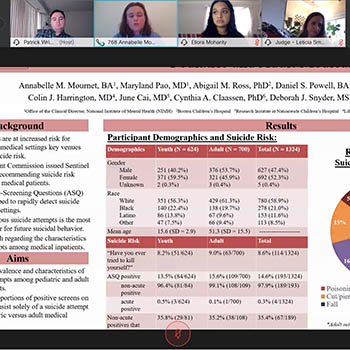 Having only presented her research in poster format once, Annabelle Mournet (National Institute of Mental Health, NIMH) compared the virtual poster presentation to something she likes better—oral presentations and seminars. Her project, titled "Have You Ever Tried To Kill Yourself?: A Comparison of Positive Suicide Risk Screen Responses by Pediatric and Adult Medical Inpatients," concerned the importance of asking questions about previous suicide attempts when screening for suicide risk. Although she prefers giving in-person presentations, she was very impressed by how well OITE transitioned to the virtual format and appreciated that preparing for the presentation led to a richer learning experience overall.
The virtual poster day surprised not only its participants with unexpected benefits and unique challenges, but also the judges. Judges were made up of teams of postdoctoral and clinical fellows, graduate students, staff scientists, and staff clinicians. Traditional poster presentations are noisy affairs with many participants chattering at once, noted one judge, trainee coordinator Jennifer Patterson West (NIAID). She found that the virtual format eliminated that issue and allowed judges to focus on their assigned posters. They could ask questions after each presentation, providing postbacs with a chance to further explain their research.
But she and other judges missed some aspects of traditional poster sessions, too, such as being able to have in-depth conversations with the presenters. Staff scientist Mark Eldridge (NIMH) noted the loss of physical cues, such as pointing to the poster to help the audience follow along. (Not all the presenters had discovered the zoom feature that Kitakule used in his presentation.) Postdoc Courtney Malo (NIAID) found it difficult to read body language on screen and sometimes was not be able to read it at all when postbacs left their cameras off. Judges note body language while scoring because it is an important component presenters use to engage their audience.
Still, all three judges noted their amazement with the postbacs. "In previous years, the thing everyone had issues with was being clear and concise," said West. But "everyone figured [it out] this time."
Despite the unprecedented circumstances, all the postbacs performed well, and the top 20% received special recognition. The event coordinators were delighted with how everyone came together to help run this event so smoothly. Cheon noted very few technical difficulties and praised OITE and CIT for their assistance. In the end, the virtual format was ultimately a testament to everyone's willingness, flexibility, and ability to adapt to unusual circumstances.

This page was last updated on Wednesday, March 23, 2022