Cloistered in the Cloister
Taking Refuge in NIH's Oldest Building During the COVID-19 Pandemic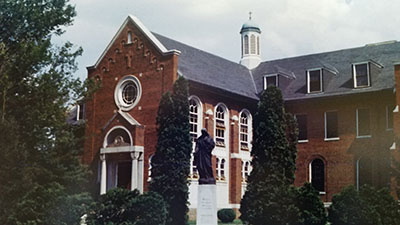 The Cloister sheltered nuns for decades. During the COVID-19 pandemic, it sheltered NIH Medical Research Scholars. From 1925 to 1981, the Cloister (Building 60, also known as the Mary Woodard Lasker Center for Health and Science Education) was home to the Sisters of the Visitation of Washington, a secluded order of nuns. Some lived in 10 small bedrooms, or cells, on the third floor and shared a bathroom, kitchen, dining area, chapel, library, and classrooms located on various floors in the building.
The historic building belongs to NIH now, and those tiny dorm rooms are occupied by students in the NIH Medical Research Scholars Program (MRSP), a 12-month residential, research-immersion program for medical, veterinary, and dental students. In the 1980s, a multi-floor apartment wing was added to the original convent for students when the program was run as a partnership between NIH and the Howard Hughes Medical Institute.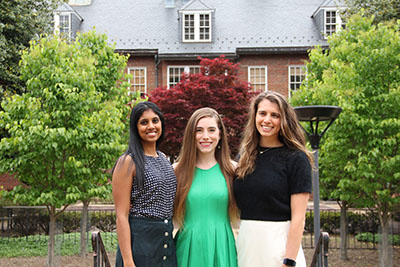 There were 50 students in the 2019–2020 MRSP program. Ten resided in the third-floor rooms; the remainder lived in the apartment wing or off campus. In mid-March when the COVID-19 pandemic forced the closure of many NIH labs and offices—and most employees began teleworking—more than half of the scholars left for their homes. Of those who remained, 15 were in the apartments and three in the dorm rooms. They began teleworking and went to their labs in Building 10 only when necessary.
"The third floor of this building has come full circle, from sheltering the cloistered life of 10 Catholic Sisters 100 years ago to sheltering the cloistered life of three female MRSP scholars now," said MRSP academic director, Susan Leitman.
The NIH Catalyst asked these three scholars—Layne Raborn, Annah Baykal, and Esha Chebolu—to share with us how they were faring during the pandemic. At the time, Raborn and Chebolu were third-year medical students and are now beginning their fourth year; Baykal was a second-year student and is now beginning her third year.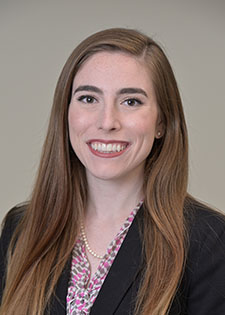 Baton Rouge native Layne Raborn, a medical student at Louisiana State University Health Sciences Center (New Orleans), was working under the supervision of Michael Collins in the National Institute of Dental and Craniofacial Research's Skeletal Disorders and Mineral Homeostasis Section. Her research involves both clinical and translational aspects of fibrous dysplasia, McCune-Albright syndrome, and tumor-induced osteomalacia.
Fibrous dysplasia is an uncommon bone disorder in which scarlike or fibrous tissue develops in place of normal bone and may be associated with endocrinopathies (diseases of the hormone-producing glands) and skin macules as part of McCune-Albright syndrome (a disorder that affects the bones, skin, and several endocrine tissues). Tumor-induced osteomalacia is a rare disorder of excess fibroblast growth factor–23, resulting in profound bone fragility.
After she completes her fourth year of medical school in 2021, Raborn plans to do a residency in plastic surgery. She also wants to continue doing research and encourages prospective physicians to consider incorporating research into their careers as well. Although Raborn had to stop going to the lab during the pandemic, she had plenty to keep her busy as she wrote up her projects and completed other clinical projects. And she gained some appreciation for what life might have been like for the nuns.
"Within each of our dorm rooms, there is a historical quote from the time when the nuns resided here," she said. "Staying here…when we are limiting our exposure to the outside world has given us an interesting perspective into the lives of the nuns who previously lived here."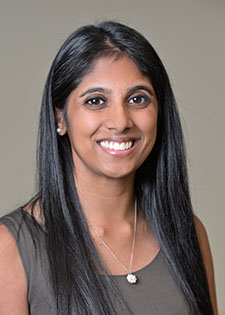 Esha Chebolu hails from Watertown, New York, and goes to medical school at the Jacobs School of Medicine and Biomedical Sciences at the University at Buffalo (Buffalo, New York). She aims to become an emergency medicine physician after graduation. She works in David Goldman's lab at the National Institute on Alcohol Abuse and Alcoholism (NIAAA) and looks at the variations in responses to alcohol use and the associated genetic and clinical implications. Because Chebolu doesn't do any benchwork and mostly looks at clinical data available from questionnaires and medical charts, she was able to continue her research remotely from the Cloister. She is interested in the clinical manifestations of alcohol use and in the factors that may predispose certain patients to poorer health outcomes including racial and ethnic health disparities, genetic factors, social stigma, and environmental influences.
"The quiet time has been kind of nice in terms of finishing up my projects this year," said Chebolu. "However, I do miss seeing my lab mates, my other mentors at NIAAA, and the buzz of the work environment."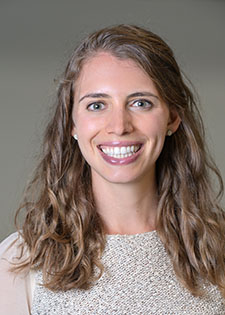 Annah Baykal, a student at the University of Oklahoma College of Medicine (Oklahoma City, Oklahoma), worked in Rebecca Brown's lab in the National Institute of Diabetes and Digestive and Kidney Diseases and studied rare diseases of severe insulin resistance such as lipodystrophy (abnormal distribution of fat in the body) and insulin-receptor-mutation syndromes to understand the biology of insulin signaling.
During the COVID-19 pandemic, she maintained a routine similar to her pre-COVID-19 one by attending virtual meetings, writing up data, and working on the planning stages of a new project. She even found a way to replace her daily workouts at the nearby YMCA and keep her fitness routine intact.
Now, "I wake up in the morning and work out in our library with a few of the other MRSP students," said Baykal. She enjoyed becoming "somewhat of a part-time trainer, learning how to put together fun, challenging workouts."
All three scholars acknowledged that having to be sequestered in the Cloister was challenging but presented opportunities.
"I know this time has been superchallenging on so many fronts, with transitions and uncertainty, but I'm definitely trying to see quarantine as a time for growth and development in one way or another," said Baykal. "Having the other MRSP students to empathize and go through the loneliness or frustrating times with has only made this year even more unique and life transforming."

---
Most of the 2019–2020 scholars are holding onto their NIH credentials as Special Volunteers so they will still get NIH emails for a few months. The 2020–2021 MRSP class of 51 students is coming to NIH in three groups; each will be onboarded remotely and arrive on campus a few weeks later. The onboarding process will start in mid-July, and all the scholars are expected to be on campus by the end of August.
This page was last updated on Wednesday, March 23, 2022