NCATS Annual Postbac Poster Day Goes Virtual
Like many of us, Alex Renn has had an unexpected crash course in COVID-19, the disease caused by the novel coronavirus behind a worldwide pandemic. Renn, a postbaccalaureate (postbac) fellow at the National Center for Advancing Translational Sciences (NCATS), is part of a team developing and testing "nanobodies," smaller versions of antibodies, proteins made by the body to defend against bacteria, viruses, and other tiny organisms that cause disease. Such nanobodies might ultimately play a role in an anti-virus strategy. He presented his team's work on April 20, 2020, at an NCATS annual event that for the first time went online.
With much of the National Institutes of Health (NIH) workforce teleworking for now, NCATS held its Postbac Poster Day this year during three concurrent Zoom sessions, showcasing research conducted by Renn and 20 other postbac fellows who have been receiving training and mentorship from NCATS scientists as part of the NIH Postbaccalaureate Intramural Research Training Award Program. NCATS provides training and career-development opportunities to enhance knowledge, skills, perspectives, and experiences critical for building the translational-science workforce.
On virtual display were projects ranging from new approaches to treating rare diseases to developing drugs that inhibit cancer growth to improving disease modeling.
Renn is a postbac in the NCATS Early Translation Branch. His poster presentation described a state-of-the-art screening technique to develop antibodies effective against SARS-CoV-2, the novel coronavirus that causes COVID-19. Renn showed how SARS-CoV-2 relies on a chemical docking station on the cell surface to infect human cells. That makes the docking station an attractive target for drugs, and in this case, antibodies.
Renn and his mentors already have identified 10 unique nanobodies that bind to the docking station. While the research is still in its early stages, such nanobodies, if perfected, could eventually be used to prevent or treat COVID-19. The same approach might be useful for other virus-related diseases.
Shortening the Diagnostic Odyssey, Stepping Toward a New Disease Treatment
Several postbac projects focused on rare diseases. Postbac fellow Ainslie Tisdale wants to speed up the pace of diagnosing rare diseases. Individuals with rare diseases and their families often go on long, frustrating journeys to get an accurate diagnosis.
Tisdale has been working with the NCATS Office of Rare Diseases Research on an approach to shorten the time required to diagnose and treat rare diseases. In her poster presentation, she described a project examining patient health-care utilization patterns to develop a system for quickly identifying patient needs.
"During the years prior to a correct diagnosis, patients and their families spend large amounts of time, money, and other resources trying to find answers to their and their family member's symptoms," said Tisdale, who also is mentored through the NCATS Division of Preclinical Innovation.
So far, she has evaluated a case study of Batten disease, a group of rare nervous–system disorders, and found a possible profile from common billing codes across centers and collaborators to rapidly identify these patients. Tisdale and her mentors plan to further investigate these profiles and hope their results will lead to the use of artificial intelligence to identify Batten disease sooner.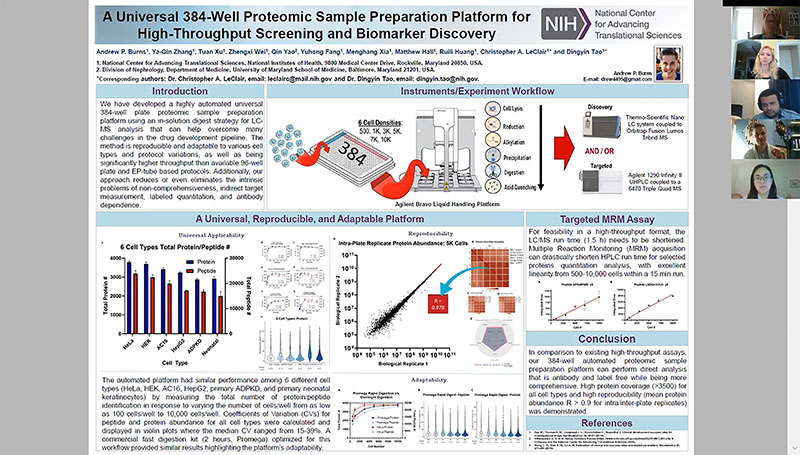 In a different session, postbac fellow Danielle Davis presented a poster on her work studying dystonia—a group of rare neurological disorders characterized by involuntary muscle contractions—which has limited treatment options.
Davis's project focuses on producing drug-like compounds that can help advance treatment development for a type of dystonia. Davis and her co-workers designed and synthesized a compound that will soon be tested in proof-of-concept animal studies, the first step in testing whether their approach could lead to an eventual treatment. Davis is planning to wrap up her research over the next several months and apply to medical school.
A New Format To Consider
Event organizers saw the new format as a success. Although the virtual format added technical challenges, "some people told us it was easier to view postbac presentations and participate than in an in-person setting with limited space," said co-organizer Brittany Haynes in the NCATS Education Branch. They may consider such a format for subsequent events.
"Many people stepped up to make this virtual event an extraordinary day," said NCATS Education Branch Chief Jessica M. Faupel-Badger, who moderated one of the webinar sessions. "The impressive range and quality of the research presented demonstrates both the tireless efforts of very talented postbac fellows and the dedication of their mentors."
Twenty NCATS postbac fellows also participated in the NIH 2020 Virtual Postbac Poster Day held later in April, including as judges. Of the 20, six received Postbac Poster Day Awards, including Renn.
To Tisdale, who plans to pursue a master's degree in public health after a second year at NCATS, the postbac fellowship has been invaluable. "I've been able to interact with experts in the rare-disease community and be trusted with the freedom and opportunity to explore my own hypotheses within the data," she said. "It's been an incredible learning experience."
This page was last updated on Wednesday, March 23, 2022