Announcements
AWARDS
TWO NIHERS ELECTED TO THE NATIONAL ACADEMY OF SCIENCES
The National Academy of Sciences (NAS) elected two NIH intramural researchers out of 100 new members and 25 foreign associates in recognition of their distinguished and continuing achievements in original research. Forty percent of the newly elected members are women—the most ever elected in any one year to date. Those elected today bring the total number of active members to 2,347 and the total number of foreign associates to 487. Foreign associates are nonvoting members of the Academy, with citizenship outside the United States. The NIH intramural researchers are:
Elaine A. Ostrander, Ph.D., NIH Distinguished Investigator, and Chief, Cancer Genetics and Comparative Genomics Branch, National Human Genome Research Institute. She is a pioneer in the field of comparative genomics, having initiated the canine genome project in 1993. Her studies of the domestic dog led to a well-phenotyped species, revealing a population structure that can be used to examine and solve fundamental biological problems. Her work has advanced human understanding of mammalian growth and development, morphologic variation, behavior, and disease susceptibility, especially cancer.
Michael J. Lenardo, M.D., Director, Clinical Genomics Program; Senior Investigator and Chief, Molecular Development of the Immune System Section, National Institute of Allergy and Infectious Diseases. He studies the molecular regulation of T lymphocytes, particularly as it relates to immunological tolerance, apoptosis, and autoimmune diseases such as multiple sclerosis, type 1 diabetes mellitus, and similar diseases. He uses contemporary genomic approaches to discover the molecular basis of new genetic diseases of the immune system, as well as to develop new techniques for treating autoimmune conditions.
---
EVENTS
National Academy of Sciences (NAS) Mini-Symposium
Thursday, May 23, 11:00 a.m.-1:00 p.m.
Masur Auditorium (Building 10)
Talks will be given by newly inducted NAS members Clare Waterman (NHLBI) and Michael Gottesman (OD; NCI CCR) and by the 2019 elected NIH Scientists Elaine Ostrander (NHGRI) and Michael Lenardo (NIAID)
---
INTEGRATIVE MEDICINE RESEARCH LECTURE SERIES
The Integrative Medicine Research Lecture Series, sponsored by the National Center for Complementary and Integrative Health, provides overviews of the current state of research and practice involving complementary health approaches, and explores perspectives on the emerging discipline of integrative medicine. "Microbes in Our Gut: Emerging Insights on Health and Disease" is the theme for Spring 2019. To find out more, go to https://nccih.nih.gov/news/events/IMlectures.
May 9 (11:00 a.m.-noon): Maria Gloria Dominguez-Bello, Ph.D., Rutgers, The State University of New Jersey, "Gut Microbes in a Disruptive Age"
June 10 (11:00 a.m.-noon): Isaac Chiu, Ph.D., Harvard Medical School, "Bacteria Get on Your Nerves: How Bugs Modulate Pain and Immunity"
June 26 (9:30-10:30 a.m.), rescheduled from March 14: Sean F. Brady, Ph.D., The Rockefeller University, "Watch Your Step, There Is New Chemistry Everywhere"
---
BUILD YOUR CAREER; SHAPE YOUR FUTURE
12th Annual NIH Career Symposium
Friday, May 10, 2019, 8:30 a.m. to 5:00 p.m.
Natcher Conference Center (Building 45)
Website (for more information and to register): https://www.training.nih.gov/
The NIH Office of Intramural Training and Education invites all NIH graduate students and postdoctoral trainees, both basic scientists and clinicians, to participate in the 12th Annual NIH Career Symposium. The symposium provides an opportunity for fellows and graduate students to learn about scientific career options and to explore factors that lead to career success. This all-day program will include more than 20 breakout sessions highlighting career opportunities available to biomedical scientists. Panel sessions cover academic, government, industry, and non-profit career paths. More than 80 speakers will provide insights into their careers: what their current job entails, its pluses and minuses, and how they got there. Check out the Panel Descriptions and the Career Symposium Agenda, too.
---
JOINT SYMPOSIUM OF MEMBRANE PROTEIN AND STRUCTURAL BIOLOGY SIGS
Friday, May 10, 2019; 1:00-5:00 p.m. (reception to follow)
Cloister (Building 60); Room 142
The Membrane Protein Interest Group (MPIG) and Structural Biology Interest Group (SBIG) will hold a symposium that will feature a series of short talks and posters by NIH students and postdoctoral fellows. The goal is to give students and postdoctoral fellows with interests related to membrane proteins and/or structural biology (defined broadly) an opportunity to present their recent results, meet their peers, learn about other research groups in the NIH intramural program, and establish useful contacts. Similar symposia in recent years were a big success, enjoyed by all. The deadline to present has passed, but please contact Rob Tycko (robertty@mail.nih.gov) or Susan Buchanan (Susan.Buchanan2@nih.gov) if you have questions or strong need to participate. The agenda and other information about the meeting (as well as information about future meetings) will be shared via the LISTSERV mailing lists. For information about how to join the MPIG LISTSERV go to https://oir.nih.gov/sigs/membrane-protein-interest-group and/or the SBIG LISTSERV, go to https://oir.nih.gov/sigs/structural-biology-interest-group.
---
THE ANNUAL J. EDWARD RALL CULTURAL LECTURE WITH MS. RENÉE FLEMING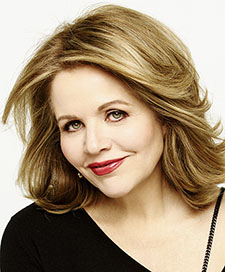 Monday, May 13; 1:00–2:00 p.m.
Masur Auditorium (Building 10)
Videocast and archived (NIH audiences only): http://videocast.nih.gov.
This is a ticketed event. Please check with your IC to find out how they will distribute tickets.
NIH has the honor of hosting renowned opera singer Ms. Renée Fleming for the Annual J. Edward Rall Cultural Lecture. Her presentation, "Music and the Mind," will consist of opening remarks by Ms. Fleming and then move to a conversation between Ms. Fleming and NIH Director Francis Collins. Topics will include Ms. Fleming's advocacy for music therapy and her role in the NIH-Kennedy Center "Sound Health" partnership. During the event, Ms. Fleming will answer questions that have been submitted by the NIH staff. Sign-language interpreters can be provided. Individuals with disabilities who need reasonable accommodation to participate in this event should contact Jacqueline Roberts, Jacqueline.Roberts@nih.gov, 301-594-6747, or the Federal Relay, 800-877-8339.
---
PARTICIPATE IN NIH OBSSR'S BEHAVIORAL AND SOCIAL SCIENCES RESEARCH
Health/Public Health Accomplishments Crowdsource through July 31, 2019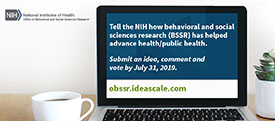 The NIH Office of Behavioral and Social Sciences Research (OBSSR) is seeking comment and input from the research and health/public health communities to help inform a list of impactful public health and healthcare accomplishments/contributions resulting from behavioral and social sciences research (BSSR). Follow this link to view how NIH defines BSSR. Note: This BSSR accomplishments list will be broad and will not be limited to NIH-funded research.
On Monday, April 22, OBSSR launched its IdeaScale website, a public comment platform, to engage the research community-at-large for the development of a broad accomplishments list. Your feedback will be used to make the list of accomplishments as meaningful as possible and to communicate the significance of BSSR. OBSSR is using IdeaScale to make it easy to submit to this list of accomplishments. (Once an IdeaScale account is created, a user can submit comments, browse and respond to comments that have already been submitted, and vote for their favorites.) OBSSR wants your input! For inquiries or more information, contact: OBSSRnews@mail.nih.gov
---
NIDA IRP OPIOID SYMPOSIUM
Wednesday, May 22, 2019; 8:50 a.m.-5:00 p.m.
Biomedical Research Center]
Johns Hopkins Bayview Campus, 251 Bayview Blvd. Baltimore, MD 21224
All attendees must have current, official Government identification to enter the building. NO EXCEPTIONS.
Please join us for this one-day symposium featuring research updates regarding opioid-use disorders. Esteemed researchers, both extramural and intramural, will summarize their most recent advances in this vital field of research. Topics range from the use of a therapeutic workplace to address opioid use disorders to basic research such as findings regarding the role of D3 antagonists in opioid reward. For more information, please contact Leslie A. Premo, 443-740-2137 or lpremo@nih.gov.
---
ANITA B. ROBERTS LECTURE
"Williams Syndrome: A Rare View of the Path from Genes to Neural Circuits to Behavior and Back Again."
Thursday, May 30; 1:00-2:00 p.m.
Lipsett Amphitheater (Building 10)
The Anita B. Roberts Lecture will be given by Senior Investigator and Clinical and Translational Neuroscience Branch Chief Karen Berman (NIMH). She conducts translational investigations, using multimodal neuroimaging to bridge the gap between neurogenetic, molecular, cellular, and system-level mechanisms in neurodevelopment and in neuropsychiatric disorders. She has received many awards, including the A.E. Bennett Award for Neuropsychiatric Research of the Society of Biological Psychiatry, the NARSAD Independent Investigator and Distinguished Investigator Awards, four NIH Bench to Bedside Awards, and the NIH Director's Award. She is a past president of the Organization for Human Brain Mapping and is president-elect of the Society of Biological Psychiatry and is an elected member of the National Academy of Medicine. This seminar series is dedicated to the memory of Anita B. Roberts, former chief of NCI's Laboratory of Cell Regulation and Carcinogenesis, and highlights outstanding research achievements by women scientists in the NIH Intramural Research Program. The lecture will be followed by a reception with refreshments to talk with Dr. Berman about career issues for women in science. For sign-language interpretation, please contact Margaret McBurney at mmcburney@od.nih.gov or 301-496-1921.
---
"PATHWAYS TOWARD AND AWAY FROM BRAIN HEALTH"
A Symposium in Honor of Mark Mattson's Contributions to Science (so far…)"
Senior Investigator Mark Mattson (National Institute on Aging) will be officially retiring on May 31, 2019. His research program has been aimed at understanding the molecular and cellular changes that occur in the nervous system during aging and the mechanisms responsible for aging of the nervous system and age-related neurodegenerative disorders—such as Alzheimer, Parkinson, and Huntington diseases—and stroke. Come celebrate and thank him for all his contributions to the scientific community and society.
---
NIH BIG READ 2019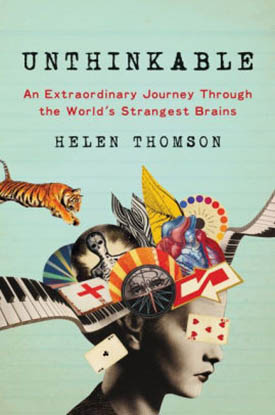 The NIH Library and the Foundation for Advanced Education in the Sciences (FAES) are pleased to announce the NIH Big Read 2019 featuring Unthinkable: An Extraordinary Journey Through the World's Strangest Brains, by science journalist Helen Thomson. She will visit NIH on June 7to discuss her book with NIH Director Francis Collins in an informal conversation. Afterwards, there will be a reception and meet and greet with the author on the FAES Terrace (Building 10) from 2:00 to 3:00 p.m. For more information, contact Kathleen McGlaughlin (kathleen.mcglaughlin@nih.gov).
Book synopsis: Take a fascinating journey through the human mind, by way of nine extraordinary people who have rare neurological disorders. By examining stories about what can happen when the mind misbehaves, interwoven with explanations on how the brain works, we can explore and gain insights into the complexities and possibilities of all of our brains, and perhaps even better understand our sense of self.
Start reading now through the NIH Library's OverDrive platform. Unlimited online access to both the eBook and the audiobook will be available through June 14 for NIH staff.
Book Discussions in NIH Library Training Room 1 (Building 10)
Dates to sign up for both the book discussions and training sessions are below. Go to the website to sign up.
Thursday, May 16, 12:00–1:00 p.m.
Tuesday, May 21, 1:00–2:00 p.m.
Tuesday, June 4, 1:00–2:00 p.m.
---
THIRD ANNUAL TECHNOLOGY SHOWCASE
The 2019 Technology Showcase will highlight technologies being developed at the NCI and the Frederick National Laboratory for Cancer Research (FNLCR) to encourage startup company formation, technology licensing, and collaborations. Hear from NCI and FNLCR inventors about technologies primed for technology commercialization and/or collaboration. The event will feature panel sessions on technology commercialization; poster sessions highlighting additional NCI technologies for collaborative development and/or licensing; and keynote speaker Rich Bendis, president and CEO of BioHealth Innovation, Inc. Bendis, one of the most recognized experts in the field of innovation economy, is an entrepreneur, corporate executive, venture capitalist, investment banker, innovation and technology-based economic development leader, international speaker, and consultant in the technology and health-care industries.
---
TAKE A HIKE DAY
Wednesday, June 12, 2019; 11:30 a.m.-1:30 p.m.
Meet in front of Building 1, Bethesda campus (rain or shine)
All NIH staff are invited to participate in the 12th Annual NIH Take a Hike Day, a non-competitive 3.25-mile walk/run around the perimeter of the Bethesda campus. Not on the Bethesda campus? Not a problem. Take a Hike Day is also held at four off-campus locations: Rockledge, Executive Plaza, Fishers Lane and NCI Shady Grove. The event is sponsored by the NIH Office of Management (OM), Office of Research Services (ORS). For information, please contact Ms. Shuntrice Holloman, ORS at Shuntrice.holloman@nih.gov.
---
WEDNESDAY AFTERNOON LECTURE SERIES (WALS)
The NIH Director's Wednesday Afternoon Lecture Series, colloquially known as WALS, is the highest-profile lecture program at the NIH. Each season includes some of the biggest names in biomedical and behavioral research. The goal of the WALS is to keep NIH researchers abreast of the latest and most important research in the United States and beyond. An added treat is the annual J. Edward Rall Cultural Lecture, which features top authors and other cultural icons. All speakers are nominated by the NIH community. For more information, go to https://oir.nih.gov/wals/current-lecture-season.
May 8 (George Khoury Lecture): Julie Pfeiffer, Ph.D., UT Southwestern Medical Center, "Getting by with a Little Help from Their Friends: How Bacteria Aid Virus Infection"
Monday, May 13 (Ralls Cultural Lecture): Renée Fleming, "Music and the Mind"
May 15 (Margaret Pittman Lecture): Lucile Adams-Campbell, Ph.D., Georgetown University, A community approach to breast cancer prevention: addressing health disparities
May 22: Sekar Kathiresan, M.D., Harvard Medical School, Genes, lifestyle, and risk for heart attack
May 29: Brigitte Kieffer, Ph.D, Douglas Hospital Research Center, "Opiates on the Brain"
June 5: Jodi Nunnari, Ph.D., University of California, Davis, Mitochondrial Behavior
June 12: Anne O'Garra, Ph.D., The Francis Crick Institute, Lecture Title Forthcoming
June 26 (NIH Director's Lecture): Sandra L. Wolin, M.D., Ph.D., National Cancer Institute, Autoantigens and autoimmunity: a bedside to bench and back again story
---
12TH ANNUAL NIH GRADUATE & PROFESSIONAL SCHOOL FAIR
Wednesday, July 17; 8:45 a.m.-2:45 p.m.
Exhibits will be open from 9:45 a.m. to 1:45 p.m.
Natcher Conference Center (Building 45)
The 2019 NIH Graduate & Professional School Fair provides an opportunity for NIH summer interns (especially those in college) and postbacs, as well as other college students in the D.C. area, to prepare for the next step in their careers by exploring educational programs leading to the Ph.D., M.D., D.D.S., M.D./Ph..D, and other graduate and professional degrees. More than 200 outstanding colleges and universities from across the U.S. are sending representatives of their graduate schools, medical and dental schools, schools of public health, and other biomedically relevant programs in the hopes of recruiting NIH trainees. The day will also include workshops on getting to graduate and professional school; M.D./Ph.D. programs; interviewing; and careers in public health, computational biology/bioinformatics, psychology, and dentistry. A list of institutions planning to attend and registration information can be found at https://www.training.nih.gov/gp_fair.
---
"NEW FRONTIERS IN GENOMICS"
2019 Trent Lecture
Friday, June 14, 2019; 2:00-3:00 pm
Lipsett Amphitheater (Building 10)
The 2019 Trent Lecture will be given by Jay Shendure, M.D., Ph.D., Investigator, Howard Hughes Medical Institute, Professor, Genome Sciences, University of Washington, and Director, Allen Discovery Center for Cell Lineage/Director, Brotman-Baty Institute for Precision Medicine. This event will not be videocast. Registration is not required. For more information, please contact Nora Miralieva (nora.miralieva@nih.gov or 301-443-4404)
---
"Global Health in a Changing World"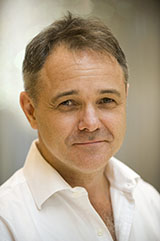 This year's lecture will be given by Jeremy Farrar, director of the Wellcome Trust and a world-renowned clinical scientist and leading figure in the field of infectious disease. For more information, go to https://www.fic.nih.gov/News/Events/Pages/Barmes-Lecture.aspx.
Before becoming director of the Wellcome Trust in 2013, Farrar was the director of the Oxford University Clinical Research Unit in Vietnam, which is supported by Wellcome. His research interests were infectious diseases, tropical health and emerging infections. Farrar recently received the 2019 Jimmy and Rosalynn Carter Humanitarian Award from the National Foundation for Infectious Diseases. He was named 12th in Fortune's list of the World's 50 Greatest Leaders in 2015. His other awards include the Order of the British Empire in 2005 for services to tropical medicine, as well as the Memorial Medal and the Ho Chi Minh City Medal by the Government of Vietnam. He is a Fellow of both the Academy of Medical Sciences and the Royal Society.
The Wellcome Trust is an independent foundation with a $33 billion investment portfolio that offers grants across biomedical science, population health, medical innovation, humanities and social science, and public engagement. It supports the work of over 14,000 researchers in about 100 countries.
---
CREDIT FOR THUMBNAIL IMAGE: EDUCESTER, THINKSTOCK.COM
This page was last updated on Monday, April 4, 2022