My Room, Your Room
Room 212, The Cloister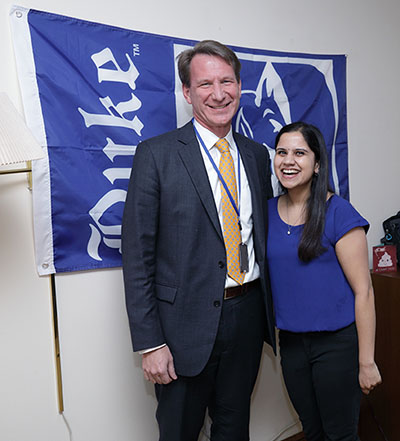 NIH Medical Research Scholar Nicole Dalal knew she was living in a historic building once occupied by nuns. But what she didn't know was that her residence—Room 212 in the Cloister (Building 60), built in 1923 and taken over by NIH in 1984—had its own special history: Former National Cancer Institute (NCI) Director—now Acting Commissioner of the FDA—Ned Sharpless had lived there in the early 1990s. He was a medical research scholar when the program was run as a partnership between NIH and the Howard Hughes Medical Institute (HHMI).
The Medical Research Scholars Program (MRSP) provides a year of intensive training for medical, dental, and veterinary students—typically between their third and fourth years of professional school—at the NIH campus in Bethesda, Maryland. The program is a successor program to the NIH-HHMI Research Scholars Program that ran from 1985 to 2012.
"I thought it was pretty cool [that Ned Sharpless] lived in the same room as me," said Dalal.
Sharpless, who visited his old room and met Dalal in January, was pleased that the room—which is really a small one-bedroom apartment—looked pretty much as he remembered it. One difference was that in the 1990s, the shelves were filled with textbooks and reprints of journal articles; Dalal's shelves are nearly bare. Nowadays, medical students often use online materials, so there's little need to have physical books and printouts around.
Suddenly, Sharpless noticed the Duke University banner hanging on the wall and gasped in mock disbelief. Dalal is a student at Duke University School of Medicine (Durham, North Carolina), home to the Blue Devils. Sharpless was a medical student at Duke's arch rival school—the University of North Carolina (UNC) School of Medicine (Chapel Hill, North Carolina), home of the Tarheels. The two engaged in some good-natured teasing.
When Sharpless was an NIH-HHMI program participant, he did research on HIV with the late Monique Dubois-Dalcq, who was the chief the Laboratory of Viral and Molecular Pathogenesis in the National Institute of Neurological Disorders and Stroke. After graduating from medical school and completing his residency in internal medicine (Massachusetts General Hospital, Boston) and a hematology­–oncology fellowship (Dana-Farber/Partners Cancer Care, Boston), he spent two years on the Harvard Medical School (Boston) faculty. In 2002, he accepted an appointment at the UNC School of Medicine in the Departments of Medicine and Genetics, later becoming the Wellcome Professor of Cancer Research and director of UNC–Chapel Hill's Lineberger Comprehensive Cancer Center. In 2017, he was sworn in as the 15th director of NCI, and on April 5, 2019, he went on leave from that position to become the Acting Commissioner of the FDA.
Sharpless still conducts research, too. His current work is on understanding the biology of the aging process that promotes the conversion of normal self-renewing cells into dysfunctional cancer cells. He has made seminal contributions to the understanding of the relationship between aging and cancer and in the preclinical development of novel therapeutics for melanoma, lung cancer, and breast cancer.
Dalal, who hopes to become an oncologist one day, is doing cancer epidemiology research with Lindsay Morton, a senior investigator in the Radiation Epidemiology Branch in NCI's Division of Cancer Epidemiology and Genetics. Using the Surveillance, Epidemiology, and End Results (SEER) database, which provides detailed population-based statistics on cancer, Dalal is trying to determine the causes of death of people who survived their cancers. Specifically, she is studying survivors of two rare, indolent forms of non–Hodgkin lymphomas called lymphoplasmacytic lymphoma and Waldenström macroglobulinemia. "With better treatments, patients are surviving their cancers but may be dying of other causes, such as infections and heart disease, at a rate that is different from the general U.S. population," she said. Such information is important for oncologists to understand so they know how to appropriately monitor and treat their patients' unique disease risks.
"This year has opened my eyes to the importance of population-based research," she said. It's especially helpful for rare diseases because "it allows scientists to study so many more patients—in different socioeconomic groups and geographic locations—than can be conventionally studied in clinical trials."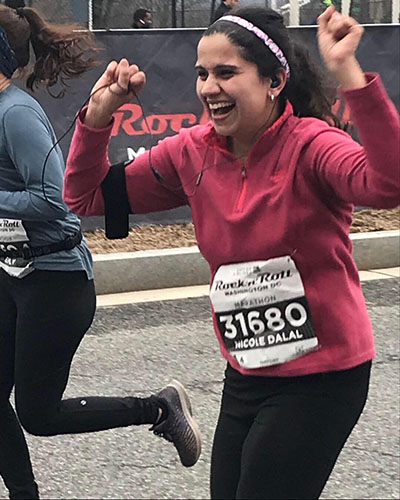 Dalal recently ran in the "Rock 'n' Roll Marathon" in Washington, D.C., along with two other Cloister residents.
But past and present MRSP scholars do more than spend time in the lab. Sharpless and Dalal had fun comparing notes of what constituted fun. Both enjoyed being so close to Washington, D.C. Both enjoyed cooking lots of pizza-Sharpless prepared his in the microwave; Dalal makes a small, flatbread variety called naan pizza. And both love sports. Sharpless played tennis and basketball and loved running in Rock Creek Park. Dalal enjoys running, too, and recently ran in the "Rock 'n' Roll Marathon" in Washington, D.C., along with two other Cloister residents.
---
The MRSP allows medical, dental, and veterinary students to pause their university studies to live on the intramural campus of NIH in Bethesda, Maryland, and conduct basic, clinical, or translational research for a year. The program, which began in 2012, was established as a merger of the former NIH-HHMI Research Scholars Program (1985–2012) and NIH's Clinical Research Training Program (1997–2012). In addition to doing research, MRSP scholars attend every-other-week "Process of Discovery" lectures that are followed by pizza dinners with the speakers. The lecturers are senior investigators, who tell the stories of their academic careers, how they got interested in science, how they chose their fields of study, who were their mentors along the way, and what advice they would give to current scholars. (Sharpless gave one on the day he visited.) In addition, the scholars attend journal clubs and clinical teaching rounds in which patients come and talk about their experience in being part of clinical trials. Up to 50 scholars a year are accepted into the program. For more information on the MRSP, go to https://cc.nih.gov/training/mrsp/index.html.
This page was last updated on Monday, April 4, 2022