NINDS Welcomes Lorna Role as New Scientific Director
Plans to Expand Mentorship and Training Opportunities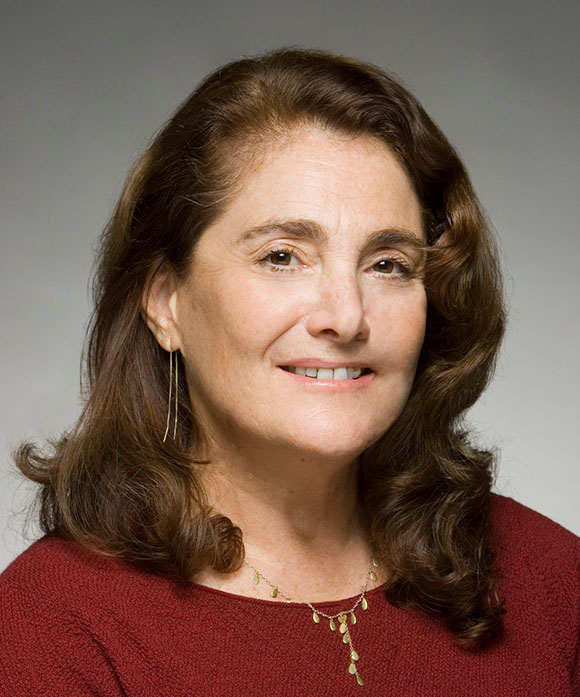 The first email from Lorna Role to the scientists and staff of the National Institute of Neurological Disorders and Stroke (NINDS) read "TALK TO ME." And, as the new NINDS scientific director (SD), that's exactly what she wants people to do. Role hopes to "serve the faculty and do everything I can to make the environment as positive and productive as possible," she said.
The first order of business was to assemble an executive advisory council, composed of NINDS principal investigators (PIs) and scientific staff, to provide her with valuable input and feedback on program planning. The committee members were selected based on differences in their experiences and expertise as well as with an eye toward gender and seniority balance. Role has already found the diverse opinions expressed helpful in considering potential organizational changes. The group meets at least once a month (before the full faculty meetings) and will gradually expand to include tenure-track investigators, more staff scientists and staff clinicians, and perhaps even postdocs.
Among many important areas of focus, one of great interest to Role is mentoring and training. Role hopes to create more training opportunities, especially for NINDS junior scientists. "This should be the place everybody fights to come [to]," she said. She feels strongly that NINDS should have a thriving, interactive community of trainees. She will also expand mentorship opportunities for junior scientists; formalize mentoring committees so that each includes three or more mentors; and require documented (at least) annual meetings.
In addition to her role as the NINDS SD, Role will also have her own lab—the Circuits, Synapses and Molecular Signaling Section—where her research will focus on the brain's cholinergic system over the lifespan. Cholinergic signaling—which is essential for attention, cognitive processing, and memory—is compromised in neurological disorders including Alzheimer disease and Parkinson disease. Role's work in these domains has focused primarily on physiological approaches to circuits and neural systems in genetically modified mice, but has recently expanded to include human studies with a novel cholinergic positron-emission-tomography tracer. She has been the principal investigator on numerous NIH-funded grants, supported continuously since 1982; an early recipient of an NINDS Javits award; and more recently received an NIH Director's Pioneer Award. She has published more than 100 scientific articles. Over her career at both Columbia University (New York) and the State University of New York (SUNY) at Stony Brook (Stony Brook, New York), Role has mentored nearly 20 undergraduate students and more than 50 postdoctoral fellows, graduate, and medical students.
In addition to continuing her research and the challenge of expanding her leadership responsibilities, Role welcomes the unique opportunities NIH offers to engage with so many different scientific minds from a variety of backgrounds. She finds the diversity of science and possible collaborative ventures—along with countless opportunities to participate in NIH events, workshops, and scientific discussions—to be thrilling.
Before coming to the NIH, Role was a full professor at Columbia University College of Physicians and Surgeons and then a SUNY Distinguished Professor and Chair of the Department of Neurobiology and Behavior at SUNY Stony Brook. She was also co-director of SUNY Stony Brook's Neurosciences Institute.
Role has brought with her Simon Halegoua, who served as her vice-chair and continues as a professor at SUNY Stony Brook in the Department of Neurobiology and Behavior. Halegoua is an NINDS senior advisor to the NINDS Office of the Scientific Director. Role enjoys working with Halegoua, she said, because he "always sees issues from a completely different perspective" than she does.
As a department chair, Role doubled the size of the department at SUNY Stony Brook and increased the number of female faculty from one to six. Her commitment to increasing the representation of women in science will continue at NINDS.
Role has earned many awards and honors, including being named a Fellow of the American Association for the Advancement of Science in 2011 and a Fellow in the American College of Neuropsychopharmacology in 2009. She received three separate awards from the McKnight Foundation at different stages of her career and was twice named a Distinguished Investigator by the National Alliance for Research on Schizophrenia and Depression, now the Brain and Behavior Research Foundation. In 2010, she received the NIH Director's Pioneer Award, which "supports scientists with outstanding records of creativity pursuing new research directions to develop pioneering approaches to major challenges in biomedical and behavioral research."
Role obtained an A.B. in applied mathematics from Harvard University (Cambridge, Massachusetts) and a Ph.D. in physiology from Harvard Medical School (Boston). She did her postdoctoral training in pharmacology at Harvard Medical School and at Washington University School of Medicine (St. Louis) with Gerald Fischbach, who later served as the director of NINDS (1998–2001). After her training, she became an assistant professor at Columbia University in 1985 and rose to the level of professor before moving to SUNY Stony Brook in 2008.
In her personal life, Role raised two daughters—Lindsay and Masha (short for Marussia)—as a single mother in the city of New York. Today, Lindsay is a psychiatrist at Johns Hopkins University (Baltimore) and Masha is a clinical psychologist at Tufts University (Boston). Role is excited to be geographically closer to Lindsay, who has a 14-month-old son, Role's first grandchild. Although it can be harrowing to have two daughters in the field of mental health, who now roll their eyes at their mother's antics "with authority," Role is exceptionally proud of their accomplishments.
Beyond spending time with family and her husband David Talmage (a molecular geneticist at the National Institute of Mental Health), Role enjoys doing and looking at "ahht" (that's "art" with a Boston accent) and listening to jazz. She and her husband are keeping their New York apartment, which was previously occupied by jazz legend Thelonious Monk.
Read more about her at https://irp.nih.gov/catalyst/v27i3/colleagues-recently-tenured.
---
Former NINDS SD, Alan Koretsky
Stepping Forward (Not Back!) to the Lab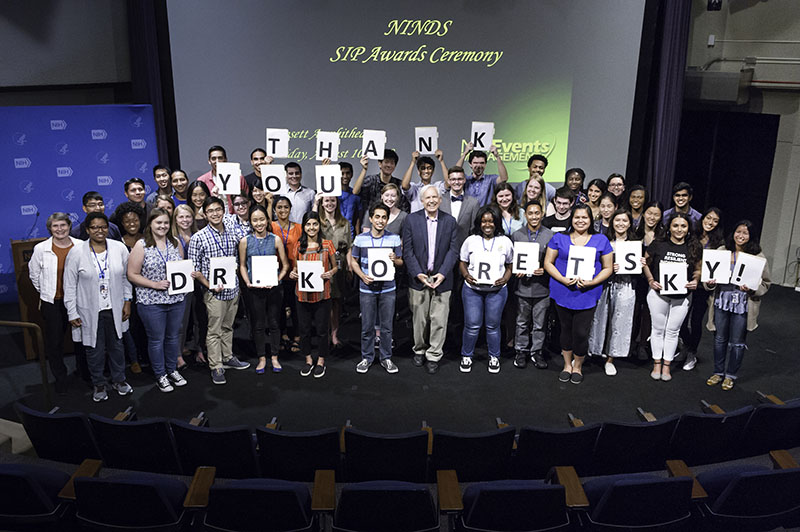 During Alan Koretsky's 12 years as the scientific director (SD) of NINDS, widespread changes occurred to make the institute larger and more cohesive while maintaining it at the frontiers of neuroscience research. Milestones met during Koretsky's tenure include the completion of the John Edward Porter Neuroscience Research Center (Building 35), modernization of the clinical program, enhancement of core facilities available to neuroscientists, and recruitment of an outstanding—and increasingly diverse—group of PIs.
Some of the most satisfying experiences Koretsky encountered during his time as SD came from mentoring staff at all career levels. "I take mentoring seriously," he said. "It was eye opening having that responsibility for the entire NINDS [IRP]—the chance to impact people who needed help—and I could do it."
"Alan has had immeasurable influence on my career," said NINDS senior investigator Daniel Reich. "He's been a tremendously supportive scientific director, striking what I think is a delicate and often difficult balance between providing opportunities to individual PIs while remaining fair to everyone. His vision for the NINDS [IRP] has made it a unique place in the world of neuroscience, spanning a far greater range of expertise and research interests than any other place I know."
Koretsky is probably best known for pioneering magnetic-resonance-imaging (MRI) technology such as arterial spin labeling, which is used in functional MRI to measure blood flow. Koretsky's group also pushes MRI-resolution capabilities to detect single cells as they migrate throughout the brain; uses novel contrast agents to identify synaptic connections; and is developing sensors that are capable of detecting changes in physiology. Recently, his group has begun to use MRI to detect loci of changes in neuronal circuitry, which are then described at the synaptic level with calcium imaging and electrophysiology. Koretsky said he is excited to return to thinking about this research full time even though he is proud of the accomplishments of NINDS under his leadership.
Outside of the lab, Koretsky enjoys spending time with his family, including his wife Tracy Koretsky (who's in the office of scientific review in the National Institute of General Medical Sciences) and their three children. Evan is a senior studying chemistry at the University of California at Berkeley (Berkeley, California); after graduation he plans to do a brief stint in the pharmaceutical industry and then go on to medical school. Mathew is at the University of Vermont (Burlington, Vermont) studying data science, statistics, and skiing. Anna is a senior at Walt Whitman High School (Bethesda, Maryland) and plans to attend Brandeis University (Waltham, Massachusetts) in the fall to study physics and math.
This page was last updated on Monday, April 4, 2022