Research Briefs
NIEHS: PROTEIN USES FILAMENTS TO BRIDGE BROKEN DNA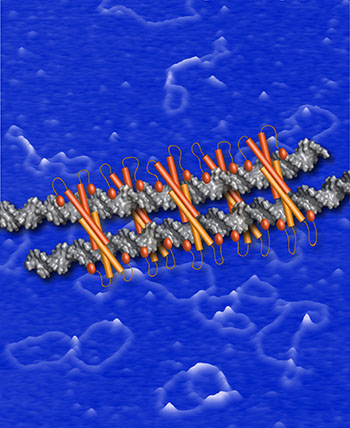 A protein called Ctp1 mediates the repair of DNA double-strand breaks by forming filaments that bridge two DNA strands, according to a study in yeast by NIEHS researchers and their colleagues. The findings could provide insight into the defect in DNA repair that causes Seckel and Jawad syndromes in humans.
In what is the first molecular snapshot of the Ctp1 protein bound to DNA, the researchers used atomic-force-microscopy imaging to observe how Ctp1 interacted with DNA. They discovered that while it was bound to double-stranded DNA, Ctp1 clustered into tetramers, each with an average length of approximately 15 base pairs. These Ctp1 tetramers formed filaments that each spanned approximately 180 base pairs and bridged two double-stranded DNA molecules. To mediate zipping the DNA, multiple Ctp1 tetramers lined up next to one another. Mutations that prevented Ctp1 from forming multiunit complexes severely impaired DNA bridging. Moreover, mutations that changed the DNA bridging made cells especially sensitive to radiation and chemicals that produce double-strand breaks. The findings could provide insight into the DNA-repair defect that causes Seckel syndrome and Jawad syndrome, which are rare genetic diseases characterized by facial, skin, and finger abnormalities; developmental delays; and microcephaly. (NIH authors: S.N. Andres and R.S. Williams, J Biol Chem 294:3312–3320, 2019; DOI:10.1074/jbc.RA118.006759.)
---
NIEHS: CHEMOTHERAPY WORKERS FACE RISKS, REDUCED WITH SAFE HANDLING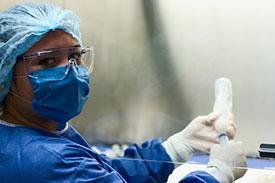 The National Toxicology Program (NTP) reported a moderate level of evidence that workplace exposure to chemotherapy drugs is associated with an increased risk of miscarriage and genetic toxicity. Studies (identified through a literature review) also suggested that workplace exposures to these drugs have decreased over time, as institutions provide protective equipment and employees follow safe-handling guidelines.
The NTP Monograph on the Systematic Review of Occupational Exposure to Cancer Chemotherapy Agents and Adverse Health Outcomes is a follow-up to a 2013 NTP monograph on the effects of chemotherapy for women who were pregnant while being treated for cancer. The new publication addresses potential adverse health effects in workers who administer these drugs or may otherwise be exposed to them at work.
A comprehensive literature search identified 110 epidemiological studies of adverse health outcomes and 171 studies that evaluated exposures. Studies as recent as 2016 reported detecting chemotherapy drugs in workers' urine and blood samples as well as in the work environment. There was inadequate evidence for development of cancer or other adverse health outcomes, due to the limited numbers of studies or to mixed results. The conclusions were reviewed by agency partners and five outside experts.
Most of the studies reviewed by NTP looked at medical-care professionals, such as pharmacists and oncology nurses, who prepare and administer these drugs. The study also looked at reports on other potentially exposed worker populations. The authors emphasized the need for more health and exposure studies of hospital-housekeeping personnel, veterinary-clinic staff, and family and friends caring for cancer patients at home (NIH contributors: K.L. Howdeshell, M.D. Shelby, R.M. Lunn, Pam Ross, K.W. Taylor, K.L. Witt, and A.A. Rooney. National Toxicology Program, NTP Monograph on the Systematic Review of Occupational Exposure to Cancer Chemotherapy Agents and Adverse Health Outcomes (NTP monograph 5; Research Triangle Park, NC: National Toxicology Program, 2019).
---
NIEHS: RESEARCHERS FIND KEY TO FLAVONOIDS' HEALTH BENEFITS
NIEHS researchers reported that quercetin, a flavonoid found in capers, dill, chili peppers, fennel, onions, and cranberries, specifically blocked the activity of inositol hexakisphosphate kinase (IP6K), a protein that promotes cancer metastasis.
In the study, the researchers surveyed the effect of quercetin and similar flavonoids on the function of two closely related proteins—IP6K and inositol polyphosphate multikinase (IPMK). They identified a small collection of flavonoids that blocked the function of IP6K but not IPMK and used X-ray crystallography to capture atomic-level interactions between these flavonoids and IP6K and IPMK. The techniques provided a structural map that showed exactly how the flavonoid was able to home in on IP6K. In follow-up experiments in human colon cells, the researchers confirmed that quercetin and two other flavonoids specifically targeted IP6K without also targeting IPMK.
"What distinguishes our work is the discovery that IP6K is affected by levels of flavonoids found within a balanced human diet," said lead study author Chunfang Gu. The findings pinpoint a likely cause for the known beneficial effects of consuming flavonoids. They also provide a platform to launch drug-development studies for treating colon cancer, type 2 diabetes, and cardiovascular disease. (NIH authors: C. Gu, S.B. Shears, and H. Wang, J Med Chem 62:1443–1454, 2019; DOI:10.1021/acs.jmedchem.8b01593.)
---
NCI-DCEG: CONTROLLING CERVICAL CANCER
Scientists in NCI-DCEG are among the leaders of a growing global effort to greatly reduce the number of deaths each year from cervical cancer. They are building on a legacy of research advances for this malignancy that resulted from decades of investment in natural-history studies. By leveraging support from the Cancer Moonshot partnerships with nonprofit organizations, integrated health-care systems, pharmaceutical and medical-research companies, and others, NCI-DCEG investigators have launched a multifaceted, highly integrated research program to improve both primary and secondary prevention for a malignancy that affects more than half a million women each year and causes over 300,000 deaths worldwide. To read more, click here.
---
NIDA: THE GENIUS OF CHEMOGENETICS
NIDA scientists and others funded by the institute have published findings showing the development of a new, groundbreaking chemogenetics technology for modulating brain function in a remote, precise, and ultrasensitive manner in living subjects. These findings describe new chemogenetic ion channels for neuron activation and silencing that are controlled by very low doses of the anti-smoking medication varenicline. This drug is an especially attractive molecule for chemogenetic applications in part because it is well-tolerated by patients, effectively penetrates the brain, and has long-lasting effects. This technique for modulating neuronal function, reported in laboratory animals, has potential for use in humans and may pave the way for new treatments for addiction, pain, depression, and other conditions. Ongoing experiments at NIDA are already applying this technology to study malfunctioning brain circuits and their relevance to development of drug addiction. (NIDA authors: J. Bonaventura, J.L. Gomez, and M. Michaelides, Science 364:eaav5282, 2019; DOI:10.1126/science.aav5282)
---
NINDS: OUR BRAINS MAY RIPPLE BEFORE REMEMBERING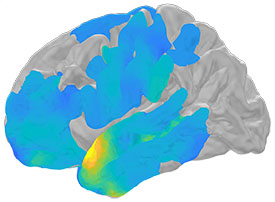 An NIH intramural study suggests tiny electrical brain waves may be a hallmark of successful memory retrieval. A sound, a smell, a word can all flood our minds with memories of past experiences.
In a study of people with epilepsy, NINDS researchers found that split seconds before we recall these events tiny electrical waves, called ripples, may flow through key parts of our brains that help store our memories, setting the stage for successful retrieval. (NINDS authors: A.P. Vaz, S.K. Inati, and K.A. Zaghloul, Science 6430:975–978, 2019)
---
NINDS: WANT TO LEARN A NEW SKILL? TAKE SOME SHORT BREAKS
In a study of healthy volunteers, NINDS researchers found that our brains may solidify the memories of new skills we just practiced a few seconds earlier by taking a short rest. The results highlight the critically important role rest may play in learning. (NINDS authors: M. Bonstrup, R. Thompson, G. Cruciani, and L.G. Cohen, Current Biology 29:1346–1351, 2019; DOI:https://doi.org/10.1016/j.cub.2019.02.049)
---
NIAID: NIH RESEARCHERS MAKE PROGRESS TOWARD EPSTEIN-BARR VIRUS VACCINE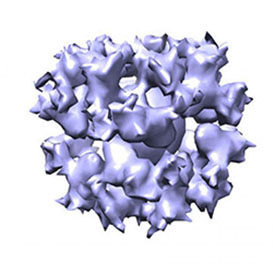 A research team led by scientists from NIAID has determined how several antibodies induced by Epstein-Barr virus (EBV), a herpesvirus that causes infectious mononucleosis and is associated with certain cancers, block infection of cells grown in the laboratory. They then used this information to develop novel vaccine candidates that, in animals, elicited potent anti-EBV antibody responses that blocked infection of cell types involved in EBV-associated cancers.
The scientists developed two vaccine candidates, one designed to elicit antibodies to gH/gL on epithelial cells and another that included gH/gL and another viral protein, gp42. The team tested the vaccines in a series of experiments in mice and monkeys. In both animal models, each of the experimental vaccines induced antibodies that potently inhibited epithelial cell fusion. The vaccine containing gp42 induced stronger B-cell fusion inhibitory antibodies than the one containing gH/gL alone.
Unlike the gp350 candidate EBV vaccine, which protects only B cells from infection, the candidate vaccines described in the new paper elicited antibodies that could prevent EBV from fusing with both epithelial cells and B cells and thus may provide protection independent of cell type, the authors note. The team is planning to further develop one of the vaccine constructs with an eye toward human trials. [NIAID authors: W. Bu, M.G. Joyce, H. Nguyen, D.V. Banh, F. Aguilar, Z. Tariq, R.A. Gillespie, S.F. Andrews, S.R. Narpala, A.B. McDermott, G.J. Nabel, M. Kanekiyo, and J.I. Cohen, Immunity pii:S1074-7613(19)30127-X, 2019; DOI: 10.1016/j.immuni.2019.03.010]
This page was last updated on Monday, April 4, 2022