The Training Page
Career Advice from NIH Scientist Serena Dudek
This past November, I had the opportunity to take part in the annual Society for Neuroscience (SfN) conference, held in Washington, D.C. Attended by roughly 30,000 scientists, the conference offered nothing short of a neuroscience amusement park. The weekend was jam-packed with hundreds of symposia, workshops, posters, and lectures. My joy at reuniting with old colleagues paralleled only my excitement at the debut of the newest advancements in research.
As a first-year postbac Intramural Research Training Award recipient not presenting any research, I could enjoy the conference at my own pace. I kicked off the weekend at a preconference Vision Workshop hosted by the National Eye Institute. I also attended a press conference on neuroprosthetics, a symposium on object and facial recognition, a press conference presented by several NIH institute directors, a roundtable discussion on neuroimaging biomarkers for mental illness, and poster sessions. My favorite was a career-development talk given by NIH senior investigator Serena Dudek (National Institute of Environmental Health Sciences, NIEHS).
Although Dudek's session took place at 8:00 a.m., 40 people gathered for her talk to hear about her career journey and the lessons she learned along the way.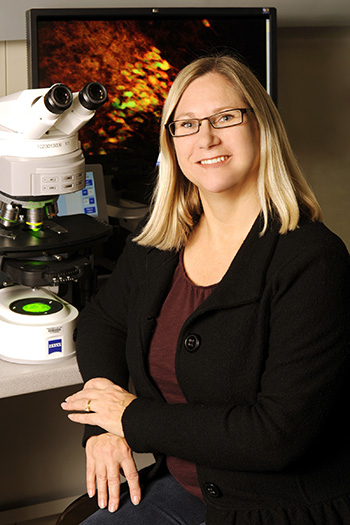 In the early 1980s, as an undergraduate at the University of California at Irvine (Irvine, California), Dr. Dudek was a research assistant in the lab of neuroscientist Gary Lynch. This work taught her the value of studying problems at multiple levels. For her Ph.D. in neuroscience at Brown University (Providence, Rhode Island), she worked with Mark Bear on long-term synaptic depression in the hippocampus. There, she learned the lessons of strength and persistence. She emphasized that being strong and persistent is not the same as never giving up.
"You need to know when to change your strategy," she explained. "But if something looks like it might be working—stay strong!"
During her first postdoctoral fellowship in neurobiology at the University of Alabama at Birmingham (Birmingham, Alabama), Dr. Dudek learned not to spread herself too thin. She found that when she was too stressed, she simply couldn't engage in creative problem solving. In 1996, she came to the NIH for a second postdoc and worked with Richard D. Fields in the Laboratory of Cellular and Synaptic Neurophysiology (National Institute of Child Health and Human Development). During that time, Dr. Dudek struggled with repeated failures and obstacles in her research. Such difficulties, she said, weigh especially hard on postdocs. But, she reminded the audience, when things are going well, you need to work as hard as you can.
"When you have a good thing going, just collect the data and go for it!" she said. "You never know when things will stop working." She also recommended that, to maintain a healthy state of mind, we should always have a side project that we know will work. We can turn to it when our main project isn't doing so well.
In 2001, Dr. Dudek was appointed a tenure-track investigator in NIEHS. One of the first lessons she learned there was that good ideas can emerge anytime, often when you least expect them. For that reason, she recommended never missing departmental seminars.
An even more valuable lesson she shared was that when it comes to mysterious problems in the lab, sometimes it is something as simple as the quality of the water—you may need to have the water system fixed. Or the problem could be the "black stuff in the rig" (so don't be afraid to use bleach to get rid of it); or the oxygen; or drifting baselines that act as bad manipulators. She opined that women, especially, tend to blame themselves when things go wrong. Unless all other options have been ruled out, she said, do not blame yourself.
Dr. Dudek also said that there was no substitute for practice and that we must track our own progress. She confessed that although she was an expert now, it took hundreds of repetitions before she could perfect the techniques used to record neural activity in brain slices. If it takes years to become a skillful tennis player, she asked, why would it take less time to master a complicated technical skill?
Hearing Dr. Dudek recount her career journey and the often humorous lessons she learned along the way was such a pleasure. Her zeal for science inspired me as a young trainee, and her sage advice will surely stick with me as I continue my studies.
This page was last updated on Friday, April 8, 2022