News Briefs
Brian Berridge Tapped to Manage National Toxicology Program
The National Toxicology Program (NTP), a federal interagency program housed in the National Institute of Environmental Health Sciences (NIEHS) intramural research program, welcomed Brian Berridge as its new associate director on January 7, 2018. Berridge, formerly of GlaxoSmithKline (GSK), will oversee day-to-day operations as NTP coordinates toxicology research and testing across nine federal agencies, including the National Institutes of Health, the U.S. Food and Drug Administration, and the Centers for Disease Control and Prevention. He is also one of two scientific directors for NIEHS (the other is Darryl Zeldin).
He hopes to further NTP's integration of cutting-edge toxicology methods, including animal studies, cell-based toxicity testing, and data-intensive computer modeling. He will also be setting up his own lab for studying cardiovascular toxicology.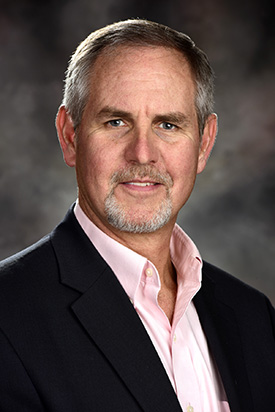 Berridge replaced John Bucher, who served as associate director from 2007 until now and who plans to continue with NTP as a senior scientist.
"We are thrilled that Dr. Berridge is bringing his expertise to environmental health, including experience with both traditional and novel toxicological methods," said Linda Birnbaum, who has directed NTP since 2009 while also directing NIEHS. "We are also deeply appreciative of Dr. Bucher's exemplary leadership for the past decade."
As the former director of Worldwide Animal Research Strategy at GSK, Berridge led efforts to improve animal and non-animal methods for testing pharmaceuticals. He headed up a cross-pharma collaboration on tissue-chip technology with the National Center for Advancing Translational Sciences and has contributed expertise to the federal Scientific Advisory Committee on Alternative Toxicological Methods since 2015.
"Brian brings a uniquely appropriate skill set to this position," said Bucher. "He's a veterinary pathologist by training with expertise in cardiotoxicity, and [has] an active interest in developing more human-relevant safety-assessment tools. I think he'll do a terrific job leading the NTP."
"Traditionally, toxicologists sit in one camp or the other [animal or non-animal], while I've been bridging those two," Berridge said. "NTP squarely bridges those two, which is why this role is really interesting to me."
Berridge began his career in pathology while on active duty in the U.S. Air Force. He completed his undergraduate studies at the University of Arkansas (Fayetteville, Arkansas). He holds a Doctor of Veterinary Medicine degree from Oklahoma State University (Stillwater, Oklahoma) and completed his Ph.D. and residency in pathology in the Department of Veterinary Pathobiology at Texas A&M University (College Station, Texas). As a postdoc, Berridge studied human cardiovascular devices and diseases in animals to inform treatment of human cardiovascular disease at the Texas Heart Institute in Houston.
---
A sample of Berridge's wide range of research is presented below.
Novel technologies: L. Ewart, K. Fabre, A. Chakilam, Y. Dragan, D.B. Duignan, J. Eswaraka, "Navigating tissue chips from development to dissemination: A pharmaceutical industry perspective," Exp Biol Med (Maywood) 242:1579–1585 (2017).
Mechanistic toxicology: R. Cianciolo, L. Yoon, D. Krull, A. Stokes, A. Rodriguez, H. Jordan, et al., "Gene expression analysis and urinary biomarker assays reveal activation of tubulointerstitial injury pathways in a rodent model of chronic proteinuria (doxorubicin nephropathy)," Nephron Exp Nephrol 124:1–10 (2013).
Integrated risk assessments: B.R. Berridge, P. Hoffmann, J.R. Turk, F. Sellke, G. Gintant, G. Hirkaler, et al., "Integrated and translational nonclinical in vivo cardiovascular risk assessment: gaps and opportunities," Reg Tox Pharm 65:38–46 (2013).
Translating basic research to benefit human health: B.R. Berridge, S. Pettit, D.B. Walker, A.S. Jaffe, A.E. Schultze, E. Herman, et al., "A translational approach to detecting drug-induced cardiac injury with cardiac troponins: consensus and recommendations from the Cardiac Troponins Biomarker Working Group of the Health and Environmental Sciences Institute," Am Heart J 1581:21–29 (2009).
This page was last updated on Friday, April 8, 2022