Announcements
FARE IS BACK FOR FISCAL YEAR 2019!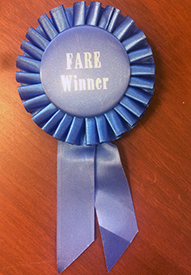 Applications and Abstracts Due by March 14, 2018, 5:00 p.m.
NIH intramural trainees are invited to submit an application for the annual Fellows Award for Research Excellence (FARE) competition. Winners will receive a $1,000* travel award to attend a scientific meeting, present their work at the 2018 NIH Research Festival, be recognized by a Scientific Interest Group, and serve as judges for the next FARE competition. Winners will be notified by August 15, 2018. For more information, please visit https://www.training.nih.gov/felcom/fare or send an e-mail to FARE@mail.nih.gov.
*NHLBI fellows do not receive a $1,000 travel grant as NHLBI policy is that fellows should attend all meetings that are necessary for their career development, and that meeting attendance should not depend upon winning a travel award. NHLBI fellows who receive a FARE award will still be acknowledged as awardees of FARE.
---
NATIONAL LIBRARY OF MEDICINE (NLM) HISTORY OF MEDICINE LECTURES
Thursdays as listed: 2:00–3:00 p.m.
NLM's Lister Hill Auditorium (Building 38A)
All lectures are videocast: https://videocast.nih.gov
All lectures and free and open to the public
The lecture series of the NLM History of Medicine Division promotes awareness and use of NLM and other historical collections for research, education, and public service in biomedicine, the social sciences, and the humanities. The series also supports the commitment of the NLM to recognize the diversity of its collections—which span ten centuries, encompass a range of digital and physical formats, and originate from nearly every part of the globe—and to appreciate the individuals of various disciplines who value these collections and use them to advance their research, teaching, and learning.
Read interviews with the lecturers on NLM's Circulating Now blog for a variety of perspectives on the history of medicine and the historical collections at NLM. Please direct questions about the lecture series to Stephen Greenberg (greenbes@mail.nih.gov), head, Rare Books and Early Manuscripts at NLM's History of Medicine Division.
Thursday, March 1, 2018—Special Program: "A Conversation about Graphic Medicine." A special public program in conjunction with Graphic Medicine: Ill-Conceived and Well Drawn, a new NLM special display, traveling banner exhibition, and online exhibition that launched in January 2018. Patti Brennan, director of the NLM, will explore the meaning of graphic medicine, an emerging genre of medical literature that combines the art of comics and personal illness narrative. She will be joined by Graphic Medicine guest curator, artist, author, and educator Ellen Forney; MK Czerwiec, a nurse and senior fellow at the George Washington School of Nursing Center for Health Policy and Media Engagement and an artist and the author of Taking Turns: Stories from HIV/AIDS Care Unit 371, and Michael Green, physician and professor in the Departments of Humanities and Internal Medicine at Penn State University. Green, Czerwiec, and others wrote Graphic Medicine Manifesto, which outlines the principles of graphic medicine and begins to map the field.
Thursday, April 5, 2018: "Scientists' Hard Drives, Databases, and Blogs: Preservation Intent and Source Criticism in the Digital History of Science, Technology and Medicine." Presenter: Trevor Owens, Head of Digital Content Management, Library of Congress
Thursday, May 24, 2018: 2nd Annual Michael E. DeBakey Lecture in the History of Medicine: "Transplanting Technology: Dr. Michael DeBakey and Cold War Technology Transfer." Presenter: Heidi Morefield, 2017 NLM Michael E. DeBakey Fellow in the History of Medicine; doctoral student, Department of the History of Medicine, The Johns Hopkins University (Baltimore, Md.)
Thursday, September 20, 2018: 10th Annual James H. Cassedy Memorial Lecture in the History of Medicine: "Making the Case for History in Medical Education." Presenter: David S. Jones, A. Bernard Ackerman Professor of the Culture of Medicine, Faculty of Arts and Sciences and the Faculty of Medicine, Harvard University (Cambridge, Mass.)
---
DEMYSTIFYING MEDICINE COURSE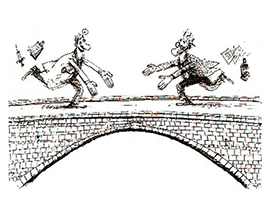 Medicine can seem mystifying at times, particularly to Ph.D.s whose specialized training has introduced them to an entirely different set of vocabulary and tools than M.D.s. You can argue that this divergence in training and subsequent balkanization of disciplines have contributed to a gap between advances in biology and their application to major human diseases. Conversely, interactions among Ph.D.s, M.D.s, R.N.s, and those from other scientific and medical disciplines can lead to wonderful advances.
Forging such interactions is the raison d'être for the Demystifying Medicine series, conceived by senior scientist emeritus Win Arias, M.D. Each year from January to May, he organizes weekly seminars on clinically oriented and timely topics, such as sexually transmitted diseases, leukemia, immunotherapy, and malaria. He brings in mostly NIH experts and occasionally patients for presentations on pathology, diagnosis, and therapy in the context of major disease problems and current research.
Each season also holds an interesting nonclinical but perhaps equally inspiring talk. On March 13, for example, Dr. Arias will host astrophysicist John Mather, who shared a 2006 Nobel prize for his contributions to Big Bang cosmology and who now is the project scientist for the James Webb Space Telescope, the planned successor to Hubble. Here's the rest of the schedule:
March 6: "Diabetes and Artificial Sweeteners" (Phillip Gorden, MD, NIDDK; Kristina Rother, MD, NIDDK)
March 13: "Brave New World: Imaging from the Cosmos to the Molecule" (John Mather, PhD, NASA; Jennifer Lippincott-Schwartz, PhD, MS, Howard Hughes Medical Institute, Janelia Research Campus)
March 20: "The Challenge of Malaria: The World's Number One Killer" (Peter Crompton, MD, MPH, NIAID; Photini Sinnis, MD, Johns Hopkins Bloomberg School of Public Health)
March 27: "Amyotrophic Lateral Sclerosis (Lou Gehrig's Disease): Are We Making Progress?" (Bryan Traynor, MD, PhD, MMSc, NIA; Mary Kay Floeter, MD, PhD, NINDS)
April 3: "Compulsive Disorders: Mechanisms and Management" (Antonello Bonci, MD, NIDA; Veronica Alvarez, PhD, NIAAA)
April 10: "Use of Induced Pluripotent Stem Cells (iPSC) for Regenerative Medicine" (Kapil Bharti, PhD, NEI; Pamela Robey, PhD, NIDCR)
April 17: "The Opioid Epidemic: How, Where, and What Can Be Done?" (Nora Volkow, MD, PhD, NIDA; Walter Koroshetz, MD, NINDS)
April 24: "Prenatal Genomics and Fetal Gene Therapy" (Diana Bianchi, MD, NICHD; Alan De Cherney, MD, NICHD)
May 1: "'Bridge Building,'" Careers for PhD and MD Fellows" (Michael Gottesman, MD, OD and NCI; Win Arias, MD, CC; Jonathan Yewdell NIAID)
May 8: Topic to be named (Francis Collins, MD, PhD, Director, NIH)
---
INTEGRATIVE MEDICINE RESEARCH LECTURE SERIES
The NCCIH Integrative Medicine Research Lecture Series provides overviews of the current state of research and practice involving complementary health approaches and explores perspectives on the emerging discipline of integrative medicine. For more information and/or to make arrangements for individuals with disabilities who need other reasonable accommodations, contact Afomeya Agonafer (301-435-6826 or Afomeya.Agonafer@nih.gov).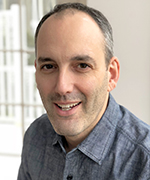 March 12: "Under Your Skin: Molecules and Cells for Touch and Pain" (Alexander Chesler, PhD, NCCIH). The somatosensory system enables us to detect touch, temperature and painful stimuli. By studying patients with a rare, inherited disease, Alexander Chesler and his team identified a key molecule for detecting touch and proprioception, our body's awareness of itself in space. In this lecture, Dr. Chesler will discuss the "sixth sense" and how recent advances in genetics and functional imaging in model systems can help shed light on mechanisms involved in acute and chronic pain.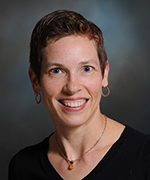 April 23: "Reframing the Primary Care Management of Chronic Pain" (Erin E. Krebs, MD, MPH, University of Minnesota). Primary care is a specialty focused on providing comprehensive care over many years. Primary care clinicians play a key role in caring for patients with chronic pain, a complex problem with diverse causes, co-occurring diseases/conditions, and consequences. Research has identified many barriers to the optimal management of chronic pain in primary care. The report from the National Institutes of Health's Pathways to Prevention workshop on "The Role of Opioids in the Treatment of Chronic Pain" notes, for example, that most primary care clinicians are overburdened and "work in health systems not designed or equipped for chronic pain management." Dr. Krebs will present on the characteristics and clinical needs of patients with chronic pain including those receiving long-term opioid therapy; the implications of recent and ongoing research on managing chronic pain; and opportunities to improve its management in primary care.
June 4: "Caring for our Military: Considering Non-drug Therapies for Pain" (Mary Jo Larson, Ph.D., M.P.A., Brandeis University).
---
THE JEFFREY M. TRENT LECTURESHIP IN CANCER RESEARCH
Thursday, March 15, 12:00–1:00 p.m. (followed by a mini-reception)
Lipsett Amphitheater (Building 10)
The 2018 Trent Lecture will be given by Joan Brugge, director of the Ludwig Center and Louise Foote Pfeiffer Professor of Cell Biology at Harvard Medical School (Boston), who will speak on "The Role of the TRPA1 Ca2+-permeable Channel in Oxidative Stress Defenses in Cancer." For more information, contact Nora Miralieva at nora.miralieva@nih.gov or 301-443-4404
---
"ANCIENT BLOODSUCKERS, DISPOSABLE GENES, AND WHAT IT ALL MEANS"
Jeramiah Smith, associate professor of biology at the University of Kentucky (Lexington, Kentucky), will present the third annual NIGMS Early Career Investigator Lecture. He will reveal new insights into the cellular mechanisms underlying programmed DNA loss in sea lampreys. These ancient vertebrates eliminate 20 percent of their genomic DNA during early development. Such large-scale deletion events, important in vertebrate evolution, may help us understand human genome reprogramming and pluripotency. The talk aims to engage young people, so undergraduates and other students are welcome. Dr. Smith recently published his work in Nature Genetics.
---
SOFT SKILLS VS. TECHNICAL SKILLS? SOFT SKILLS MAKE ALL THE DIFFERENCE
At NIH and in scientific and technical organizations, technical expertise is critical. However, of equal importance are soft skills. Google is widely known as an advocate of data-based decision-making and a leader in the high-tech industry. In 2017, the tech giant released "Project Aristotle," a surprising study that showed that specialized technical skills were not the best indicators of productive, innovative ideas or workplace success. "Project Aristotle" analyzed data on inventive and productive teams composed of top scientists with specialized knowledge. Surprisingly, this study indicated the best teams at Google exhibited a range of soft skills, including "equality, generosity, curiosity toward the ideas of teammates, empathy, and emotional intelligence." What topped the list? Emotional safety. In order to be successful at Google, each team member needed to feel confident speaking up and making mistakes.
The seven top characteristics of success at Google are all actually soft skills. These are include being a good coach; communicating well; listening well; possessing insights into others (including others' different values and points of view); having empathy toward and being supportive of one's colleagues; being a good critical thinker and problem solver; being able to make connections across complex ideas.
NIH also prides itself on the rigor of scientific research and technical expertise of our scientists who set out to make scientific discoveries each day. Innovation is a hallmark of our organization. Scientific leaders who also possess strong interpersonal skills have a greater chance for career advancement and success. The NIH Training Center offers a wide variety of "soft skills" courses to support our scientific experts. For a complete list of professional development training courses, visit https://trainingcenter.nih.gov/list.aspx?catId=7. For questions about NIH Training Center programs and services, contact the Training Center at 301-496-6211 or NIHTrainingCenter@nih.gov, or visit https://trainingcenter.nih.gov/about.html.
---
VOLUNTEER FOR NIH AT THE USA SCIENCE & ENGINEERING FESTIVAL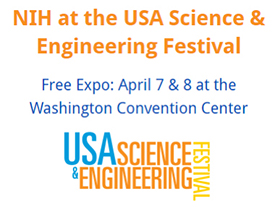 Please consider volunteering to support the NIH pavilion at the USA Science & Engineering Festival (USASEF). The USASEF is a free biennial event and the nation's largest celebration of science, technology, engineering, and math. The NIH exhibit will be in the Health and Medicine Pavilion at the festival and will feature more than 21 hands-on activities. NIH staff is invited to sign-up, select from a variety of volunteer opportunities, and choose a shift that works for them. To volunteer and learn more about the event, visit the NIH at the USASEF website at https://dpcpsi.nih.gov/SciFest/index.
---
POSTBACCALAUREATE POSTER DAY 2018
Wednesday, May 2, 2018, 10:00 a.m.–3:30 p.m.
Keynote address at noon, followed by presentation of mentoring awards
Natcher Conference Center (Building 45)
Postbac Poster Day provides an opportunity for postbacs to share the research they have been conducting at the NIH and at the same time develop their scientific communication and networking skills. Posters will be reviewed by teams composed of graduate students, postdocs, and staff scientists–clinicians. The authors of posters in the top 20 percent will receive a letter acknowledging their accomplishments. The keynote address will begin at noon followed by the presentation of Postbac Distinguished Mentoring Award(s) to NIH investigators selected by the postbacs. Poster Session I will take place from 10:00 a.m. to noon and Poster Session II from 1:30 to 3:30 p.m. Investigators, staff scientists, and scientific administrators can make a particularly important contribution to Postbac Poster Day by visiting posters and engaging their authors in discussion. For more information, visit https://www.training.nih.gov/postbac_poster_day.
---
BUILD YOUR CAREER; SHAPE YOUR FUTURE
11th Annual NIH Career Symposium
Friday, May 18, 2018, 8:30 a.m.–5:00 p.m.
Natcher Conference Center (Building 45)
For more information and to register visit https://www.training.nih.gov
The NIH Office of Intramural Training and Education invites all NIH graduate students and postdoctoral trainees, both basic scientists and clinicians, to participate in this career symposium. It provides an opportunity for fellows and graduate students to learn about scientific career options and to explore factors that lead to career success. This all-day program will include more than 20 breakout sessions highlighting career opportunities available to biomedical scientists. Panel sessions cover academic, government, industry, and nonprofit career paths. More than 80 speakers will provide insights into their careers: what their current job entails, its pluses and minuses, and how they got there.
This page was last updated on Friday, April 8, 2022