News Briefs
NIH Director Francis Collins Reappointed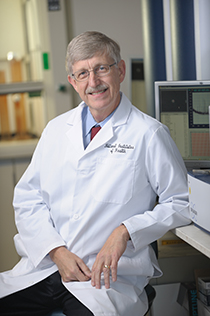 "I received word today that President Trump has made it fully official: He wants me to continue in the role of NIH Director," wrote NIH Director Francis S. Collins in an e-mail to NIH staff on June 6, 2017. "I am truly grateful for the President's vote of confidence, and I will be honored to continue to serve this noble institution. This is a time of unprecedented scientific opportunity in biomedical research, as we seek together to advance health and relieve suffering. It will be my distinct pleasure to continue working with you, my valued colleagues at NIH—as well as with our counterparts at the Department of Health and Human Services, the White House, the Congress, and the broader community, including universities, philanthropy, industry, and patient groups. There is much work to do! Finally, I want to thank all of you who dedicate yourselves so passionately to the goals of NIH. I will continue to rely on your brilliance and dedication as we move forward."
Clinical Center Documentary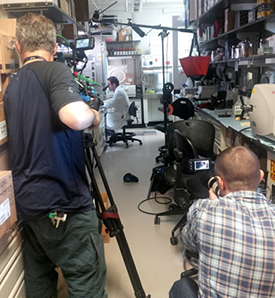 When Emmy-award-winning actor Jim Parsons visited the NIH Clinical Center in February, it wasn't to film an episode of the TV sitcom "The Big Bang Theory." He was onsite to record some of the narration for the Discovery Channel's three-part documentary series "First in Human." Discovery Channel camera crews, who were allowed to film in Building 10 during 2015 and 2016, have provided a behind-the-scenes look at doctors, researchers, and patients and their families while patients underwent experimental treatments.
"The NIH Clinical Center's more than 60-year history has resulted in remarkable medical advances, from the first use of chemotherapy to treat cancer, to the development of the technique to keep the blood supply clean and safe from viruses," said NIH Director Francis S. Collins. "For millions of patients around the world, it is known as the National Institutes of Hope."
The first episode of "First in Human," narrated by Parsons and directed by Emmy-winner John Hoffman, is set to air on Thursday, August 10, 9:00–11:00 p.m. EDT, and will continue in two-hour segments on August 17 and 24.
Congressional Staff Visits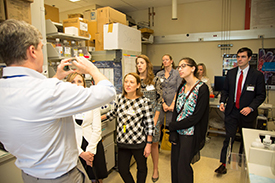 A bicameral, bipartisan group of 11 Congressional staffers and a representative from the Department of Health and Human Services (HHS) visited the National Cancer Institute (NCI) in early June to learn about NCI's childhood-cancer research efforts. The group met with several intramural scientists from the NCI Center for Cancer Research Pediatric Oncology Branch, as well as with leaders of key programs within NCI's extramural childhood-cancer research portfolio. The visitors also toured the NIH Children's Inn and met a family whose child participated in an NCI clinical trial.
Announcing the Publication of a New Illustrated History of the National Library of Medicine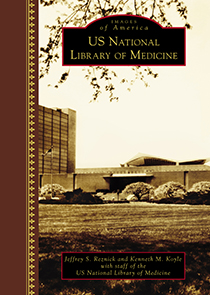 A new illustrated history of the National Library of Medicine (NLM) recently made its debut. The Images of America: U.S. National Library of Medicine (Arcadia Publishing), co-edited by Jeffrey S. Reznick and Kenneth M. Koyle, chief and deputy chief of the NLM History of Medicine Division, was made possible through the collaborative research, writing, editing, and technical expertise of staff from across NLM, and many colleagues and friends. The complete book and original versions of the 170-plus images, which appear in it in black and white, are archived and freely available in NLM Digital Collections. A hardback version of the book is also available from booksellers.
On Thursday, July 13, 2017, at 2:30 p.m., in Lipsett Amphitheater (Building 10), the NLM's History of Medicine Division held a public symposium to mark the publication of Images of America: U.S. National Library of Medicine and its availability via NLM Digital Collections. You can watch the proceedings via NIH Videocasting at https://videocast.nih.gov/launch.asp?23391.
Read more at: https://www.nlm.nih.gov/news/illustrated-history-nlm-published-2017.html
This page was last updated on Monday, April 11, 2022