Alumni News: Bryon Adinoff
Bryon Adinoff, M.D.: Addiction Scientist
Understanding How Thought Processes Work
"It was always the science that excited me…. Science was always my drive."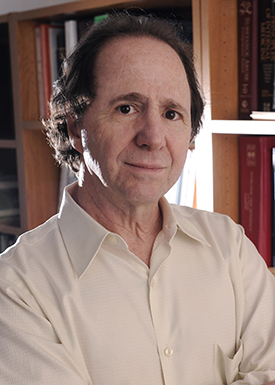 NIH alum Bryon Adinoff visited NIH on April 26, 2017, to give a talk on "Biological Stress Reactivity and Alcohol-use Disorders–From Early Intramural NIAAA to the Present," at the Psychoneuroendocrinology Scientific Interest Group's inaugural meeting. The NIH Catalyst had the opportunity to chat with Adinoff about his career and research interests. The following has been lightly edited.
CATALYST: How did you first get involved with research and NIH?
ADINOFF: I was always interested in substance use and brain chemistry. When I was a sophomore in college, I worked in a lab using primates to study drug use. In medical school, a colleague showed me a booklet about a psychopharmacology rotation at NIH. I didn't even know the word back then. I applied and, as a fourth-year medical student, did a two-month rotation with Steven Paul's group at the National Institute of Mental Health (NIMH). I had great time, learned a lot, and decided to become a psychiatrist. I wanted to come back to NIH and do more research. After my residency, I was contacted by Peter Martin at the National Institute on Alcohol Abuse and Alcoholism, which was about to open an inpatient unit. I served as a psychiatrist for five years, and my research focused on stress-hormone reactivity and alcohol dependence during withdrawal and abstinence. [Note: Steven Paul, who was the scientific director at NIMH, left NIH in 2010 for a faculty position at Weil Cornell Medical College (New York) and is now president and CEO of Voyager Therapeutics, Inc. (Cambridge, Massachusetts) and chairman of the board of the Foundation for NIH. Peter Martin left NIH in 1986 and is now a professor of psychiatry and pharmacology and director of the Vanderbilt Addiction Center at Vanderbilt University School of Medicine (Nashville).]
CATALYST: How did you decide to pursue science when you already had a career as a medical doctor?
ADINOFF: It was always the science that excited me. I do enjoy working with patients and talking with them. However, a student who sat with me in interviews once pointed out that I was always trying to figure out what was going on inside their heads. Other doctors might be thinking about what they could do to help this person. I was apt to be thinking about how the patient's thought process was working.
CATALYST: Do you have any funny memories related to your research?
ADINOFF: One day in the middle of an experiment, my pregnant wife called and said her water broke. I said, "Okay, let me finish this experiment and then I'll come home." She had told me "no rush but…" I went back to do the experiment but realized that I couldn't focus. So I asked a colleague to clean it up and I went home. I had my baby instead of the results.
CATALYST: How has the field of psychiatry evolved since you were in medical school in the 1970s?
ADINOFF: Psychiatry was evolving fast, especially around mental disorders like schizophrenia. There was a fierce fight between psychiatrics who believed in the analytic model, in which mental disorders were perceived as due solely to developmentally based emotional processes, and those who ascribed to the biologic model, which presumes biological causes for emotional problems. When I was in medical school, psychiatrists based their treatment of people with schizophrenia on the analytic model and were doing family-intervention studies. It helped, but it didn't cure the disease. Eventually the analytic model gave way to the biological model. But the transition wasn't easy. I remember fights among the faculty when I was doing my residency. You had to decide which side you were on. Now we know both models have their place and are useful.
CATALYST: What do you find fascinating about addiction?
ADINOFF: Abstinence, from the substance being abused, and an addicted person's inability to sustain it. Addicts would say they were never going to use again. And yet, even after suffering through the bad things that happened when they were using the drug and going through the excruciating experience of withdrawal, they would use again. What's happened to the circuitry in their brain? It looks like they never learned from experience. That's the definition of an addict—somebody who uses a substance persistently in spite of bad things that happen to them. That's why there is such a judgmental approach to addiction. But we don't judge people who have a second heart attack in the same way. We don't say, "Why didn't they exercise?" We don't put them in jail.
CATALYST: Does substance abuse trigger neurological disorders or is it the other way around?
ADINOFF: My perspective is that addiction is an independent process. Earlier, the opinion was that addiction is the result of depression or something else. But, really, the root problem is the addiction, which may then explain why a person is depressed. The first step of a 12-step program for recovery from alcohol addiction hits right at the target by recognizing: "I am powerless over the effects of alcohol." Now we know that there is also a high rate of comorbidity between drug addiction and other psychiatric disorders such as post-traumatic stress disorder and schizophrenia.
CATALYST: You've studied all kinds of addictions, including tanning. Can people really become addicted to that?
ADINOFF: Tanning addiction is not an official psychiatric diagnosis, but some people cannot stop going to tanning salons even when they know that excessive tanning is bad. They may even have survived the skin cancer melanoma, but continue to tan anyway. If they stop, they have withdrawal symptoms. By law you cannot go to a tanning salon more than once a day, but those who are addicted may have memberships to more than one salon. We did experiments with and without ultraviolet (UV) light filters in tanning beds and found that exposure to UV light increases dopamine levels and activates the reward centers in the brains of frequent tanners but not in others. The effect is similar to what you'd see in other addictive disorders such as gambling. Half of the frequent tanners get addicted and no one has ever tried treating them.
CATALYST: What's the biggest problem in the substance-abuse arena right now?
ADINOFF: Opioids. It is the largest man-made epidemic and was created [in the 1990s] by very progressive medical schools and doctors like me who thought that patients with chronic pain were undertreated. With big pharma on board, we started prescribing opioids liberally. We thought the risk of addiction was very low in people without a history of addiction. But that was an incorrect notion. Now when the supply of prescription opioids is cut off, those patients who became addicted are looking to heroin as a cheap replacement.
CATALYST: What are your other interests related to substance abuse?
ADINOFF: Drug-policy reform.
CATALYST: Can you elaborate?
ADINOFF: Drug use among whites and minorities is about the same, but the legal consequences for African-Americans and Hispanics are far more severe than for most white Americans. For example, minority individuals are more likely to be incarcerated for marijuana possession or addiction-related crimes because they cannot afford to post bail. Once they are in jail, the problem multiplies because they lose their cars and then lose their jobs. When they get out of jail, they have a criminal record and can't get new jobs or student loans. It's easier for them to go back to using drugs. One of the ways to stop this problem from snowballing is to pardon as many people convicted of drug-related offenses as possible. I recently gave testimony in Texas to turn marijuana possession from a criminal offense to a civil crime.
CATALYST: What is the situation with veterans in terms of mental health?
ADINOFF: I've worked for the VA ever since I left NIH. In the VA in Dallas, we have the largest mental-health program in the country. We see people in a timely way, we provide state-of-the art care. We are proactive with medication for alcohol- and opioid-addiction problems. The people I work with are caring people who take their jobs with veterans seriously.
CATALYST: Can you fight addiction with sports?
ADINOFF: My daughter, who works with at-risk kids and uses sports as a way to prevent these kids from getting into trouble, would say yes. I know kids involved in high school sports are less likely to be addicted, but it is the opposite with college kids. We can identify kids at high risk based on their personality, behaviors, and parental history. We've had success with adolescent smoking-prevention programs without using scare tactics. I think we can do the same for other types of addiction in teenagers.
CATALYST: What are your plans for the future?
ADINOFF: I want to continue to mentor young trainees and faculty and get more involved in drug-policy reform so I can have a bigger impact on the issues I care about. I will also continue as editor-in-chief of the American Journal of Drug and Alcohol Abuse. And I want to spend more time with my family. We travel as much as we can. My wife loves to spend time in Colorado.
CATALYST: Is your wife a scientist, too?
ADINOFF: No. Her name is Trish Holland, and she writes children's books. She is the author of several Little Golden Books. She also works with the city library and the county hospitals in Dallas to introduce families, especially Hispanic families, to children's books and libraries.
CATALYST: What do you like to do outside of science?
ADINOFF: I'm an art docent at the Modern Art Museum of Fort Worth [Fort Worth, Texas]. I love modern art because there are so many ways to interpret it. I have always been drawn to modern art from a very young age. As a docent, I try to engage with people when I show them a piece of art. I like to hear what they take from it and I like to show them how to think about it in a different way. I'm also a bass guitarist in an an R.E.M tribute band.
---
BRYON ADINOFF, M.D.
Current position: Professor and Distinguished Professor of Alcohol and Drug Abuse Research, Department of Psychiatry, University of Texas
Southwestern Medical Center (Dallas); Director of Research, Mental Health, Veterans Affairs (VA) North Texas Health Care System (Dallas)
Education: University of Michigan, Ann Arbor, Mich. (B.G.S., 1974); Michigan State University, East Lansing, Mich. (M.D., 1979)
Training: Psychiatry residency (1979–1983), Tulane University Affiliated Hospitals, New Orleans
At NIH: Rotation as a fourth-year medical student in the National Institute of Mental Health (1979); medical staff fellow, National Institute on Alcohol Abuse and Alcoholism (1983–1986); ward administrator, Alcohol Unit, Clinical Center (1983–1986); senior staff fellow, Laboratory of Clinical Studies, Division of Intramural Clinical and Biological Research, National Institute on Alcohol Abuse and Alcoholism (1986–1988)
Research interests: Biology of and treatment of addiction
This page was last updated on Monday, April 11, 2022