National Week of Making at the NIH Library
Celebrating Innovation, Ingenuity, and Creativity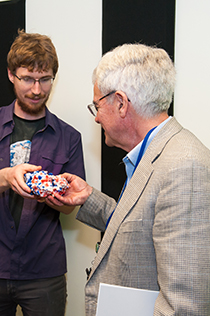 The National Week of Making, held June 16-22, was an opportunity to celebrate the innovation, ingenuity, and creativity of "makers"—the diverse community of independent designers and inventors who use a variety of technologies to make their own unique products. The NIH Library, in partnership with the Office of Intramural Research and the National Institute of Allergy and Infectious Diseases' (NIAID) Office of Cyber Infrastructure and Computational Biology, celebrated the National Week of Making with events and classes that featured makers at NIH.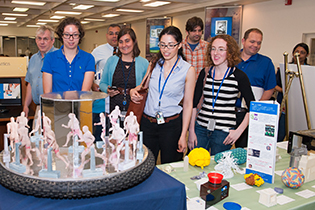 In the NIH Library's Technology Hub, several tables displayed examples of how researchers have used maker technologies to create cost-saving solutions that improve research capabilities, laboratory efficiency, and experimental reproducibility. The display featured a variety of 3-D prints and custom labware made by NIH intramural researchers and staff. During the week, many people visited the display to see how the NIH community is using 3-D-printed lab instrumentation to transform research, and how 3-D-printed molecular and anatomical models facilitate hands-on discovery and communication.
On June 20, Deputy Director for Intramural Research Michael Gottesman came to the NIH Library to tour the Week of Making display. He tried out the Library's Virtual Reality (VR) equipment and experienced Chimera, a program for interactive visualization and analysis of molecular structures and related data that was developed by the University of California, San Francisco, through an NIH grant. The VR demonstration was presented by the NIH 3-D Print Exchange and the NIH Library. At its conclusion, James Tyrwhitt-Drake (NIAID) presented Gottesman with a 3-D-printed model of permeability glycoprotein.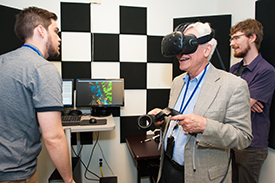 The Week of Making activities also featured training classes related to 3-D modeling software and 3-D printing as well as VR demonstrations. Resources and information about custom labware and the Maker Movement can be found online at the NIH 3D Print Exchange or by contacting 3Dprint@nih.gov.
This page was last updated on Monday, April 11, 2022