Colleagues: Recently Tenured
TERRI S. ARMSTRONG, PH.D., NCI-CCR
Senior Investigator, Neuro-Oncology Branch, Center for Cancer Research, National Cancer Institute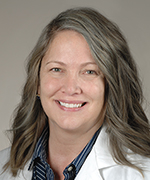 Education: University of Akron, Akron, Ohio (B.S.N.); Ohio State University, Columbus, Ohio (M.S. in oncology; post-master's nurse practitioner); University of Texas Health Science Center, Houston (Ph.D. in nursing)
Before coming to NIH: Professor and John S. Dunn Distinguished Professor at the University of Texas Health Science Center–School of Nursing; adjunct professor, Department of Neuro-Oncology, University of Texas MD Anderson Cancer Center (Houston)
Came to NIH: In 2016
Selected professional activities: Associate editor of Neuro-Oncology and of Neuro-Oncology Practice; vice president, Society of Neuro-Oncology; board of directors of the Collaborative Ependymoma Research Foundation; quality-of-life representative to the Neuro-Oncology Committee of NRG and Brain Tumor Committee of Alliance Oncology
Outside interests: Adopting and caring for rescue dogs; cooking; traveling
Website: https://irp.nih.gov/pi/terri-armstrong
Research interests: Although there have been many advances in neurosurgery, radiation oncology, and imaging of the nervous system, the treatments for patients with malignant brain and spinal cord tumors rarely result in a cure. In my research program, we are developing measures to accurately assess symptoms of cancers of the central nervous system (CNS) and the impact of the disease and therapy on patient outcomes. Our efforts have included the development, psychometric evaluation, and assessment of the utility of instruments as well as the use of patient-reported outcomes (PRO) in multicenter clinical trials. We are also exploring the clinical and genomic predictors of risk of symptoms and toxicity and investigating the underlying pathophysiology to develop approaches to care and symptom management. Our work has focused on myelotoxicity and vascular toxicity associated with chemotherapeutic agents as well as fatigue and hypersomnia (excessive daytime sleepiness) associated with cranial radiation.
We are focusing on four areas. In one project, we are developing the Neuro-Oncology Branch (NOB) Patient Outcomes Program, which will combine research and clinical care for patients with CNS cancers. We will be interrogating disease and therapeutic correlates of select PROs and other clinical-outcome assessments (COAs) measures as well as developing innovative approaches to assessment (such as electronic data capture and use of in-home and wearable technology).
In a second project, done jointly with NOB clinical investigators, we will be incorporating COAs into brain-tumor clinical trials. We will gauge the utility of including COAs in early-phase and precision-medicine clinical trials; evaluate innovative approaches to assessment; and apply these findings to improve the understanding of the natural history of common and rare CNS malignancies as well as the survivorship and palliative-care needs.
In a third project, we are identifying clinical and genomic predictors of treatment-related toxicities in CNS cancers, tumor-associated symptoms, and complications. We will also study alterations in circadian rhythms in fatigue and sleep and evaluate select medical and neurologic complications such as seizures and thrombosis.
Our fourth project involves patient education, outreach, and outcomes. Much of the patient-outcomes data will be generated by patients' participation in the NOB natural-history study. We will have an unprecedented opportunity to integrate clinical-outcomes data with COAs and genomics, but we need to establish the applicability to the general CNS-cancer patient population. Therefore, an educational and outreach effort, particularly for the rare CNS cancers, will be critical for validating the data and disseminating information about the disease trajectory. We will incorporate patient education into the research component and provide patients and their caregivers with important information about the illness, treatment, and possible clinical outcomes. In addition, we will test novel educational tools, a task made difficult because of the neurologic complications from CNS cancer or its treatment. Our findings will be shared with other groups that deal with brain tumors, other neurologic disorders, or cancer.
---
ANIL K. CHATURVEDI, PH.D., NCI-DCEG
Senior Investigator, Infections and Immunoepidemiology Branch, Division of Cancer Epidemiology and Genetics, National Cancer Institute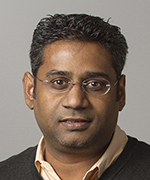 Education: Andhra N.G.Ranga Agricultural University, School of Veterinary Medicine, Hyderabad, India (B.S. in veterinary sciences and animal husbandry); Tulane University, New Orleans (M.P.H. and Ph.D. in epidemiology)
Training: Postdoctoral training at NCI's Infections and Immunoepidemiology Branch; became a research fellow in 2007
Came to NIH: In 2005 for training; was appointed as a tenure-track investigator in 2009
Selected professional activities: Member, Oral Cancer Screening Guidelines Panel, American Dental Association; external advisor, Scientific Advisory Board, Catalan Institute of Oncology/International Agency for Research on Cancer HPV Information Center (Barcelona, Spain)
Outside interests: Cooking; playing and watching tennis
Website: https://irp.nih.gov/pi/anil-chaturvedi
Research interests: I study the molecular epidemiology of head and neck cancers and lung cancers.
Head and neck cancers, which are the eighth most common cancer worldwide, occur in the oral cavity (lips and mouth), oropharynx (base of tongue back through tonsil area), other parts of the pharynx (part of throat leading from the oral and nasal cavities to the esophagus and larynx), and the larynx (voice box). Risk factors include tobacco and alcohol use; poor oral hygiene; low fruit and vegetable consumption; and human papillomavirus (HPV) infection. HPV has been found to be an etiologic agent for oropharyngeal cancers, but it rarely causes oral cavity and larynx cancers. I am using population-based studies to investigate the epidemiology, the natural history, and the unique anatomic, histopathologic, and molecular characteristics of HPV-positive oropharyngeal cancers.
Cancers of the oral cavity are easy to detect visually, making them ideal candidates for early detection and secondary prevention. But we don't understand enough to be able to develop guidelines for screening, treatment, or follow-up of patients with oral-cancer precursor lesions. I am using a combination of retrospective and prospective cohort studies to address key questions about to the natural history and molecular predictors of oral-cancer precursor lesions and how they progress to cancer.
Lung cancer, the leading cause of death from cancer in the United States, is usually caused by cigarette smoking (80 to 90 percent of cases). But there are other risk factors, too, such as chronic inflammation. I am studying the role of chronic inflammation in lung cancer by measuring circulating immune and inflammation marker concentrations in case-control studies nested within large prospective cohorts.
I am collaborating with NCI-DCEG colleague Hormuzd Katki to develop, validate, and apply lung-cancer risk-stratification tools. In 2011, the landmark National Lung Screening Trial (NLST) showed a 20 percent decrease in mortality from lung cancer in the low-dose CT group as compared with the group that received standard chest X-rays. On average, over three rounds of screening exams, 24 percent of the CT scans were positive compared with 6.9 percent of the X-rays. Most positive screens led to additional tests. Based on these results, LDCT screening is currently recommended for the highest-risk smokers who meet the NLST entry criteria.
I am researching the potential utility of lung-cancer risk-prediction tools to improve the population-level effectiveness of LDCT screening. Additionally, I study minimally invasive lung-cancer biomarkers for improved risk stratification.
---
PETER DOBBS CROMPTON, M.D., M.P.H., NIAID
Senior Investigator, Laboratory of Immunogenetics, and Chief, Malaria Infection Biology and Immunity Section, National Institute of Allergy and Infectious Diseases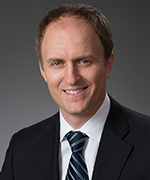 Education: Boston University, Boston (B.A. in biochemistry and molecular biology); Johns Hopkins School of Medicine, Baltimore (M.D.); Johns Hopkins School Public Health, Baltimore (M.P.H.)
Training: Clinical fellow and resident in internal medicine at Massachusetts General Hospital, Harvard University (Boston); clinical and research fellow in infectious diseases at NIAID; diploma in tropical medicine and hygiene, London School of Hygiene and Tropical Medicine (London)
Came to NIH: In 2004 for training; in 2010 became a tenure-track investigator and chief of NIAID's Malaria Infection Biology and Immunity Unit
Selected professional activities: Board of consulting editors, Journal of Clinical Investigation; guest editor, Proceedings of the National Academy of Sciences and PLoS Pathogens; co-chair, Malaria Gordon Research Conference 2017 and 2019; member, American Society for Clinical Investigation
Outside interests: Enjoys spending time with his wife and three daughters—biking, hiking, cooking, singing, and playing musical instruments
Website: https://irp.nih.gov/pi/peter-crompton
Research interests: Malaria caused by Plasmodium falciparum remains a major cause of morbidity and mortality worldwide. A limited understanding of the interaction between malaria and the human immune system hinders the development of malaria vaccines. Clinical immunity to malaria can be acquired but only after years of repeated infections, and immunity wanes rapidly without ongoing malaria exposure. The mechanisms and targets of protective malaria immunity and the factors underlying its inefficient acquisition remain unclear. In the Malaria Infection Biology and Immunity Section, we aim to accelerate malaria-vaccine development and gain fundamental insights into human immunology by addressing these knowledge gaps.
We apply advances in basic immunology and functional genomics to clinical data and biospecimens obtained through intensive longitudinal cohort studies conducted at our field sites in Mali and elsewhere. Recently, we have determined key features of the specificity, function, and kinetics of the antibody response to malaria, identified mechanisms by which B-cell and T-follicular-helper-cell responses contribute to the inefficient acquisition of protective antibodies, defined mechanisms by which malaria-induced inflammation is regulated, and gained insights into fundamental aspects of malaria epidemiology, including the relationship between chronic asymptomatic P. falciparum infection and malaria risk.
Our studies in Mali are made possible through a collaboration with an experienced team of clinicians and scientists at the Malaria Research and Training Center at the University of Bamako (Bamako, Mali). Through this collaboration we also facilitate the expansion of research capacity in Mali by training scientists, improving laboratory infrastructure, and enhancing information technology. Our field studies in Mali are supported by the NIAID International Centers for Excellence in Research program. We hope that our work not only contributes to a better understanding of malaria immunity but also provides insights into the mechanisms at play in human immune responses to infectious diseases more generally.
---
THEO HELLER, M.D., NIDDK
Senior Investigator and Chief, Translational Hepatology Section, Liver Diseases Branch, National Institute of Diabetes and Digestive and Kidney Diseases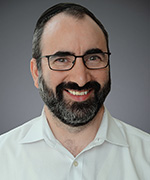 Education: University of Cape Town, Cape Town, South Africa (B.Sc. in experimental biology and zoology; B.Sc. in immunology); University of the Witwatersrand Medical School, Johannesburg, South Africa (M.D.)
Training: Residency in internal medicine, Georgetown University Hospital (Washington, D.C.); research associate, Hepatitis Viruses Section, Laboratory of Infectious Diseases, National Institute of Allergy and Infectious Diseases; fellow in gastroenterology, University of Maryland School of Medicine (Baltimore)
Came to NIH: In 1999 as a clinical associate in NIDDK; became a staff clinician in 2003; became a tenure-track investigator in 2011
Selected professional activities: Several positions in the American Association for the Study of Liver Diseases: chair, Technology and Social Media Committee; elected vice-chairman, Portal Hypertension Special Interest Group; Hepatitis C Virus Guidance Panel; and member of the Ethics Committee
Website: https://irp.nih.gov/pi/theo-heller
Research interests: Liver disease presents a unique confluence of many disciplines in both the basic science and the clinical realms. There are many unanswered questions in basic hepatic biology and the development of liver disease. Our laboratory is interested in testing hypotheses in clinical situations that can be translated into laboratory projects, which in turn might lead to fundamental biologic insights and improved disease management. Clinical observations can sometimes be best explained at the bench, and human-disease investigation is in many ways better than a model—it is a direct study of authentic biology. Human disease is a window into biology, and by studying diseases, researchers may be able to extrapolate from some rare, derived concepts to a far broader understanding of biologic principles.
We focus on the connections between the innate immune system and liver-related damage and repair. Our clinical focus is on non-cirrhotic portal hypertension. We also study people with chronic granulomatous disease, sickle-cell disease, Turner syndrome, sporadic nodular regenerative hyperplasia, hepatitis D, acute hepatitis C, and congenital hepatic fibrosis.
Liver disease disproportionately affects people during their most productive working years. We hope that our research will result in more effective treatments and fewer people dying of the disease.
---
ZHIYONG LU, PH.D., NCBI
Senior Investigator, National Center for Biotechnology Information, National Library of Medicine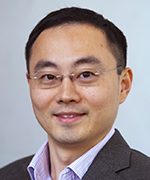 Education: Nanjing University, Nanjing, China (B.S. in computer science); University of Alberta, Edmonton, Alberta, Canada (M.S. in computer science); University of Colorado School of Medicine, Aurora, Colorado (Ph.D. in bioinformatics)
Came to NIH: In 2007 as a staff scientist; became an associate investigator in 2009; became a Stadtman investigator in 2011
Selected professional activities: Associate editor, BMC Bioinformatics and Journal of Healthcare Informatics Research; Editorial board member, Database; Steering committee member, BioCreative; PI, PubMed Labs
Outside interests: Playing with his three young children; swimming
Website: https://irp.nih.gov/pi/zhiyong-lu; https://www.ncbi.nlm.nih.gov/bionlp/
Research interests: I am directing text-mining research and lead the new overall efforts to improve and rebuild PubMed. (Our current development is an innovative system called PubMed Labs in which we are experimenting with new ways to improve search quality and usability for biomedical literature.) Text mining involves going through digitized and unstructured text to find useful, high-quality information. Text analysis includes retrieving relevant documents; identifying named entities (such as gene and disease names); and extracting relationships between entities and other natural language processing tasks. The technology is now applied to a broad range of government, research, and business and marketing needs, and it is used in a wide variety of real-world applications (such as automatic spam filtering or predicting flu trends). In the health-care industry, text mining is essential in helping to find important information that's buried within tens of millions of biomedical articles.
My research group is developing new computational methods and software tools to analyze and make sense of free text data in scholarly publications and other biomedical texts such as electronic medical records. We apply text-mining research to improve biomedical literature search; assist in the manual curation of biological databases; and predict new uses of existing drugs. Our text-mining software tools and web services, such as PubTator, have been widely used (over 100 million requests since 2015) by scientists from around the world and has also been integrated into PubMed, PubChem, and many other NCBI web resources.
I also co-organize international scientific conferences and community-wide challenges such as BioCreative, the longest-running international event for evaluating text-mining and information-extraction systems applied to the biomedical domain.
This page was last updated on Monday, April 11, 2022