The SIG Beat: Flow Cytometry
NEWS FROM AND ABOUT THE SCIENTIFIC INTEREST GROUPS
Go with the Flow
Highlights from the Flow Cytometry Interest Group Winter Meeting
These are innovative times in flow cytometry, a technology that simultaneously analyzes multiple characteristics of thousands of cells as they move through fluid and are excited by a light source. On February 14, 2017, the Flow Cytometry Interest Group (FCIG) invited nine experts to its winter meeting at NIH to talk about the latest research in the field. More than 100 people gathered for presentations and discussions on clever solutions to some of flow cytometry's challenges. Beyond the biology, cytometrists are using magnetics, light behavior, and high-dimensional imaging to analyze populations of rare cells, eliminate cell labeling, and capture tissue physiology.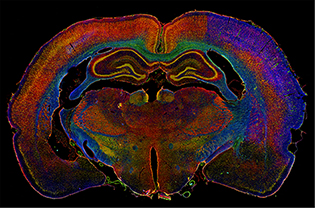 Elke Bergmann-Leitner, head of the flow cytometry center at the Walter Reed Army Institute of Research (Silver Spring, Maryland), discussed her lab's partnership with NIH in developing the Ebola vaccine. She also described how when traditional flow cytometry limited the analysis of rare-cell populations, she used a technique called magnetic-enrichment columns instead.
Electrical engineer Charles Camp of the National Institute of Standards and Technology (Gaithersburg, Maryland) described how to overcome one of cytometry's oldest paradigms yet one of its biggest obstacles: fluorescent labeling, which relies on expensive antibodies. He uses a technique called Raman-scattering detection, which exploits light-matter interactions to analyze cell samples without the use of fluorescent antibodies.
Dragan Maric, who manages the Flow and Imaging Cytometry Core in the National Institute of Neurological Disorders and Stroke, contributed high-dimensional imaging and analysis to the presentation roster. With his in situ cytometry techniques, he analyzes mouse and rat brain cross-sections to understand the effects of stroke on several types of cells that mediate neuroinflammation, neuroplasticity, neurogenesis, gliogenesis and angiogenesis. "We need to study all of the players involved in stroke before we can design effective drugs to combat ischemic damage," he said.
The meeting also featured a talk by Sapna Gangaputra (National Eye Institute), who uses flow cytometry to track changes in patient immune-cell populations to assess the efficacy of a novel ocular inflammation treatment. Stephen Perfetto, chief of the Vaccine Research Center Flow Cytometry Facility (National Institute of Allergy and Infectious Diseases), showed the advancements in procedures for instrument calibration and standardization using the quantiFlash LED pulser. These procedures are critical for reducing instrument variation, improving sensitivity and resolution, evaluating panel development.
Katherine McKinnon, head of the National Cancer Institute's (NCI) Vaccine Branch Flow Cytometry Core, showcased the benefits of using high-dimensional flow cytometry, which in some cases reduces the need for large volumes of patient blood. Also from NCI, Gregoire Altan-Bonnet focused on using cytometric data to analyze the cell-to-cell variability of leukocytes in their response to tumors and pathogenic infections.
Highlighting industry advances, Jin Akagi of On-Chip Biotechnologies (San Diego) pitched his company's newest invention for ultragentle on-chip cell sorting, and Katherine Drake of Cytobank, Inc. (Mountain View, California) described a technique for high-dimensional data processing.
"The talks were great," said William Telford, manager of the NCI cytometry core and one of the moderators of the Flow Cytometry Interest Group. "We had not just flow cytometry, but also a lot of imaging talks as well. They are doing very high-dimensional work."
---
The FCIG provides central information for basic and clinical investigators doing flow and image cytometry. All biomedical researchers with an interest in cytometry regardless of institutional affiliation are welcome. Visit https://sigs.nih.gov/fcig to learn more about this group.
This page was last updated on Monday, April 11, 2022