From the Deputy Director for Intramural Research
Ensuring Gender Equity at the NIH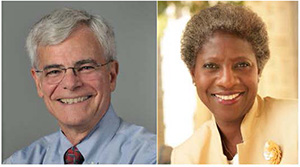 We have had the honor and privilege of co-chairing a task force whose goal is to make recommendations to ensure that women and men have equal opportunities to contribute to the creative and innovative science done at NIH in the intramural research program. This goal means that women should be on an equal footing with men with respect to recruitment to faculty (tenure-track and tenured) positions at the NIH, to career advancement through the tenure process, and—once tenured as senior investigators—to have equivalent resources and hold leadership roles at rates equivalent to men. The current situation at NIH is comparable to that at many academic institutions, with women occupying only 23 percent of our senior investigator positions and 38 percent of our tenure-track positions. What can we do to work toward true parity of men and women at the NIH?
The task force considered recommendations in two domains: (1) the institutional responsibility to ensure equal access, equal resources, equal pay, and equal advancement; and (2) steps to provide individual help for women and men at the NIH to ensure that they benefit from institutional support. For institutional advances, it is essential to have buy-in from leadership at all levels but especially from those responsible for making hiring decisions, setting salaries, allotting resource, and implementing our review processes. This effort requires transparency of demographic information in each institute and center (IC) and accountability to ensure equity. Individual support, appropriate mentoring, coaching, and advocacy are essential for both women and men.
Diversity will increase our scientific progress and productivity and ensure a healthy future for the NIH.
Although detailed implementation plans are yet to be worked out, there are several recommendations that can be emphasized. Hiring, resource allocation, and reviews should be free of all gender bias; currently, our scientific directors, lab and branch chiefs, and members of our boards of scientific counselors are receiving implicit-bias training to reduce such bias. Accurate information about the size of the applicant pool and representation of men and women for all faculty positions will be made available to each IC. At the time of hiring, central advice in negotiating resources will be provided to help our new recruits. If inequities in resource allocation or salary are detected, they will be corrected. We will continue to monitor the perception of our tenure-track investigators about gender inequality.
For individual-focused recommendations, we will create a cohort of tenure-track investigators who will be networked with each other and receive mentoring, coaching, and sponsorship from their own ICs and from the Office of Intramural Research and the Office of Scientific Workforce Diversity. We are delighted that Carl Hashimoto, a cell biologist and a former diversity dean at Yale University (New Haven, Connecticut), will join us to oversee this cohort. In addition to receiving what we hope is good advice, this cohort will also provide feedback to NIH leadership on progress being made at their home ICs.
It has not escaped our attention that this focus on institutional and individual support of all of our faculty will improve circumstances not only for women at the NIH but also for men as well as for other groups that are under-represented in biomedical research. The principle of institutional and individual commitment to fairness applies equally to our larger scientific community including trainees, fellows, and staff scientists.
Diversity will increase our scientific progress and productivity and ensure a healthy future for the NIH. These approaches cannot succeed, however, without the enthusiastic support of everyone at the NIH. We invite all of you to join us in this noble endeavor and, as always, welcome your input as we work to implement these recommendations.
This page was last updated on Monday, April 11, 2022