News Briefs
New HHS Secretary's First Official Visit to NIH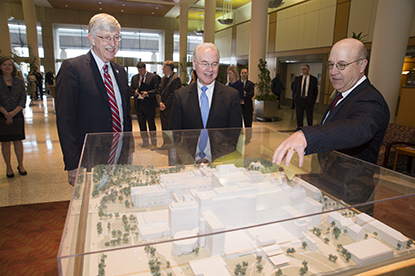 New Health and Human Secretary Tom Price paid a visit to NIH on February 21, 2017, and toured the Clinical Center. NIH Director Francis Collins (left) and Clinical Center CEO James Gilman (right) are pointing out features of the Clinical Center on the scale model.
---
New Mobile Germ-Free Facility
You can't stop medical progress. The suspension of activities in the Clinical Center Pharmaceutical Development Section in June 2015 curtailed NIH's ability to make sterile products and cell-based therapies. As a result, NIH has had difficulty meeting the demands of intramural investigators who need an adequate supply of these products. Through it all, the Clinical Center Department of Transfusion Medicine (DTM) has remained "open for business" producing high-quality transfusion products, including important new chimeric antigen receptors to support immunotherapy protocols pioneered at the NIH. The DTM is working at its limit, though.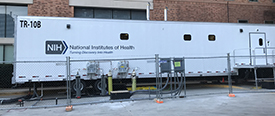 NIH will benefit greatly when the DTM can expand into its new space in the 2J area of Building 10, where it will have seven manufacturing suites. This space may be completed as early as fall 2017. However, this facility won't be enough to meet the demands brought on by NIH's recent successes in cell-based therapies.
So NIH is embarking on an interim solution that may have permanent, positive manifestations: portable sterile-products facilities. If you enter the Clinical Center from the northwest side, where emergency vehicles receive or bring patients, you will notice a compact white trailer with an NIH logo. This state-of-the-art facility will be used to support NCI-immunotherapy studies.
A second germ-free trailer, next to the first, will also serve this function. Given the difficulty of renovating space for clinical Good Manufacturing Practices (cGMP) facilities in the 65-year-old Clinical Center, coupled with the limited open real estate on the Bethesda campus, these relatively affordable trailers connected into module cGMP facilities could serve as a long-term solution.
We'll see. You can call it thinking outside of the box/building.
---
New NIH Child-Care Facility to Open by Summer
Many new parents find themselves stuck between a rock and a hard place, attempting to establish their careers on a modest salary while providing their children with quality care during working hours that not only keeps them safe but also nourishes their growing brains. Indeed, the shortage of affordable, reliable, and convenient child care is a national concern.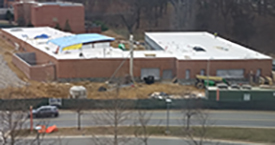 The NIH will soon open the Northwest Child Care Center (NWCCC), a facility on the NIH Bethesda campus kitty–corner from the Clinical Center, between the Children's Inn and the NIH Fire Department. The new child-care center will have room for 170 children between the ages of six weeks and six years of age. The NWCCC will replace the Infant and Toddler Child Care Center in Building T-46, which had a capacity of only 33 children.
The NWCCC will have six rooms for children under the age of two years (42 spaces), four rooms for "terrific two's" (48 spaces), and four rooms for preschool children ages three to six years (80 spaces). It's a beauty of a building, too, with a green roof and numerous other environmentally beneficial features, nestled into the wooded area along the fence lining Cedar Lane.
While spacious, the NWCCC still falls short of meeting the demand for onsite child care…as the growing wait list [https://www.ors.od.nih.gov/pes/dats/childcare/Pages/waitlist_info.aspx] clearly indicates (999 children and counting). NIH could use several more such facilities.
NIH sees the availability of suitable child-care options as a necessity for attracting and retaining high-caliber scientists and other employees to the NIH. Michael Gottesman's office has been working with various entities—Office of Research Services, Office of Research Facilities, the NIH child care board, and others—to explore the possibilities.
The NWCCC is scheduled to open in May 2017.
For questions related to the wait list, contact Bernice Richmond at BRichmon@adventisthealthcare.com. You can learn more about child- and family-care options at https://www.ors.od.nih.gov/pes/dats/childcare/centers/Pages/centers.aspx.
This page was last updated on Monday, April 11, 2022