Behavioral and Social Sciences Research Festival
Celebrating the Past, Looking to the Future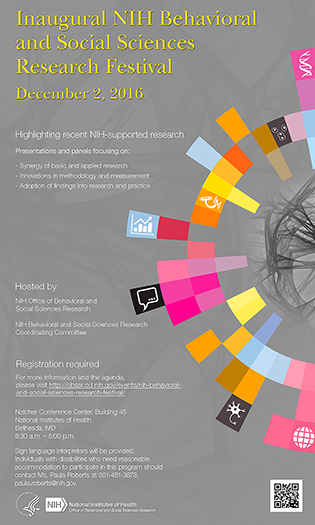 There is a broken pipeline between basic and applied behavioral and social sciences research," NIH Associate Director for Behavioral and Social Sciences Research William Riley told the crowd that had gathered for the inaugural NIH Behavioral and Social Sciences Research Festival in December. He challenged his colleagues to think about how they could accelerate the application of basic behavioral and social sciences findings to areas such as interventions, clinical trials, and even real-life settings.
"We initiated this annual festival to highlight some of the recently funded behavioral and social sciences research that the NIH supports," said Riley, who is also the director of the NIH Office of Behavioral and Social Sciences Research (OBSSR). The festival also "bring[s] together behavioral and social scientists within the NIH extramural and intramural communities to network with each other, share scientific ideas, and explore ways to advance this research." In fiscal year 2016, NIH funded 2,600 extramural grants associated with behavioral and social sciences research including studies on migraines and mindfulness, crowd-sourced longitudinal sensor data, and the effects of bipolar disorder on caregivers.
In addition to Riley's keynote speech, the festival featured three panel discussions, a town hall meeting, and a poster session.
Lisbeth Nielsen, the chief of the Individual Behavioral Processes Branch at the National Institute on Aging moderated the first panel—"Synergy of Basic and Applied Behavioral and Social Sciences." Gene Brody (University of Georgia in Atlanta), one of the three panelists, described his project that tracked African-American youth living in rural counties with high poverty and unemployment rates. Economic adversity during childhood can lead to negative health consequences through adulthood. But Brody found that positive parenting behaviors may have beneficial effects on young adults' health.
Panelist Barbara Fredrickson (University of North Carolina at Chapel Hill) described her research that focuses on how positive emotions underlie healthy changes in thinking patterns, social behavior, health, and physiological reactions. One of her former graduate students, NCI postdoc Elise Rice, is exploring the health applications of the basic processes she had begun to study in Fredrickson's lab.
The second panel—on "Innovative Research Infrastructure, Methods, and Measures in Behavioral and Social Sciences Research"—also featured three presenters and was moderated by Richard Moser, a research psychologist in NCI's Behavioral Research Program. Argyris Stringaris (National Institute of Mental Health), who uses imaging and other methods to measure irritability in children, explained why measurements matter. Irritability is associated with the development of depression and other negative outcomes. Another presenter, Eun-Young Mun (Rutgers University in New Brunswick, New Jersey) reviewed the dangers of overusing meta-analysis and systematic reviews and encouraged researchers to consult methodologists in assessing the strength of meta-analyses.
NCI epidemiologist Gila Neta hosted the third panel—on the "Adoption of Behavioral and Social Sciences Research Findings into Research and Practice." The panel had four speakers including Sarah Gehlert (Washington University in St. Louis), who works with the Transdisciplinary Research in Energetics and Cancer Center (TREC), and Alan Mendelsohn (New York University School of Medicine in New York). Gehlert discussed how the TREC initiative brought together researchers from different disciplines to strengthen research on obesity, physical activity, and diet. Mendelsohn studies how mother-child interactions such as reading and playing can lower maternal stress and improve school readiness and child development.
The town hall meeting gave researchers a chance to connect and talk about ways they could work together. "This conference was informative and a great opportunity to network across NIH," said Linda Nebeling, deputy associate director of NCI's Behavioral Research Program and principal investigator of the NCI-sponsored Family Life, Activity, Sun, Health, and Eating (FLASHE) study. This study collected data from web-based surveys—completed by parents and their adolescent children—on psychosocial, generational, and environmental correlates of cancer-preventive behaviors (diet-related and physical activity–related behaviors as well as sun safety, sleep, and tobacco use).
FLASHE was among the many research studies on display at the poster session. Another poster showcased research conducted at five of the social- and behavior-focused labs at the National Human Genome Research Institute (NHGRI). For example, Vence L. Bonham Jr., head of NHGRI's Health Disparities Unit, showed how genomic knowledge, technologies, and medicine may affect health disparities in underserved and ethnically diverse populations.
Sounds as if that broken pipeline is already on the mend as scientists continue to learn how to translate their research findings into practice and ultimately improve public health.
---
The festival, held on December 2, 2016, was hosted by the Office of Behavioral and Social Sciences Research and the NIH Behavioral and Social Sciences Research Coordinating Committee. To watch a videocast, go to https://videocast.nih.gov/launch.asp?20043.
This page was last updated on Monday, April 11, 2022