News You Can Use
Meet the Office of Intramural Research (OIR)
Announcing the New OIR Web Site and Sourcebook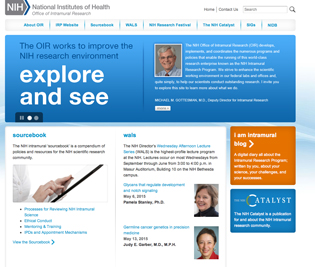 I'm excited to tell you about an expanded resource from the Office of Intramural Research (OIR), which I direct. We have created a new Web site at http://oir.nih.gov that consolidates information on the numerous programs and activities that OIR oversees.
A prominent feature of this site is what has been known for many years as the NIH "Intramural Sourcebook," a compendium of policies and resources for the NIH scientific research and administrative community. The revamped Sourcebook captures several thousand distinct and important bits of information—hiring and work–life balance benefits, mentoring and publication procedures, ethical conduct, sabbaticals and retirement options, and more. We revamped the Sourcebook not only to remain transparent about NIH intramural policies but also to promote what I consider to be the best work environment for biomedical research in the world.
The new Web site also features information on trans-NIH offerings that my office coordinates: the Wednesday Afternoon Lecture Series, the NIH Research Festival, The NIH Catalyst, the NIH Intramural Database, and the NIH Scientific Interest Groups. The OIR site is also integrated with the popular site about intramural research at https://irp.nih.gov (which you really should explore, if you haven't already), which includes information on all IRP principal investigators, our research accomplishments, and career and training opportunities.
The OIR has not had a Web site before now. I hope this new site will provide a full picture of the various components of the OIR that keep this vast research enterprise running as efficiently and pleasantly as possible: Office of Intramural Training and Education; Office of Animal Care and Use; Office of Human Subjects Research Protections; Office of Technology Transfer; and Office of NIH History and Stetten Museum.
You can learn more about the creation and features of the site by visiting the "I am Intramural" blog at https://irp.nih.gov/blog/oir-website. We hope you find this new online resource to be helpful. Make sure to bookmark it!
---
IRP WEB SITE: BLOGS, RESPONSIVE DESIGN, AND MORE
NIH's Intramural Research Program (IRP) has focused on bringing increased awareness to the groundbreaking research being performed by the almost 1,200 principal investigators within our ranks, research that has had a marked impact on public health. The centerpiece of this effort is the IRP Web site, launched in September 2011 as a way to feature the incredible science happening at the IRP. This site brings together information about NIH's research advances, tells scientific stories (often in the investigators' own words), and highlights the numerous employment and training opportunities available within the IRP. There's a Google-search functionality that allows users to find content more easily; a responsive design that allows the site to automatically adjust how it's displayed based on the device it's being viewed on; and an "I am Intramural" blog (https://irp.nih.gov/blog). Check out the new and improved IRP site at https://irp.nih.gov.
This page was last updated on Monday, April 25, 2022