LASKER CLINICAL RESEARCH SCHOLARS
The following are listed according to the year they became Lasker Clinical Research Scholars.
Nehal Mehta, M.D., M.S.C.E., F.A.H.A.
National Heart, Lung, and Blood Institute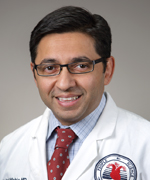 Nehal Mehta was the inaugural scholar in the Lasker Clinical Research Scholars program in 2012. His research focuses on the role of innate immunity and inflammation in the development of cardiovascular and metabolic diseases. Using a trans-disciplinary approach that involves genetic epidemiology, translational medicine, and novel cardiovascular imaging approaches, he and his team study how inflammation affects insulin resistance, the development of metabolic syndrome, and lipoprotein dysfunction, all of which are risk factors for atherosclerosis and subsequent cardiovascular disease. He received his M.D. degree from the George Washington University and completed a residency and fellowship at the University of Pennsylvania. Before coming to the NIH, he was an adjunct assistant professor at the Perelman School of Medicine, University of Pennsylvania; attending cardiologist and director of Inflammatory Risk, Preventive Cardiology, at the Hospital of the University of Pennsylvania. His outside interests include spending time with his wife and their young daughter; cooking; skiing; and surfing. Website: https://irp.nih.gov/pi/nehal-mehta
---
Jessica Gill, R.N. P.M.H.N.P., Ph.D.
National Institute of Nursing Research
Jessica Gill, who joined the Lasker Scholars program in 2012, is investigating effective ways to identify trauma patients who are at high risk for psychological and neurological deficits. She is developing a novel line of research to reveal the mechanisms underlying different responses to combat trauma and traumatic brain injury, and hopes to identify the clinical and biological risks that predict the onset of post-traumatic stress disorder and the neurological compromise that follows a traumatic brain injury. To better understand the risk and resiliency factors, she combines biological methods—including proteomics and epigenetics—with neuronal imaging to follow a unique sample of patients during their immediate recoveries and for years afterwards. She plans to use this knowledge to develop personalized preventive interventions. She received her Ph.D. from the Johns Hopkins School of Nursing and School of Public Health and did a postdoctoral fellowship at the National Institute of Nursing Research and the National Institute of Mental Health. Before coming to NIH, she was an assistant professor in the School of Nursing at George Mason University. Her outside interests include spending time with her husband and their three young children, hiking, skiing, and camping. Website: https://irp.nih.gov/pi/jessica-gill
---
Hans Ackerman, M.D., D.Phil., M.Sc.
National Heart, Lung, and Blood Institute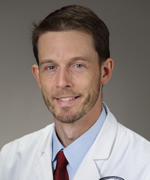 Hans Ackerman became a Lasker Scholar in 2014. He is studying sickle-cell disease and malaria, which share an evolutionary link and many of the same disease-causing mechanisms that underlie vascular dysfunction. He is also studying how naturally occurring genetic differences in healthy people change nitric-oxide signaling and vasodilation responses in blood-vessel walls. He hopes his work will contribute to the development of drugs that could prevent or treat the vascular complications of sickle-cell disease or malaria. He received his M.D. degree from Harvard Medical School and his D.Phil. and M.Sc. degrees from the University of Oxford in England. He completed residency in internal medicine at Massachusetts General Hospital; a fellowship in critical-care medicine at the NIH Clinical Center; and a research fellowship at the National Institute of Allergy and Infectious Diseases. His outside interests include cooking, painting, landscaping, gardening, home remodeling, and restoring old cars; playing sports (especially soccer and cycling) with his three sons; enjoying music, good food, and traveling with his wonderful wife. Website: https://irp.nih.gov/pi/hans-ackerman
---
Andrea Apolo, M.D.
National Cancer Institute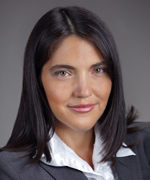 Andrea Apolo, a 2014 Lasker Scholar, is dedicated to improving the treatment and survival of patients with genitourinary tumors. Her research involves developing and designing clinical trials to test novel agents for the treatment of urologic cancers. Her primary research interest is in bladder cancer (urothelial carcinoma) and prostate cancer. In particular, she is working to develop new bladder-cancer therapies that use targeted agents including anti-angiogenesis compounds, which block the growth of new blood vessels that feed tumors. She is also using new imaging modalities to improve methods of detecting tumors in bladder and prostate cancer and identifying molecular alterations in bladder tumors that will serve as targets for individualized treatment strategies. She received her M.D. from the Albert Einstein College of Medicine; did a residency in internal medicine at New York–Presbyterian Hospital/Weill Cornell Medical Center; and completed a fellowship in medical oncology at the Memorial Sloan-Kettering Cancer Center. Her outside interests include running and spending time with her family. Website: https://irp.nih.gov/pi/andrea-apolo
---
Falk Lohoff, M.D.
National Institute on Alcohol Abuse and Alcoholism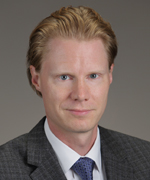 Falk Lohoff, one of the 2014 Lasker Scholars, conducts pre-clinical and translational clinical studies with a focus on genomics and epigenetics related to the pathophysiology and treatment of alcohol-use disorders and addictions. In his pre-clinical work, which involves identifying molecular mechanisms involved in addictions, he uses methods such as human population genetics, genome-wide genotyping approaches, next-generation DNA and RNA sequencing, and epigenetic/proteomic profiling. For his clinical studies, he uses molecular biomarker, pharmacogenetic, epigenetic and functional imaging genetic approaches to translate his findings. He is leading early phase 1 and phase 2 proof-of-concept clinical trials using experimental novel therapeutics guided by molecular biomarker profiling. He received his medical degree from the Humboldt University of Berlin and completed residency training in psychiatry and a fellowship in neuropsychopharmacology at the University of Pennsylvania. Before coming to NIH, he was an assistant professor of psychiatry at the University of Pennsylvania. His outside interests include music, the arts, fencing, and working out. Website: https://irp.nih.gov/pi/falk-lohoff
---
For more information on the Lasker Clinical Research Scholars Program, go to:
This page was last updated on Monday, April 25, 2022