Laboratory Confessions
What I Learned on "Take Your Child to Work" Day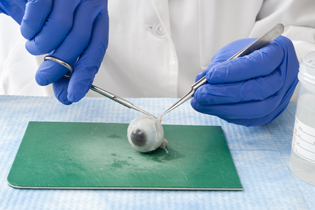 April 23 was a day of discovery for me because I followed my daddy to work at the National Institutes of Health. Here are the top seven things I learned.
Magnified or not, the eyeball is just plain creepy.
Apparently I wasn't supposed to say, "Oh, you must be that Rachel."
The healthy human body contains 10 times as many microbial cells as human cells, and that's now my argument for not having to take a bath every night.
The genetic code for the feline is more complicated than C-A-T. Who knew?
Good bug, bad bug? Why wasn't this session just called icky bug?
My daddy doesn't have a lab, but there's something fuzzy growing in his coffee cup.
All those paintings and cards I gave my daddy, which he said he'd take to work? Well, apparently they were in his "other office, off-campus." Hmmmm.
This page was last updated on Monday, April 25, 2022