Crossroads of Medicine and the Media
Insights from Neurosurgeon/Science Journalist Sanjay Gupta
"I don't think there's enough science journalism out there, certainly not in the broadcast area," Emmy Award–winning CNN Chief Medical Correspondent Sanjay Gupta told the crowd that gathered in Masur Auditorium on March 25 to hear him deliver the J. Edward Rall Cultural Lecture. "If it's done well, it can make a difference in people's lives."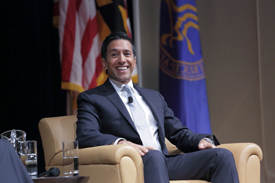 In addition to being a successful journalist, Gupta is a practicing neurosurgeon at Emory University School of Medicine and Grady Memorial Hospital (both in Atlanta). He received his M.D. in 1993 from the University of Michigan Medical School in Ann Arbor, Michigan, where NIH Director Francis Collins was his genetics professor.
Gupta got his start at translating medical science when he did a stint as a White House fellow in 1997–1998 and served as a special advisor to First Lady Hillary Clinton. He joined CNN (based in Atlanta) in the summer of 2001 and was soon covering such stories as the September 11, 2001, terrorist attacks and the anthrax attacks that occurred soon afterward.
He reported from Iraq and Kuwait when he was embedded with the U.S. Navy "Devil Docs" in 2003; covered the 2004 tsunami in Sri Lanka; and contributed to CNN's Peabody Award–winning coverage of the 2005 Hurricane Katrina and the 2010 oil disaster in the Gulf of Mexico. He was awarded two Emmys for his coverage of the 2010 earthquake in Haiti. He reported on the earthquake and tsunami that devastated parts of Japan in 2011. And he continues to report on a range of medical topics today.
"I think of myself as someone who can nurture and foster conversations" about the issues, he said. "You want to inform people, make sure they have all the facts. After that we want to be sure they are discussing these issues themselves."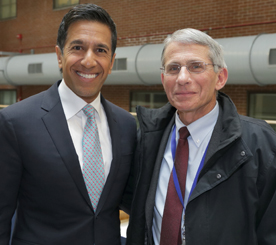 But first, to make sure he understands the issues, Gupta relies on experts such as Anthony Fauci, director of the National Institute of Allergy and Infectious Diseases. In 2001, for example, after letters laced with anthrax spores were mailed to news media outlets and two United States senators, Gupta interviewed Fauci to get the scientific facts about anthrax.
"I realized that, if you present facts, if you present the science as we did with anthrax, it can help calm the fears of a very worried nation," Gupta said.
Nowadays, however, "doing in-depth science reporting is becoming more challenging," he said. Not only are the concepts more complicated, but "the time that television networks allow us to devote to them is shrinking—most of the segments are two minutes long," Gupta continued. In addition, people are bombarded with news that comes in simple, short bursts via Twitter feeds and other social media messages.
Still, Gupta tries to address scientific and medical issues in depth. "We have a responsibility to do good science journalism," he said. He hopes the knowledge people gain will change their lives.
After Gupta's remarks, he and Collins sat onstage and engaged in a conversational talk-show-style question-and-answer session, with some of the questions having been submitted electronically beforehand. The following has been edited and condensed.
---
How do you choose a story?
We look for stories that will impact a large population of people; or that may affect a small number of people in a significant way; or that have a gee-whiz quality that can't be ignored.
What tips do you have for scientists who have to talk to reporters?
Think of the camera like a patient, your mom, or a good friend. You want to make sure that they understand what you are trying to say. You may have to explain some of the terms. Be able to share all the broad applications of the concept. Think of it as a conversation.
How do you explain basic research in an engaging way?
There's a tremendous appetite for this sort of knowledge. Basic science, especially brain science, is fascinating to people. I ask the scientists to tell me why they are interested and why the work is fundamentally important. You can also use something in the news as an opportunity to educate people. For example, when President Clinton had heart problems, we did a lot of reporting about cardiac disease, obesity, and why too much sugar can contribute to higher cholesterol concentrations.
There are compelling scientific data showing that vaccines are important, yet a significant portion of the population is fearful. How do you tackle that?
I don't feel a need to pay homage to the fear that vaccines can cause autism. I state the facts. People count on me to be accurate. Although I try not to use my own family stories too much, I have explained that after looking at the studies, I made sure my children were vaccinated on schedule. When I said that, people listened.
It's been said that science journalists take a complicated subject, wildly oversimplify it, and then exaggerate significantly. You must be getting pressure to make stories more exciting.
You might have to emphasize the excitement to get the ball rolling with the editors. But then you tell the story that's honest, genuine, and accurate. If you overstate or exaggerate things, you risk losing credibility. Diving in, eyes wide open, and not being sure what to expect, can lead to the best stories.
How do you deal with the short attention span of news media?
Just because you're not seeing a story on the front page or it's not the lead story of the hour, doesn't mean we aren't covering it. Other stories may take priority. For example, we had been reporting on antibiotic-resistant bacteria for some time, but it was overshadowed by other stories. Still, we were gaining more knowledge and building relationships with people. People started paying attention when, on a slow news day, we were able to do a story on how endoscopes contaminated with antibiotic-resistant bacteria contributed to the deaths of several patients who had had routine endoscopic procedures. Ebola is another example. I was in West Africa last year. We thought Ebola was important, but people in this country only started paying attention when patients were flown here.
Ebola news coverage seems to have disappeared. Our vaccine trial in West Africa is not attracting a lot of attention. How does that line up in your list of priorities?
We may go back to West Africa to see the results of the vaccine trial as well as the aftermath of the big hospital systems put together to help with the Ebola crisis. The Ebola stories helped expose some of the inadequacies in the public-health system. We will keep on the story and will report out as soon as something happens to provide an opportunity.
You've advocated for the medical use of marijuana. How do you develop your perspective and approach?
I had written a lot about medical marijuana in the past and was not impressed. So many studies were on the potential harm. Then I asked myself whether I was getting a distorted view. It was easy to dismiss patients as malingerers who wanted to get high. But as I started to pay more attention to the science, a different, clearer picture started to emerge. I had been too dismissive in the past and that was an error on my part. It's important to look at the data and conclusions rather than have them spoon-fed to you.
Would you agree that we don't have enough randomized controlled trials for medical marijuana and we rely too much on observational studies?
Yes. Even with using marijuana to treat epilepsy, observational studies can be biased. We need randomized, double-blind studies, but it's hard to get that kind of research done.
How do you juggle everything—telling compelling stories on health and medicine, being an active neurosurgeon, and having a wife and three little kids who are hungry for your time?
There is never enough time for all the things you want to do. I split my work time 50-50 between being a doctor—operating and taking care of patients—and being a journalist. The split is similar to what other academic doctors do, only my split is between patient care and the media and theirs is between patient care and doing research or giving lectures. For me, the medical work informs my reporting, and being a journalist has helped me be more curious about my patients' stories. I wish I spent more time with my family. I am on the road a lot and travel to dangerous places. But I don't do these things because I'm an adventurer. I do them because I want to make a difference.
Most people know who NASA and CDC are, but only 20 percent know who we are. How can we do a better job of telling the NIH story?
People associate NASA with the moon landing, exploration, and adventure. And they associate CDC with infectious disease. Defining mission is hard for any organization, especially for NIH because it is so vast and does so many things. NIH's role in contributing to medical advances needs to be constantly trumpeted. If everyone could define the NIH mission in a sentence or two, it would an important starting point…and it would help journalists.
---
The NIH Director's Cultural Lecture, part of the Wednesday Afternoon Lecture Series, was renamed in 2008 in honor of Joseph Edward Rall, who helped to define NIH's modern intramural research program and, in the 1950s, to establish a stable academic-like community within a rapidly expanding government agency. The videocast can be watched online and is available to all Department of Health and Human Services employees at http://videocast.nih.gov/launch.asp?18910.
---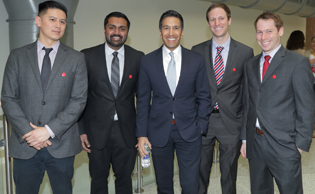 This page was last updated on Monday, April 25, 2022