News from the National Eye Institute
Human Gene Therapy Trial for Retinoschisis Underway
The National Eye Institute (NEI) recently launched the first-ever human gene-therapy trial for the vision disorder X-linked retinoschisis (XLRS). The researchers are conducting the trial at the NIH Clinical Research Center.
XLRS is a genetic disorder that causes splitting through the layers of the retina, the light-sensitive neural tissue in the back of the eye. XLRS gene mutations are inherited from the mother; however, typically only males develop symptoms. Vision loss usually is evident by early grade-school age and slowly worsens over the next several decades as cells in the retina lose function and die.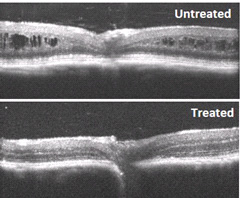 The causative gene was identified in 1997 and named RS1. The gene codes for the retinoschisin protein, which normally works like double-sided tape, providing lateral adhesion that holds retinal cells together. RS1 gene mutations alter the protein and thereby interfere with the ability of cells to maintain proper structure of the retina.
The XLRS gene therapy technique uses an adeno-associated virus (AAV) as a vector to shuttle normal RS1 DNA into cells of the retina. This virus does not cause human disease. In preclinical studies, the NEI team successfully demonstrated use of the vector to deliver the RS1 gene into an XLRS mouse model. When treated, the mouse eyes showed improvements in retinal structure and visual function.
A similar treatment strategy with an AAV vector loaded with a different gene was used in the groundbreaking gene-therapy trials for Leber congenital amaurosis (https://www.nei.nih.gov/lca/blindness), another degenerative retinal disease. The XLRS gene-therapy trial is one of the first ever at NIH to use the AAV vector.
Although the XLRS study seeks to optimize the gene-therapy dose, as a phase 1/2a clinical trial it is primarily designed to address safety.
"This is the first clinical trial of gene therapy for XLRS, and our first priority is to ensure it is safe," said Paul A. Sieving who is leading the trial. "An important secondary goal is also to look for benefit to vision." Sieving is the director of NEI and a senior investigator in the National Institute on Deafness and Other Communications Disorders.
The first participant has been treated and is being monitored closely. Results from the trial are expected in 2016.
---
Further information about this trial is available at https://clinicaltrials.gov/.
---
Paul A. Sieving, M.D., Ph.D.
Director, National Eye Institute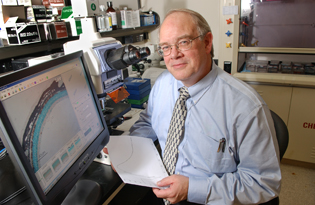 Paul Sieving is known internationally for studies of human progressively blinding genetic retinal neurodegenerations, including retinitis pigmentosa, and rodent models of these conditions. His laboratory study of pharmacological approaches to slowing degeneration in transgenic animal models led to the first human clinical trial of ciliary neurotrophic factor for treating retinitis pigmentosa, published in the Proceedings of the National Academy of Sciences in 2006. He developed a mouse model of X-linked retinoschisis and is embarking on human ocular gene therapy for this condition. He maintains a small clinical practice at NEI for patients with these and other genetic retinal diseases, including Stargardt juvenile macular degeneration.
In his role as NEI director, Sieving began the NEI Audacious Goals Initiative, a strategic research effort that aims to regenerate neurons and neural connections in the eye and visual system by the year 2025. Success will mean new approaches that can prevent and even reverse vision loss in diseases such as age-related macular degeneration, diabetic retinopathy, and glaucoma.
Before becoming the director of NEI in 2001, Sieving was the Paul R. Lichter Professor of Ophthalmic Genetics and the founding director of the Center for Retinal and Macular Degeneration in the Department of Ophthalmology and Visual Sciences at the University of Michigan Medical School (Ann Arbor, Michigan).
Sieving did undergraduate work in history and physics at Valparaiso University (Valparaiso, Indiana); studied nuclear physics at Yale Graduate School (New Haven, Connecticut); attended Yale Law School; and received his M.D. from the University of Illinois College of Medicine (Chicago) and a Ph.D. in bioengineering from the University of Illinois Graduate College (Urbana-Champaign, Illinois). He completed an ophthalmology residency at the University of Illinois Eye and Ear Infirmary in Chicago. After postdoctoral study of retinal physiology at the University of California, San Francisco, he did a clinical fellowship in genetic retinal degenerations at Harvard Medical School, Massachusetts Eye and Ear Infirmary (Boston).
In 2014, Sieving was elected to the German Academy of Sciences (known as Deutsche Akademie der Wissenschaften, or simply the Leopoldina), the German counterpart of the U.S. National Academy of Sciences and the British Royal Society. Leopoldina is the oldest learned society in the world and provides analysis on issues that affect the world from a scientific and medical perspective. About three-quarters of its 1,500 members are from Germany, Austria or Switzerland. Notable members include Charles Darwin, Albert Einstein, Johann Wolfgang von Goethe and Max Planck.
---
For more on Paul Sieving, go to https://www.nei.nih.gov/about/director_bio and https://irp.nih.gov/pi/paul-sieving.
This page was last updated on Monday, April 25, 2022