NIH Expands the Medical Scholars Program
New Class Announced
The National Institutes of Health has selected 55 talented and diverse students, representing 37 universities accredited by the United States, for the fourth class of its Medical Research Scholars Program (MRSP), its largest class to date.
A yearlong residential program, the MRSP introduces medical, dental, and veterinary students to cutting-edge research, part of NIH's goal of training the next generation of clinician-scientists and biomedical researchers. The program places creative, research-oriented students in NIH laboratories and clinics, including within the NIH Clinical Center, to conduct basic, clinical, or translational research in areas that match their career interests and research goals.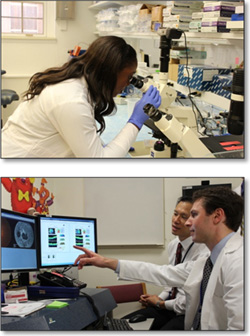 A mentored research-training experience forms the core of this program and allows these future clinician-scientists and biomedical researchers to carry out research across the full spectrum of science in the interest of improving public health.
"The NIH has a proud history of training clinician-scientists, many of whom have gone on to win the Nobel prize or to lead major medical-research organizations," said Michael Gottesman, deputy director for intramural research at NIH. "These students will be introduced to incredibly innovative research, among the best in the world, and I know they will be up to the challenge."
The 55 selected participants include 54 medical students and one dental student; 25 are women, and 13 come from underrepresented minority groups.
"Competition for this program is intense, and we have had the good fortune of being able to pick from the very best of the best," said Yvonne Maddox, acting director of the National Institute on Minority Health and Health Disparities, a major financial supporter of this year's class. Maddox, a member of the MRSP recruitment team, also stated, "Our new class more closely resembles the diversity that has made the United States a world leader in technology and biomedical research and reflects a concerted recruitment effort to reach out to more segments of the research and academic communities."
In addition to following a rigorous research agenda, MRSP scholars participate in courses, journal club seminars, a structured lecture series, and clinical teaching rounds. They also present their research to the NIH community and at domestic professional conferences. Each scholar is assigned a tutor-advisor, who provides guidance in defining a well-articulated career-development plan and in selecting a dedicated NIH research mentor. Mentors are full-time NIH investigators with established basic, clinical, or translational research programs.
The MRSP is co-sponsored by the NIH and other partners, including the Doris Duke Charitable Foundation, American Association for Dental Research, Howard Hughes Medical Institute, Colgate-Palmolive Company, and other private donors, via contributions to the Foundation for the NIH. The 55 selected participants for the 2015–2016 NIH MRSP are listed at the second link below.
---
For more on the MSRP, go to http://cc.nih.gov/training/mrsp/index.html. For a list of the 2015–2016 participants, go to http://www.nih.gov/news/health/apr2015/cc-22.htm.
This page was last updated on Monday, April 25, 2022