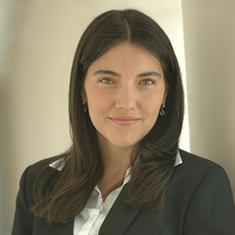 Andrea B. Apolo, M.D.
Lasker Clinical Research Scholar
Genitourinary Malignancies Branch
NCI/CCR
Building 10 - Magnuson Clinical Center, Room 13N240
Bethesda, MD 20892
301-480-0536
Research Topics
Camera on Cancer Research: Attacking Bladder Cancer on Multiple Fronts
---
Dr. Apolo is dedicated to improving the treatment and survival of patients with genitourinary tumors. Her research involves developing and designing clinical trials to test novel agents for the treatment of urologic cancers. Her primary research interest is in bladder cancer (urothelial carcinoma) and prostate cancer. In particular, she is working to develop new bladder cancer therapies that use targeted agents including anti-angiogenesis compounds, which block the growth of new blood vessels that feed tumors. Other research focuses include improving tumor detection by using new imaging modalities in bladder and prostate cancer and identifying molecular alterations in bladder tumors that will serve as targets for individualized treatment strategies in patients with this disease. Dr. Apolo is fluent in both English and Spanish.
Biography
Dr. Apolo is a graduate of Albert Einstein College of Medicine in New York. She completed clinical training in internal medicine at New York-Presbyterian Hospital/Weill Cornell Medical Center. Following her residency, she completed a medical oncology fellowship at Memorial Sloan-Kettering Cancer Center. Dr. Apolo joined the Medical Oncology Branch of the National Cancer Institute as an assistant clinical investigator. She is board certified for the practice of internal medicine and medical oncology and is a participating member of the American Society for Clinical Oncology.
Related Scientific Focus Areas
---
This page was last updated on October 25th, 2019