The New OIR Web Site: Your Definitive "Source(book)"
Over the past several years, a number of us in NIH's Intramural Research Program (the "IRP") have focused on bringing increased awareness to the groundbreaking research being performed by the almost 1,200 principal investigators within our ranks, research that has had a marked impact on public health. The centerpiece of this effort is the Web site you're visiting right now—the IRP Web site, launched in September 2011 as a way to educate you about incredible science happening at the IRP. This site brings together information about our research advances, tells scientific stories (often in the investigators' own words), and highlights the numerous employment and training opportunities available within the IRP.
Following on the successful launch and continued expansion of the IRP Web site, we turned our attention to developing a new, allied Web site to give people a broader view of the programs overseen by the Office of Intramural Research (OIR). The new site (oir.nih.gov), which is officially making its debut today, is intended to provide "one-stop shopping" regarding the oversight and coordination of the research, training, and technology transfer activities that take place within each Institute's and Center's intramural program, across all of our research campuses nationwide.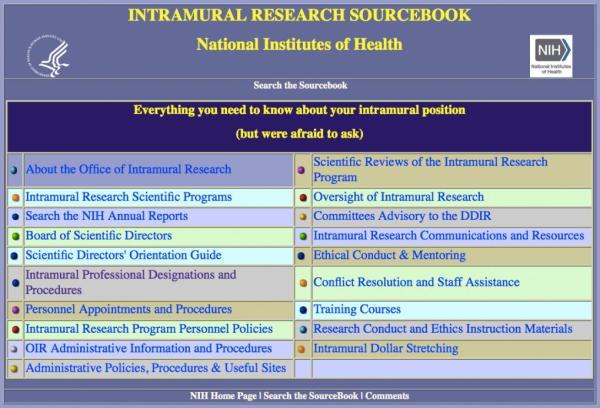 A large part of the site is devoted to the NIH Intramural Sourcebook, which people both within and outside the IRP use as the definitive source of information regarding IRP policies. Many of you will undoubtedly remember the previous version of the Sourcebook, which was originally designed in the late 1990s and, quite frankly, looked the part and was desperately in need of an update—so, update we did, taking the opportunity to do a wholesale reorganization of the content of the site. This started with what's called a "card-sorting exercise", where Mark Fredriksen, the OIR site's development lead, and I spent hours in a windowless conference room with a stack of index cards, each of which had the name of an old Sourcebook page on it. Cards were moved around, duplicates found and eliminated, and groups of cards were alternatively combined and separated, until we got to a place that ultimately served as the new "architecture" for the Sourcebook.
With a new vision for the site in-hand, a small army of individuals started updating the content, checking every word of every page within the Sourcebook to make sure that the policies were up-to-date and written in a clear, consistent, and logical way. The overall goal was to have content refined into essential and understandable blocks of information, making it easier for readers to follow particular procedures or implement policies that they're interested in.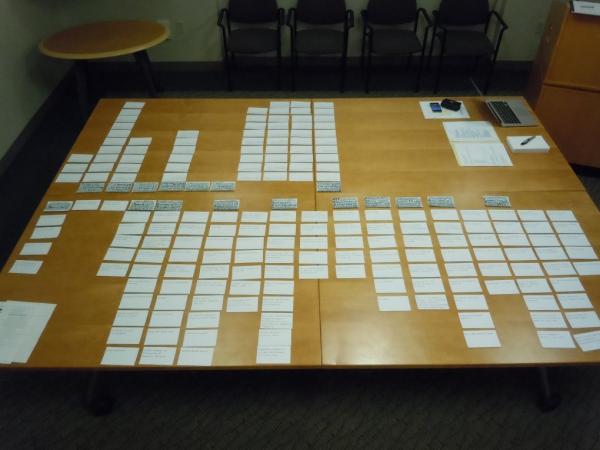 While content development was going on, we also made sure that we integrated what we learned through the IRP Web site development process into the design of the new OIR site, going beyond just implementing a common "look-and-feel" with the main IRP Web site. We implemented Google search functionality to allow users to find content more easily, and have also used a responsive design approach to programming—meaning that the site automatically adjusts how it's displayed, based on the device you're using to view it. If you're away from your office and need to check something quickly, just pull up the site on your mobile device and it'll display itself in a clear, readable fashion, something I'm still amazed by every time I play with the site on my iPhone!
So, enough of how we got here, and more about what you'll actually find when you visit, especially since the site is about more than just the Sourcebook. There are "sub-sites" devoted to major programs such as the NIH Research Festival and an electronic version of the NIH Catalyst, the publication devoted to what's going on within the Intramural community. We've also posted information on OIR itself, including brief bios of each of us who serve as part of the OIR's "senior staff", so you'll know who's responsible for what (and who to ask if you happen to have specific questions about anything within OIR's purview).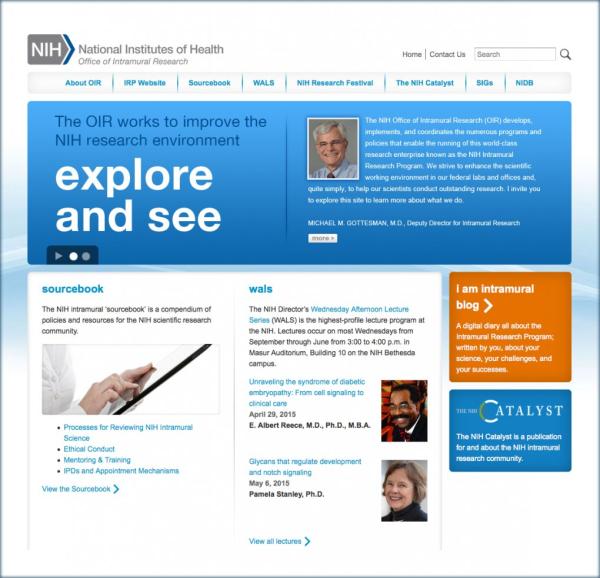 There's also a brand-new section for our very popular Wednesday Afternoon Lecture Series (WALS), providing information not just about upcoming lectures, but on past lectures as well. For each of the lectures, you'll see a brief bio telling you more about the speaker, a summary of the lecture, and learning objectives for those of you who'd like to earn CME credits for attending the talks. If you missed a lecture you wanted to hear, we've made it very easy for you to view past lectures—just search for the lecturer by name or keyword, scroll to the bottom of the lecture page, and you'll see the video window embedded right there. Just click, turn up the volume, grab your coffee, and enjoy the talk!
Later this summer, we'll be launching a new section of the site that will be dedicated to our Scientific Interest Groups—the "SIGs", the active and vigorous groups that facilitate scientific discourse across the NIH. The vast majority of these SIGs have not had any sort of Web presence to date, so we've been in touch with the leaders of each of the SIGs to change that. They're now busily putting together information describing their SIG, providing a fuller sense of the scientific areas that their SIG covers, the structure of their meetings, and how to "sign up" and become an active member of their group. Once we have all of that information in-hand, we'll be creating the almost-100 pages that will comprise the new SIG sub-site, allowing you to easily search for groups of colleagues (and, perhaps, new collaborators) with whom you share common scientific interests.
I alluded to a small army earlier on in this piece, and I'd like to take this opportunity to thank the key individuals that played a critical role in helping us modernize how we communicate and interact with all of you. The OIR Senior Staff—in particular, Arlyn García-Pérez and Larry Chloupek—played a critical role in bringing the Sourcebook content up to date, spending a very significant amount of time making sure everything was just right for this launch. In addition, Larry reached out to a good number of his colleagues in the administrative community to help out with the Sourcebook effort, including Lynne Penn, Elise Goodwin, Susan Harrelson, Francie Kitzmiller, Laurie Jarvis, Bridget Moore, Rena Rodriguez, and Gwendolyn Shinko, who all brought their keen insight and knowledge to creating a "new and improved" Sourcebook.
Finally, my thanks go to Mark Fredriksen and Dave Kanney at NHGRI, my partners in leading this effort from its very beginning. None of this would have been possible without their talents, dedication, and constant good humor.
So, with all that, please take a moment to check out the new site and let us know what you think!
---
Related Blog Posts
This page was last updated on Wednesday, July 5, 2023