News You Can Use
Got Genotype and Phenotype?
How to Submit and Access Data at dbGaP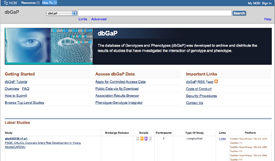 Genome-wide association studies (GWAS) can generate volumes of data about common genetic factors that influence health and disease. Sharing the data with other investigators enables many more insights to be gleaned and magnifies the value of the original research. In 2008, NIH implemented a policy for sharing data obtained in NIH-supported or NIH-conducted GWAS to make the data more readily available to a wide range of investigators, including NIH intramural scientists.
There are more than 1,400 published genome-wide associations for 237 common diseases and traits. NIH is updating its GWAS data-sharing policy to include a broader spectrum of sequence data such as whole-genome and whole-exome sequence and epigenomic data.
Central Repository
Under the NIH policy, both extramural and intramural investigators funded by NIH are expected to submit GWAS data to a central repository called the Database of Genotypes and Phenotypes (dbGaP), which was developed by the National Center for Biotechnology Information (NCBI).
The dbGaP archives and provides access to data from studies that have investigated the interaction of genotype and phenotype in a wide range of health conditions and diseases such as mental illnesses, cancer, autoimmune disorders, cardiovascular disease, diabetes, and age-related eye diseases. This rapidly growing and highly used database contains GWAS and other study data involving whole-genome, whole-exome, and other next-generation sequencing and array-based technologies.
There are two ways to access dbGaP data: open (public) access, for basic study descriptions, variables, and protocols; and controlled access for individual and aggregate-level participant data, including exposure, genotype, pedigree information, and individual-level phenotypes. Researchers who wish to use controlled-access data must submit a data-access request.
NIH intramural researchers at nearly all the NIH institutes and centers (ICs) are conducting next-generation (or next-gen) –omics studies and are expected to deposit their results in dbGaP or other NCBI data repositories. Of the 267 studies available in dbGaP, 25 are by NIH intramural investigators. These intramural studies hold clues to the genetic underpinnings of lung cancer, amyotrophic lateral sclerosis, bipolar disorder, ischemic stroke, and other conditions.
Nearly 100 NIH intramural investigators have accessed dbGaP data for secondary studies on genetic risk factors associated with the major mood disorders, schizophrenia, asthma, and autism; insights into a key metabolic pathway and neurodegenerative diseases; and improved statistical methods to study X-linked diseases such as age-related macular degeneration.
How to Submit and Access Data
In April 2012, to avoid some of the past confusion and facilitate wider intramural usage, NIH administrators developed clearer pathways for submitting data to and accessing data in dbGaP.
To submit data, investigators work closely with the GWAS program administrators from their institutes to prepare data-certification memoranda, which outline limitations in data use and ensure that data submission is consistent with the NIH GWAS policy and applicable laws and regulations. Certification memoranda are reviewed and verified by the appropriate institutional review board chairs and scientific directors and then approved by the NIH Deputy Director for Intramural Research.
To access dbGaP data, an investigator must first register with the dbGaP system, which requires approval from the investigator's supervisor, scientific director, and IC director or designated signing official. Once registered, an investigator can submit a request to access dbGaP data, which will be reviewed by the data-access committee(s) responsible for overseeing the particular dataset(s) requested.
For more information, visit http://gwas.nih.gov/06researchers1.html or contact the GWAS mailbox at GWAS@mail.nih.gov.
Other helpful Web sites:
Memo from DDIR Michael Gottesman to intramural staff: http://gwas.nih.gov/pdf/NIH_GWAS_Staff_Access_Memo.pdf
---
Langlais and Luetkemeier work in the Office of Biotechnology Activities, Office of Science Policy; Tryka is a dbGaP staff scientist at NLM-NCBI.
This page was last updated on Monday, May 2, 2022