Collins: How Can We Do Better?
Collins Entertains and Educates the TEDMed Crowd
"Get ready for this," said NIH Director Francis Collins, and with guitar in hand he hit off the first full day of TEDMed 2012, accompanied by singer-songwriter Jill Sobule, with a twangy number entitled "Disease Don't Care." A partner series of the popular TED (Technology, Entertainment and Design) conferences, TEDMed was established to focus on health and medicine. This April, the annual TEDMed conference was held in Washington, D.C., at the John F. Kennedy Center for the Performing Arts and was livestreamed to the NIH community in Wilson Hall (Building 1).
After his song, Collins took a more serious direction, addressing the need to shorten the timeline between the acquisition of fundamental knowledge about disease and its application. He presented some sobering statistics. Of the approximate 4,000 diseases for which the molecular mechanisms are understood, only about 250 have available treatments. The development of such therapeutics may take decades of basic research, drug development, and clinical trials, with a bill that can run upward of one billion dollars before the therapeutics are ready to treat patients. "We have to look at this pipeline and ask, how can we do better?" said Collins.
Indeed, the development of therapeutics need not always take so long. Such may be the case for Hutchinson-Gilford progeria syndrome, a rare genetic condition resulting in premature aging at approximately seven times the normal rate. In 2003, Collins and colleagues identified a molecular basis for progeria: the production of a toxic protein called progerin as the result of a gene mutation. Equipped with this knowledge, they screened FDA-approved drugs that seemed likely to have the best success in tackling progeria. Surprisingly, a rather unsuccessful cancer drug was observed to reverse the effects of progeria in cultured cells, and just four years after the mutated gene was identified, clinical trials were underway.
What made this story possible, and how can we have more successes like it? Collins highlighted the need for increased "partnerships between academia, government, and the private sector and patient organizations." Pharmaceutical agencies have drugs that, having failed to meet their intended purpose, languish unused. As biomedical research broadens our understanding of the molecular pathways involved in various diseases, such drugs could be cross-tested for their efficacy against other diseases.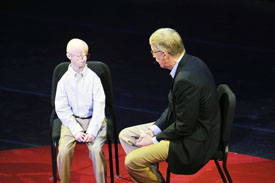 Building cooperation among these sectors may facilitate the development of effective therapeutics, a process in which the NIH is already making inroads. Such efforts will need to be bolstered by continued public support, advancing biotechnical resources, and the recruitment of cross-disciplinary talent.
Collins sat down on stage with 15-year-old Sam Berns, who shared his experiences as a progeria patient and a clinical trials volunteer. "Progeria limits me in some ways, [and] being part of the clinical trials is rigorous, sometimes painful," Berns said. "But I remind myself that I am helping researchers develop treatments for myself and other kids and that really drives me along." That drug development for progeria has come so far in so short a time, Berns continued, "shows that if that drive exists, anybody can cure any disease, and hopefully we can eliminate those 4,000 diseases that Francis was talking about."
Collins was one of more than 50 speakers and presenters at TEDMed 2012 including CDC Director Thomas Frieden, Institute of Medicine Executive Officer Judith Salerno, and executive producer of the HBO documentary The Weight of the Nation, John Hoffman. You can also see Collins in The Weight of the Nation, which airs on May 14 and 15.
---
The HBO series on the obesity epidemic, The Weight of the Nation, which will air on May 14 and 15, will help launch one of the most far-reaching public health campaigns on the epidemic to date. To create the series, HBO partnered with NIH and other organizations, including the Centers for Disease Control and Prevention, and the Institute of Medicine.
This page was last updated on Monday, May 2, 2022