Tenacious Tara
NIH Postdoctoral Fellow Combines International Interests with Neurology
Don't let her ready smile and unassuming persona fool you. Postdoctoral fellow Tara Kimbason (née Kim) has a steely determination and an ambitious goal … to find a way to provide medical care to underserved people throughout the developing world.
As early as high school, this New York City–raised, only child of Korean-American parents dreamed of joining the Peace Corps so she could help people in other countries. But it would be several years before her dream came true. After graduating from the State University of New York at Binghamton (Vestal, N.Y.), she first went to Bethesda, Md., to do research at the Uniformed Services University of the Health Sciences and at NIH's National Institute of Neurological Disorders and Stroke (NINDS).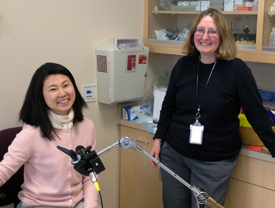 She managed to convince her worried parents that she was ready to join the Peace Corps and go off to a faraway country riddled with social and political strife: the Republic of Senegal, which lies on the west coast of Africa. As an urban primary health-care agent in Vélingara, her mission was to build awareness about sanitation, malaria prevention, and medical care. But the people of Senegal shunned her at first. They weren't used to American Peace Corps volunteers with Asian features and refused to talk to her. She was determined to win them over, however. She wore the local clothing, adopted local ways, and was helpful and respectful. Gradually they learned to trust her and invited her to join the local choir and welcomed her into their homes for meals. She even helped the community win a U.S. Agency for International Development grant to renovate a local hospital.
She wanted to play a bigger role in public health, though, and needed more training than what the Peace Corps could offer. So she returned to the United States to get an M.P.H. degree at Johns Hopkins Bloomberg School of Public Health (Baltimore). Then she spent a year in Afghanistan as a health-communications advisor and collaborated with the ministry of health to develop and lead a health-education training course for physicians and community health-care workers; conduct surveys and collect data; and produce and distribute health-related posters, pamphlets, and other materials. Again, the local people were suspicious of her. And again, through her determination, she gained their trust.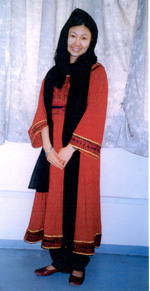 Kimbason enjoyed teaching people about health care, but she wanted to provide health-care services, too. That meant becoming a doctor. During her medical school clerkships, she discovered she particularly enjoyed working with patients who had neurological disorders. She liked doing research, too, and spent a summer doing neuroscience research at Columbia University College of Physicians and Surgeons (New York). She still had a hankering to practice international medicine, so she did an elective in which she traveled to remote villages at the Indo-Tibetan border to help set up mobile clinics, provide hands-on medical care, and treat patients with neurological disorders.
"I saw people with stroke who did not know it could have been prevented," she said. "Some even thought it was 'destiny.'"
During her last year of medical school—she earned her M.D. from the University of Sint Eustatius School of Medicine (in the Netherlands Antilles)—she did a neurology rotation and an independent research project at the Emory Clinic Sleep Center (Atlanta). In 2010, she returned to NINDS, this time to do clinical research with Mary Kay Floeter as an associate investigator in a multicenter natural history protocol on oxidative stress in motor neuron disorders.
Kimbason is ready to solidify her clinical skills and will be leaving NIH in June to do a neurology residency at the Geisinger Medical Center (Danville, Pa.). She is determined to use all she's learned working at NIH and around the world, combine her clinical and research interests in neurology to help medically underserved people everywhere, and establish international collaborations in the prevention and treatment of neurological disorders. With her tenacity and spirit she is sure to succeed.
This page was last updated on Monday, May 2, 2022