Eyes on the Goal
Anand Swaroop Seeks Therapies for Retinal Diseases
"People over 40 are really scared of going blind," National Eye Institute (NEI) Senior Investigator Anand Swaroop told the scientific directors at their meeting on March 7, 2012. "After cancer and heart disease, blindness is probably the most feared of all."
He went on to describe his lab's work on promising stem cell advances that one day might be used to treat blinding neurodegenerative diseases. But Swaroop might not be doing eye research at all if his early career had gone the way he planned.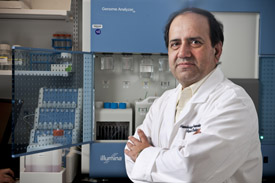 When he was doing postdoctoral work in genetics at Yale University (New Haven, Conn.), in the 1980s, he wanted to be the first to find the gene that causes Duchenne muscular dystrophy (DMD). When Louis Kunkel's group at Children's Hospital Boston beat him to it and identified the gene in 1986, Swaroop was disheartened.
But not for long. He found a different disease gene to work on: X-linked retinal pigmentosa 3 (RP3). Defects in RP3 and several other genes cause retinitis pigmentosa, genetic eye conditions in which retinal degeneration leads to incurable blindness. And since RP3 was near the DMD-inducing gene he was already working on, Swaroop figured it would be easy to transition to the field of eye research. While still at Yale, he wrote his first grant proposal to NIH: He proposed a novel strategy to identify genes for X-linked retinal diseases. NEI was impressed and funded him.
With a grant in hand, he went to the University of Michigan (Ann Arbor, Mich.) in 1990 to continue his eye research; he kept getting more and larger grants from NEI and other funding organizations. Finally in 2007, he came to NEI, where he established and now heads the Neurobiology-Neurodegeneration and Repair Laboratory. In his quest to find the genetic defects behind and treatments for retinal diseases, he collaborates with other NEI and NIH scientists as well as with other researchers within the United States and several other countries.
Swaroop is interested in retinal photoreceptors and the retinal pigment epithelium (RPE), which is key to photoreceptors' survival. Abnormalities, dysfunction, and/or the death of retinal photoreceptors in retinal and macular degenerative diseases can cause irreversible vision loss.
The RPE is a barrier between the retina's neural network and the blood and maintains retinal cell homeostasis by providing nourishment and removing debris. "RPE is like the queen" in a game of chess, he said. She protects her "king"—the photoreceptors. In chess, "if the queen is gone, in many cases it results in checkmate. [In the eye], if RPE is dead, photoreceptors are gone, too."
Swaroop's new project is the development of stem cell–based therapies to replace defective or dying photoreceptor cells. He and his collaborators pioneered this approach by successfully transplanting photoreceptor precursor cells into degenerating mouse retinas. His team discovered that these precursor cells were more likely to grow and be successfully integrated into the degenerating retina than were mature brain- and retina-derived stem cells. (Nature 444:203–207, 2006)
"We are particularly enthusiastic about Dr. Swaroop's project to combine his wide expertise in genetics and genomics with iPS cell technology to understand early-onset retinal degeneration," said NEI's scientific director, Sheldon Miller. Swaroop is obtaining iPSC (induced pluripotent stem cell) lines from people with Leber congenital amaurosis (LCA), a rare genetic disorder that appears at birth and causes blindness through the degeneration of photoreceptor cells. The iPSCs from these people have mutations in the CEP290 gene.
One of Swaroop's recent discoveries was that, in the mouse, a mutated version of Cep290 codes for a protein that interacts with the Mkks protein, which is important in the formation of the arms, legs, heart, and reproductive system. The combination of Cep290 and Mkks mutants improved the function of the retinal photoreceptors in mice with LCA-like early-onset retinal degeneration. Targeting one or more interacting proteins might provide a therapeutic approach for treating human retinal diseases. (J Clin Invest 122:1233–1245, 2012)
Swaroop ended his presentation to the scientific directors with a line from Helen Keller: "The only thing worse than being blind is having sight but no vision." He continues to work furiously towards his own vision—a world in which retinal diseases do not result in blindness.
This page was last updated on Monday, May 2, 2022