NIH Works Towards a More Diverse Community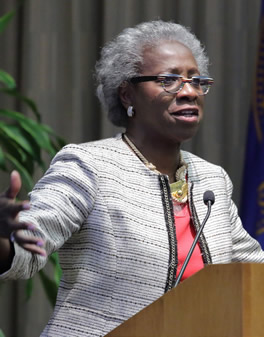 Like many research institutions across the nation, the NIH has faced difficulties with establishing a strong and lasting community of diverse investigators. We have made remarkable gains in recent years, however, in attracting and retaining a diverse workforce that's more reflective of the U.S. population.
One of many movers and shakers in this realm is Hannah Valantine, a cardiologist recruited from Stanford University who, in addition to maintaining a lab in NHLBI, is the NIH's first Chief Officer for Scientific Workforce Diversity. And one of her many ideas that the NIH Scientific Directors hope to adopt is the creation of a cohort program with both mentors and mentees committed to issues of scientific diversity and inclusion. Our goal is to guide this cohort of tenure-track investigators through the tenure process to be sure they have access to the mentoring, professional development, and networking opportunities to establish their careers, strengthen their science, and, in turn, recruit and mentor future generations of scientists.
This is not a new hiring process. We have had some initial success in hiring talented scientists from backgrounds underrepresented at the NIH. Now we would like to assure that they quickly become part of our vibrant community of scientists. So, for this first cohort, we plan to "recruit" from our fine group of investigators already hired through the Stadtman, Lasker, or basic IC-based search routes. We are identifying those individuals who have demonstrated a commitment to the concept of scientific diversity and inclusion, regardless of their place of origin. And to take this all the way home, we are simultaneously recruiting mentors who are NIH scientists of respect and authority who have demonstrated a commitment to scientific diversity.
I'm confident that this community of diversity-minded mentors and mentees can serve as a national example in building and retaining a diverse scientific workforce. It may take a community to build a community.
---
Related Blog Posts
This page was last updated on Wednesday, July 5, 2023