Women's History: 1930s Meningitis Research
"Know your enemy" describes the work of Dr. Sara Branham (1888-1962). She dedicated much of her career to understanding meningitis, identifying different strains, and developing the effective tests and treatments for the disease in anti-serum and sulfa drugs.
In this September 1937 photo, Branham and technician Robert Forkish inoculate a mouse with meningococcus antiserum to determine whether it will protect against meningitis: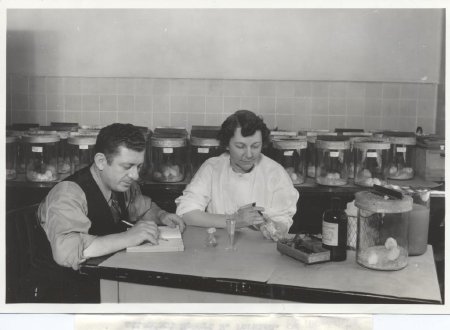 Branham received her Ph.D. and M.D. from the University of Chicago after teaching science in girls' schools for several years. She left a faculty appointment at the University of Rochester to come to the Division of Biologics Standards at the NIH's precursor agency, the Hygienic Laboratory. The Division was charged with performing many of the functions now done by both the FDA and CDC: they studied and tried to control epidemics and standardized and tested commercial antiserums and vaccines for safety and efficacy.
In the 1930's, Branham represented the United States at the first two international microbiology conferences. She retired 1958 as chief of the Section on Bacterial Toxins. Learn more about Dr. Branham's life and career.
---
March is Women's History Month so we'll be celebrating with posts on early and current women scientists at NIH. The first woman to work at the Hygienic Laboratory (NIH's precursor agency), Rose Parrott, began in 1916. She wouldn't be lonely now.
---
Related Blog Posts
This page was last updated on Wednesday, July 5, 2023