A Tale of Two Labs: Quality Control of Cellular Membranes
An NIH Homecoming for Ramanujan Hegde
BY ANNELIESE NORRIS, NCI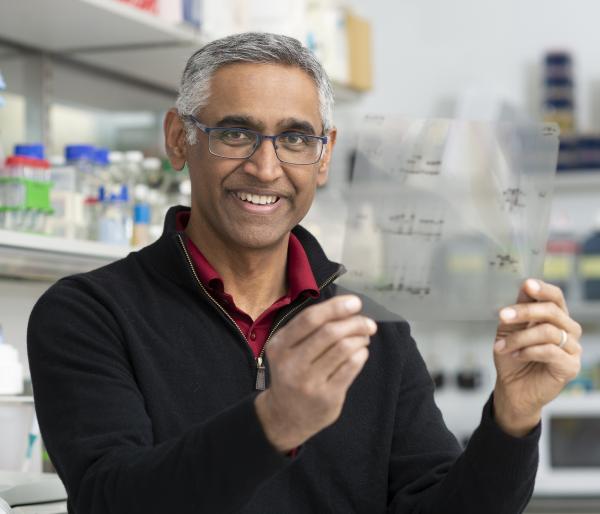 NIH welcomed the return of a familiar face, Ramanujan (Manu) Hegde, now Group leader at the MRC Laboratory of Molecular Biology (Cambridge, United Kingdom), who delivered a Wednesday Afternoon Lecture Series (WALS) talk titled "How Cells Make Membrane Proteins" on June 14, 2023.
There was no shortfall of accolades. "Instant classics, the kind of work that students will read about in textbooks," is how NICHD Section Chief of Microbial Pathogenesis Matthias Machner described Hegde's tome of work in his welcoming remarks. "[Hegde] has shaped the field of protein biochemistry and cell biology not only through his marvelous research but also by mentoring over 55 trainees."
Hegde earned his bachelor's degree at the University of Chicago (Illinois), followed by an M.D. and Ph.D. at the University of California at San Francisco. He went on to join a lab as part of the National Cancer Institute's (NCI's) scholars program and later, in 2002, as a Principal Investigator at the Eunice Kennedy Shriver National Institute of Child Health and Human Development (NICHD) in the Cell Biology and Metabolism Program.
Today, Hegde is a leader in the field of protein biogenesis and quality control and has won numerous awards and honors, including election to the European Molecular Biology Organization in 2013 and the Royal Society in 2016.
An old friend
Though no stranger to the NIH community, Hegde hadn't set foot on campus since he left for the UK in 2011. To him, this WALS lecture represented more than just a talk. He was able to meet former friends and colleagues, share stories, and reminisce about his time working on campus. He reconnected with Harris Bernstein (National Institute of Diabetes and Digestive and Kidney Disesases), Roberto Weigert (NCI), Juan Bonifacino (NICHD) and others whom he knew from the protein trafficking scientific interest group. "It was very nostalgic to come back," said Hegde. "Bethesda has changed a huge amount, [and some] NIH buildings no longer exist, so former colleagues are now in new places."
Hegde spoke fondly of his time at NIH, highlighting how he worked with numerous people, including Irwin "Win" Arias, Scientist Emeritus at NICHD and the brainchild behind the Demystifying Medicine lecture series, which seeks to bridge the gap between clinical work and basic science, in which Hegde had lectured during his time at NICHD.
As a PI at NIH, Hegde expanded his interests in membrane protein insertion and biogenesis—topics that piqued his interest in graduate school but which he would not begin serious work on until after five years at NIH. Hegde's other research passion is understanding protein quality control, a crucially important process to eliminate improperly made proteins. Both those interests were heavily influenced by work he did at NIH—research which he continues to this day.
A unifying model for membrane-protein insertion
Membrane-embedded proteins are required hardware for molecules to translocate, or move across, cellular membranes. In his WALS talk, Hegde highlighted the vast diversity of membrane proteins and various past ideas of how those proteins are inserted. Such embedded proteins contain hydrophobic segments that must be inserted into the membrane as they are synthesized. Hegde and colleagues used biochemical and structural approaches to reveal the machinery involved in these processes and visualize them "in action" at different steps (Nature 584:630-634, 2020; Nature 611:161-166, 2022; Nature 611:167-172, 2022). This work allowed Hegde to propose a unifying model for how a diverse range of membrane proteins are inserted across all organisms.
Hegde has an "instinct for important biological questions," said Machner. Indeed, 25 years ago Hegde co-wrote a review (Cell 91:575-582, 1997) that speculated how the machinery for membrane protein insertion might work—concepts for which he has since provided experimental evidence.
Understanding how cells make membrane proteins is fundamentally important to human health and disease, explained Hegde. "Membrane proteins are how cells engage and communicate with their surroundings. Most drugs target membrane proteins, so understanding exactly how they are made, delivered to the correct place, and turned over might provide new opportunities for manipulating their abundance or function for therapeutic benefit," he said.
A new adventure
Hegde noted that the MRC Laboratory of Molecular Biology has provided a welcoming environment, and he enjoys the closeness of that community. "There are only about 50 research groups, and at lunch everyone goes to the canteen and interacts with one another," said Hegde. "It's easy to discuss ideas, papers, or a recent seminar. Cambridge is a charming town, and moving to a new country has been an adventure." The amicable Hegde is even enjoying the fickle British climate. "It's perfect weather," he said with a smile.
To watch a videocast of Hegde's lecture, go to https://videocast.nih.gov/watch=46093.
---
Anneliese Norris, a postdoctoral fellow at the National Cancer Institute, is working on HIV dynamics and replication. In her spare time, she enjoys reading and building with LEGO.
This page was last updated on Thursday, September 7, 2023