News You Can Use: Resources
Aging and Adult Dependent-Care Resources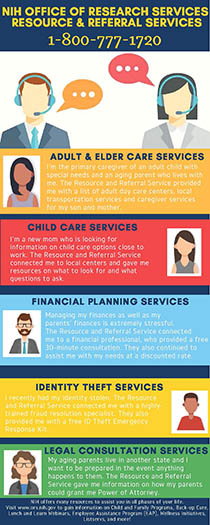 Approximately half of NIH employees are over the age of 50, and a considerable number of them are caring for aging parents, spouses, or adult children with special needs. Did you know that NIH's Office of Research Services (ORS) can help employees, trainees, and contractors navigate aging and adult dependent-care resources. According to the Office of Personnel Management, NIH is leading the way in easing the burden of caregiving stressors by providing community-support programs. Yet most NIHers don't realize that such help is close at hand.
One of the ways that ORS helps is by offering a toll-free number for Resource and Referral Services. Just call 1-800-777-1720 between 8:00 a.m. and 5:00 p.m. EST, Monday through Friday, and an intake specialist will ask you to identify your needs. A resource specialist will call you back within 24 hours during the workweek, conduct a confidential discussion with you, and provide you with referrals and resources via email within two business days.
The beauty of this service is that it will help you identify comprehensive resources available in communities nationwide without your having to engage in this time-consuming process on your own. Resource and Referral Services can also assist you if you need information on child care, legal and financial issues, and identity theft.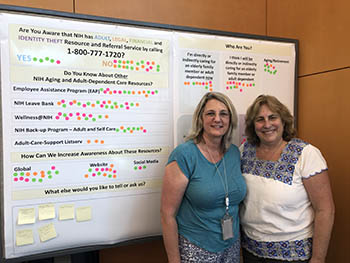 ---
In addition, ORS offers:
Adult-Care Support LISTSERV newsletter: Provides notices of campus and community events, webinars, and other pertinent information related to aging and adult-dependent care issues. To subscribe, go to the NIH LISTSERV page at https://list.nih.gov. Look for "Adult Care Support."
NIH Employee Assistance Program (https://www.ors.od.nih.gov/sr/dohs/HealthAndWellness/EAP/Pages/index.aspx): A free, voluntary, confidential program to assist all employees with personal concerns about caregiving or other issues. Call 301-496-3164 to schedule an appointment.
Other Adult Dependent-Care Resources: https://www.ors.od.nih.gov/pes/dats/childcare/Pages/Aging-and-Adult-Dependent-Care-Resources.aspx
Fitness and Wellbeing: Information on lectures, activities, nutrition, and more (https://www.ors.od.nih.gov/pes/dats/wellness/Pages/index.aspx)
---
To learn more about aging and adult dependent-care programs, visit the NIH Child and Family Programs website at https://www.childfamilycare.ors.nih.gov. In addition, you may be interested in Michael Gottesman's DDIR essay at https://irp.nih.govcatalyst/v27i5/from-the-deputy-director-for-intramural-research.
This page was last updated on Thursday, March 31, 2022