FAES: 60 Years and Counting
New Initiatives
The Foundation for Advanced Education in the Sciences (FAES), which was established in 1959 to create a university-type environment at NIH, is offering new kinds of biomedical courses—onsite and online credit-bearing courses, noncredit workshops, and new opportunities for networking. The nonprofit organization also continues to provide trainee services such as offering health insurance, running a bookstore and a gift shop, and sponsoring music and cultural programs (including concerts by the Manchester String Quartet). The FAES is guided by an elected Board of 24 members and an executive committee of five; its current president is Susan F. Leitman.
FAES offers a wide variety of academic programs including "Immunology and Microbiology," "Biology, Genetics, and Medicine," "Bioinformatics and Data Science," "Public Health," and "Technology Transfer, Business, and Industry." Newer focus areas include a cutting-edge teaching lab with an emphasis on bioinformatics and computational biology, as well as a partnership with the NIH Library for courses on 3-D imaging and printing.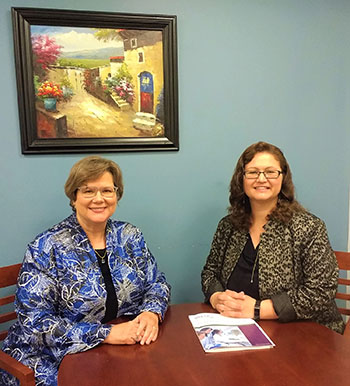 "We are a quasi-university because we do everything that a university does except grant degrees," said FAES Chief Executive Officer and Executive Director Christina Farias. "We try to provide adaptable resources to fill any of the gaps between traditional or conventional education and anything and everything NIH needs." Farias, who was previously the Director of Business Services at Georgetown University Law Center in Washington, D.C. (2007–2012), joined FAES in 2012. Since then she has worked with the FAES Board and Executive Committee and longtime FAES Graduate School Dean Constance Noguchi to implement solutions to address specific needs of NIH trainees and employees. She also works with the Deputy Director for Intramural Research Michael Gottesman, Office of Intramural Research Liaison to FAES Richard Wyatt, and representatives from the Fellows Committee to make sure that FAES can fulfill the evolving needs of the NIH community.
Executive Dean of Academic Programs Lynn Johnson Langer joined FAES in January 2019 to merge the FAES educational programs including graduate courses, noncredit workshops, and conferences, and to ensure quality and innovation in all programming. Langer—who has also been on the FAES board of directors for three years and FAES's education committee for the last five years—was previously Interim Associate Dean for Advanced Academic Programs at Johns Hopkins (JHU) and a faculty member and director in the JHU Center for Biotechnology. She has brought several new technologies, staff, and instructors to NIH.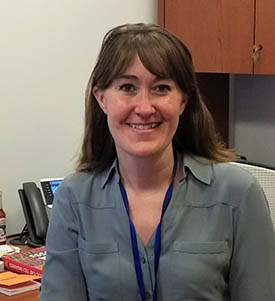 One of these new people is Assistant Dean Melinda Maris, who specializes in adult education. And to ensure that FAES's academic programs reach a wider audience, she is developing online courses.
"Our online courses are going to be highly interactive and small," Langer said. "There [will] be no more than 16 to 18 students in any one section, which means that [each] student has [a] tremendous opportunity to connect with their classmates and faculty." Many of the existing onsite courses will now have an online component so they can be available to people at all NIH campuses—including Bethesda, Frederick, Baltimore, Montana, and North Carolina—as well as to much of the world. And some introductory courses, such as the popular "Basic Immunology" course, will be offered online to allow students to gauge whether they want to take a more advanced onsite course in the field.
Maris is also developing a two-part course on the foundations of biomedical sciences for administrative employees and others who don't have a biomedical background but support NIH activities. This course will help them better understand scientific information that they regularly come across in their jobs.
Other new offerings include an upcoming tech transfer course on licensing your science and even an online class on how to teach online. In addition, FAES will partner with the Office of Intramural Training and Education to help trainees who want to move away from the bench and perhaps learn how to teach or to land a job in industry. The partnership aims to promote cohort-based, all-scientist study groups in which courses are designed and administered by scientists.
FAES is also partnering with regional academic institutions, such as JHU and the University of Maryland at Baltimore County in Baltimore (UMBC). Students who complete the FAES Advanced Studies in Technology Transfer courses are eligible to receive advanced standing toward the JHU masters in Biotechnology Enterprise and Entrepreneurship. FAES recently partnered with UMBC to allow students to include as many as five FAES courses in bioinformatics toward the 10 courses required for a master's degree in data analytics with a concentration in bioinformatics. FAES students also have the option to count two courses toward the UMBC masters in biotechnology. "These partnerships not only offer the opportunity to work toward a degree but also are an opportunity for NIHers to network with people outside of NIH," said Langer.
In addition, FAES fosters other networking opportunities that bring in professionals to advise trainees on the soft skills—leadership, management, supervision, and communication—that are important for becoming a good professional in any field. These interactions are made possible by a unique "Lunch and Learn Leadership" series that Farias has been piloting for almost a year.
"We are open and grateful for feedback from fellows because we want to be in tune with what the trainees want," she said. The FAES executive committee and members of the board also welcome discussion and suggestions.
---
For more information on FAES, go to https://faes.org. For the 2019–2020 FAES Academic Programs and Student Handbook, go to https://faes.org/sites/default/files/FAESWebCatalog_2019-2020_clickable.pdf.
This page was last updated on Thursday, March 31, 2022