The Science of Mentoring Women in Science
Judith Walters: Mentor Extraordinaire
According to a U.S. Census Bureau report, men outnumbered women three-to-one in the science, technology, engineering, and math (STEM) work force in 2011. The NIH Working Group on Women in Biomedical Careers is dedicated to promoting the recruitment, the retention, and the advancement of women in biomedical and research careers, and it offers workshops on mentoring and sustaining career success. In the following article, NIH scientist Judith Walters speaks candidly about the struggles of being a woman in science, the mentors who helped her along the way, and how her experiences have shaped her mentoring style.
Judith "Judie" Walters is a self-described "product of a women's college"—Mount Holyoke College in South Hadley, Massachusetts. She was confident she could tackle academic challenges and assume leadership roles in whatever she chose to do. At college she had fallen in love with the emerging field of neuropharmacology—the study of how drugs affect the brain. There was no question in her mind that she would go on to pursue a career in science. But when she applied to graduate school in the late 1960s, one male interviewer asked, "Why do you want to get a Ph.D.? You're a woman!"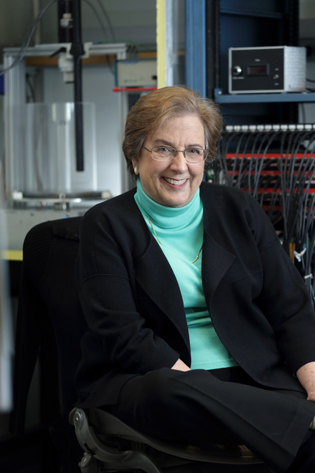 Unfazed, Walters applied and was admitted to the University of California, San Francisco (San Francisco), and later transferred to Yale University School of Medicine (New Haven, Connecticut) to study the pharmacology and neurophysiology of the dopamine system in the basal ganglia. When she arrived at Yale, only one other woman had graduated with a Ph.D. from the Department of Pharmacology; Walters was only the sixth woman to earn a Ph.D. from that department. Today Walters is chief of the Neurophysiological Pharmacology Section in the National Institute of Neurological Disorders and Stroke (NINDS).
She attributes much of her early success not only to the confidence instilled in her by going to an all-women's college, but also to having good mentors during critical times in her career. At Yale, she did graduate work under the guidance of neuropharmacology pioneer Robert Roth, who, she said, proved to be a mentor with an unbiased and supportive style.
Walters also did a project with neurophysiology pioneer George Aghajanian, who became her co-mentor. Aghajanian—in the 1960s—was the first to record the single-cell activity of the newly discovered serotonergic, noradrenergic, and dopaminergic neurons in the brain. "It was an absolutely exciting time," said Walters who did the first in-vivo recordings of dopamine neurons in the rat and developed evidence for the existence of autoreceptors on the terminals of dopamine neurons in the basal ganglia.
In Aghajanian's lab, Walters met, trained with, and later collaborated with Benjamin "Steve" Bunney, a young resident from New York University (New York) who went on to became the chair of Yale's Psychiatry Department and a leading expert on dopamine. "It was fun," Walters said, "we were mentoring each other in a way."
Despite the acceptance in the lab, Walters recalled not feeling welcomed everywhere. She once walked into a journal club meeting where a respected male faculty member asked, "Who let her in?"
After completing her postdoctoral training, Walters became an assistant professor in Yale's Department of Psychiatry. In 1975, Walters came to the NIH as a staff fellow in the lab of Thomas Chase (also a Yale School of Medicine grad), who was the chief of NINDS's Experimental Therapeutics Branch. Chase was known for his research in Parkinson disease and other movement disorders. "He was a good mentor," Walters said. "He was very well connected; he helped me to go to meetings and get to know people."
These are the same words that Walters's lab members now use to describe her. "Judie is so excited about science, she makes you love science, too, and [want to] do your best here," said Kristin Dupre, a postdoc in Walters's lab.
Walters is always available and accessible, said Katrina Furth, who's a graduate student at Boston University (Boston) and is doing her doctoral research with Andres Buonanno in the Laboratory of Developmental Neurobiology in the National Institute of Child Health and Human Development. Furth is collaborating with the Walters lab to study the role of the dopamine system in schizophrenia.
Walters, famous for hosting Friday lab meetings complete with fresh bagels that she supplies, has an open-door policy and welcomes interruptions. Furth feels less intimidated taking early drafts of her manuscripts to Walters than to other mentors. "With Judie it can be a little messy," Furth said, adding that Walters's input along the way helps her to learn faster.
While collaborations are great for science and having two PIs means two recommendation letters, it's not always an easy balance, and Furth wouldn't recommend it for everyone. "The hardest thing is keeping my mentors all on the same page," Furth admitted. But the benefit is having double the number of people to approach about ideas and techniques, each with different strengths. "Andres is very supportive of the things I want to do," said Furth. Not only did he set up the initial meeting where they both met with Walters, but he also "encouraged me by granting me a lot of intellectual freedom."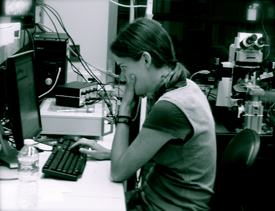 Walters and her lab of young mothers have shown that it is possible to balance having a family and doing good science, said Furth, who gave birth to a daughter not long after she was interviewed for this article. She is taking a year off, but is a special volunteer so she can continue some of her work at NIH.
"My hat's off to you guys," said Walters. Being a working mom is not easy, "but I think it's worth it if you hang in there."
Surprisingly, Walters thinks it was easier when she was younger, even though there was no maternity leave and no lactation rooms where new moms who returned to work could express breast milk in private. And, as a young PI, she faced strong social disapproval for going back to work when her children were young. But, she explained, she had a live-in nanny five days a week because childcare was far less expensive than it is today.
"I think society is more approving of men making a more equal contribution to parenting tasks than in the past, and they are contributing more," she said. "However, a lot still ends up on the new mother's plate."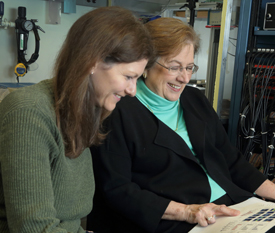 Dupre describes herself as quiet, shy, and reserved, but says Walters has encouraged her to be more outgoing and to speak up. In fact, Walters had her entire lab read the book Lean In by Facebook Chief Operating Officer Sheryl Sandberg. In the book Sandberg argues that young women would be more willing to "lean in" (stand their ground) if they had more role models who balance work and family life. However, Sandberg says, "Searching for a mentor has become the professional equivalent of waiting for Prince Charming."
While Sandberg's book—part memoir, part social commentary—encourages women not to wait for the perfect mentor, that doesn't mean women don't need them. In fact, according to an article in the 2010 Harvard Business Review, women are less likely than males to have a sponsor (someone to advocate for them, more than a mentor) despite the fact that both women and men with a sponsor are more likely to ask for higher pay and to be satisfied with their rate of advancement.
Perhaps the solution is to create more mentors (or sponsors) for women in science. As a postdoc, Dupre is learning how to be an effective mentor herself. She has mentored three summer interns and two postbacs. "I like to think that I mentored them not just in terms of scientific research—how to perform experiments and analyses—but also in terms of their next steps," said Dupre. She has offered guidance on choosing a college major and applying to graduate school and has provided tips for a healthy work-life balance. "I do not believe that I mentor women versus men differently but rather adapt my mentoring style based on the individual," said Dupre.
Walters boasts of how much these students appreciated working with Dupre and how they have gone on to accomplish major achievements: Two were selected to give talks at an NINDS awards ceremony; one of those, who is a junior in high school, is skipping her senior year to go to Harvard and is listed as one of the Forbes list of "30 Under 30."
"It helps when you have good students," says Dupre, who gave Walters credit for being the one who selected them for the lab.
Walters shared some advice on mentoring: When picking students, look for enthusiasm, motivation, and interest in what the lab is doing. For new mentors like Dupre, Walters advises, "Go with what students are interested in and curious about and build on their background."
For all students (both men and women) looking for a good mentor, Walters advises talking to other people in the lab to get an idea of the mentoring environment. Look for someone with a reputation for being available and supportive, but who also loves his or her research and is working on a question that intrigues you.
And, to women in science, she recommended, "Keep your foot in the door of something that gives you intellectual capital"—wealth in the form of knowledge. "It's great to be an expert." With her own sons grown (two are musicians and the third a tenure-track scientist at a university), Walters is grateful to have her science and her students to keep her busy and rewarded. "I just feel lucky," she said. "I love what I do!"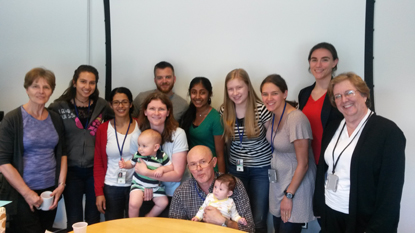 "Men certainly have challenges balancing a family and a career, but these challenges are different and less demanding, simply based on biology," said Dupre, who has a one-year old son. Women go through the physical and emotional changes of pregnancy, followed by labor and delivery, which requires healing time. Adjusting to life with a newborn is difficult for both women and men, but if women choose to breastfeed, they face the additional challenge of finding the time and place to pump breast milk at work. Although NIH has a supportive Nursing Mother's Program, Dupre finds "it is utterly exhausting trying to care for your baby and work full time."
Walters believes that parenting has had a big influence on her own mentoring style. "To me it's more of a natural extension of loving research and sharing it and wanting to see people developing their own interests and skill sets, finding their own strengths, and following their instincts," she said. Mentoring is "really just to encourage, support, and provide." This mentoring strategy has worked well for both the men and women in her lab. Because you can't expect everyone to be good at everything, you find what they are good at and recognize and encourage that as a mentor, said Walters.
---
The Fellows Committee (FelCom) Mentoring Subcommittee encourages postdoctoral fellows to take advantage of the rich mentoring culture at the NIH. For additional information on mentoring: The Office of Intramural Training and Education (https://www.training.nih.gov) offers seminars to help fellows become better mentees and mentors; the Fellows Committee Mentoring Subcommittee (https://www.training.nih.gov/felcom/mentoring)
This page was last updated on Tuesday, April 26, 2022