News Briefs
VARMUS STEPPING DOWN AS DIRECTOR OF NIH'S NATIONAL CANCER INSTITUTE
Harold Varmus, who has led the National Cancer Institute (NCI) for nearly five years, announced that he will step down from his post effective March 31, 2015.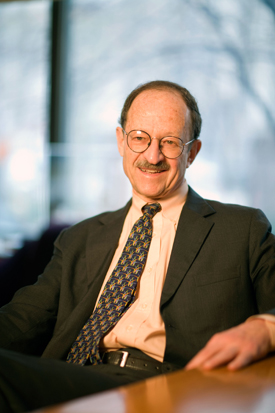 NCI Deputy Director Douglas Lowy will become acting director beginning April 1, 2015. Lowy, a long-time NCI intramural researcher, received the National Medal of Technology and Innovation from President Barack Obama in 2014 for his research that led to the development of the human papillomavirus vaccine.
In 1989, Varmus was co-recipient of the Prize in Physiology or Medicine for the "discovery of the cellular origin of retroviral oncogenes." From 1993 to 1999, he served as the director of NIH under President Bill Clinton. After leaving NIH and before returning to run NCI in 2010, Varmus served as president of Memorial Sloan-Kettering Cancer Center in New York.
Varmus has had a long-standing association with NIH, dating back to 1968–1970 when, as a young Public Health Service officer, he studied bacterial gene expression with Ira Pastan, who is currently chief of NCI's Laboratory of Molecular Biology.
Varmus will be returning to New York to establish a modestly sized research laboratory in the Meyer Cancer Center at the Weill-Cornell Medical College and serve as a senior advisor to the dean. In addition, he plans to assist the recently founded New York Genome Center as it develops its research and service functions and helps regional institutions introduce genomics into cancer care.
For more information, including Varmus'S letter to NCI staff, go to http://www.cancer.gov/aboutnci/director/messages/harold-varmus-resignation.
---
PRECISION MEDICINE INITIATIVE
"I want the country that eliminated polio and mapped the human genome to lead a new era of medicine—one that delivers the right treatment at the right time," said President Obama in his State of the Union Address on January 20, 2015. "Tonight, I'm launching a new Precision Medicine Initiative to bring us closer to curing diseases [such as] cancer and diabetes—and to give all of us access to the personalized information we need to keep ourselves and our families healthier."
"Precision medicine" means much the same thing as personalized medicine: treatments chosen for each person based on their unique genetic makeup and possibly also on the traits of their disease. It is the opposite of the "one size fits all" treatment approach used for many conditions today.
Advances in basic research, including molecular biology, genomics, and bioinformatics, have made such an approach possible. The immediate focus of the Precision Medicine Initiative is on cancers, and the long-term goal is to put the initiative into practice on a larger scale.
The President's 2016 budget will dedicate $215 million to the NIH, together with the Food and Drug Administration (FDA) and the Office of the National Coordinator for Health Information Technology (ONC), to support this effort including:
$130 million to NIH for the development of a voluntary national research cohort of a million or more volunteers to set the foundation for a new way of doing research through engaged participants and open, responsible data sharing;
$70 million to the NCI to scale up efforts to identify genomic drivers in cancer and apply that knowledge in the development of more-effective approaches to cancer treatment;
$10 million to the FDA to acquire additional expertise and advance the development of high-quality, curated databases to support the regulatory structure needed to advance innovation in precision medicine and protect public health;
$5 million to ONC to support the development of interoperability standards and requirements that address privacy issues and enable secure exchange of data across systems.
"The promise of precision medicine [means] delivering the right treatments at the right time, every time, to the right person," said Obama on January 30 in announcing details of the initiative. "The time is right to unleash a new wave of advancements just [as] we did with genetics 25 years ago."
For more information, go to http://www.nih.gov/precisionmedicine/.
This page was last updated on Tuesday, April 26, 2022