NIH Town Hall Meeting with HHS Secretary Sylvia Burwell
On January 28, 2015, Health and Human Services Secretary Sylvia Burwell spent a few hours at NIH for whirlwind tours of labs and clinics, for meetings with several NIH scientific leaders to get research updates, and as the guest of honor at a town hall meeting in Masur Auditorium (Building 10).
At the town hall meeting, NIH Director Francis Collins praised Secretary Burwell for her "consistent and effective" support of the "scientific innovation at the NIH" which is essential for the health and economy of the United States.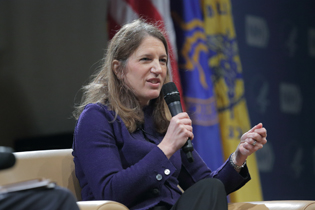 Burwell, who spent 10 years in the field of philanthropy—first at the Bill and Melinda Gates Foundation and then at the Walmart Foundation—is a former director of the Office of Management and Budget (2013–2014). She described the mission of HHS as making sure that "people have the building blocks of healthy and productive lives." She acknowledged NIH's importance as an "anchor" in accomplishing this mission. NIH has played a pivotal role in the BRAIN initiative; and the development of the Ebola and universal flu vaccines.
After Burwell's brief remarks, Collins moderated a question-and-answer session. The questions had been submitted electronically beforehand.
What are three of your greatest challenges as HHS Secretary?
Negotiating the "unpredictable incoming" of unforeseen crises such as the 57,000 unaccompanied children who crossed the U.S. borders and whose wellbeing became HHS's responsibility and the Ebola outbreak in West Africa that emerged as a major public health concern.
"Shortness of time" [because] there is always a great sense of urgency, which is why setting priorities and staying focused are so important.
"Lack of proximity to substance…[I]t's important to [allow] the American people to know what the substantive debate is."
What role do you see for global health in the HHS agenda as we go forward?
The role of HHS in global health with issues [such as] Ebola is going to be at the front and center. Partnerships with agencies like USAID, FDA, CDC, and NIH are very important in understanding the problems and coming up with possible solutions by recognizing what we are good at. On Ebola, we have an incredibly important role to play.
What do you think are the prospects for NIH to grow and thrive in the current political and economic climate?
NIH's prospects are better than most. At the bipartisan breakfasts I hold, there is always general agreement about the important role that NIH plays in scientific and medical research.
How do you manage an incredibly intense job with two children?
I'm blessed with a supportive husband. It's essential that you set clear priorities and goals and communicate them; that is [how] you can be most efficient and effective. It's also important to draw lines and not feel embarrassed. I try to have dinner with my family as often as possible; I make it to all parent-teacher meetings and birthdays. I also work in the early morning and late evening.
Does the president love us?
The president believes in our nation's innovation in science as critical for our economy, and the health and welfare of our people. For example, precision medicine is one of his priorities. Secondly, he is very interested in the quality management of government. Making sure that we as the caretakers of the taxpayers' money are doing that well is something he is personally invested in.
---
To watch a video of the town hall meeting, go to http://1.usa.gov/1GkXvM4.
This page was last updated on Tuesday, April 26, 2022