The Training Page
FROM THE OFFICE OF INTRAMURAL TRAINING AND EDUCATION
The NIH Graduate and Professional School Fair
"We care deeply about the next generation of scientists and health-care providers and people working at the interfaces of various disciplines," said Sharon Milgram, director of NIH's Office of Intramural Training and Education (OITE), during her opening remarks at the seventh annual NIH Graduate and Professional School Fair.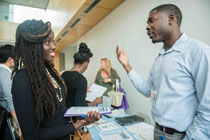 The fair, held in July at the Natcher Conference Center (Building 45), aimed to guide that next generation as its members explored their choices in health-care careers. This year's event showcased graduate, medical, public-health, psychology, and dental programs at 122 colleges and universities, and it featured networking mixers and workshops on getting into different programs, interviewing, and career options. New this year were sessions on diversity that explored issues and opportunities for students of color, LGBT (lesbian, gay, bisexual, and transgender) students, disabled students, and parents and/or caregivers.
The fair attracted NIH postbacs and summer interns as well as local college students. Among the more than 1,100 participants were NIH Academy postbac Johnetta Saygbe (NHLBI) and summer interns Felix Contreras (NINDS) and Brendan Marden (NIDDK), who were part of the NIH Community College Summer Enrichment Program.
Saygbe, who graduated from George Mason University (Fairfax, Virginia) with a B.S. in neuroscience, wanted to learn about M.D.-M.P.H. programs. She enjoyed networking with representatives from medical and public-health schools, gaining insights into career opportunities, and attending the workshop on getting into medical school.
She learned about the difference between traditional (allopathic) and osteopathic medical schools. The curricula of both schools are similar, but osteopathic schools emphasize a holistic approach to medicine based on the belief of treating the whole patient (mind-body-spirit) and trains students to use their hands to diagnose, treat, and prevent illness. "I loved the description of the hand as being another 'modality for diagnoses,'" Saygbe said. The workshop "challenged me to consider innovative diagnostic modalities that could revolutionize medicine." She was also surprised to learn that some medical schools invite all applicants to submit secondary applications, which supplement primary applications, while other schools request secondaries from only a subset of applicants.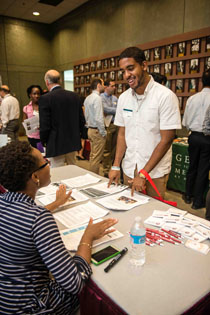 Contreras and Marden, on the other hand, were less certain of their career goals. Contreras, who is a junior at Atlantic Cape Community College (Mays Landing, New Jersey) and majoring in neuroscience, is interested in science and health care. Marden, who is a junior at Emmanuel College (Boston) and majoring in biology, wants to help Native Americans in some way. Both viewed the fair as an opportunity to learn about what institutions look for in applicants, obtain recruiters' advice on applying to particular schools, and meet people from diverse backgrounds who have gone through the process of applying to graduate school. Indeed, they concluded the fair was very informative and introduced them to new programs and nontraditional tracks.
"We knew neuroscience programs existed but [not] about getting your neuroscience degree and a master's at the same time," said Marden, referring to the concurrent Ph.D. in biomedical sciences/M.B.A. program offered by Pennsylvania State University (University Park, Pennsylvania).
"The fair helped me think outside the box," added Contreras, who, like many students on the M.D. track, believed that private practice was the only career option. The fair, however, helped him realize that he could prepare for a career treating patients and doing research.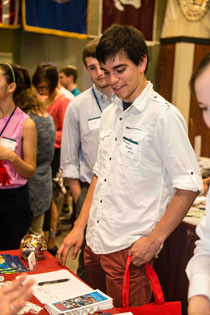 Contreras and Marden also enjoyed the new diversity sessions. "I really liked hearing the stories, people explaining where they came from and how they got" to where they are now, said Marden. "It is possible for each and every single one of us to get [to wherever we want] as long as we work hard for it."
In the session for students of color, participants discussed the advantages and challenges that come with desiring to attend graduate or medical school. Some attendees said that their main challenge was being the first generation in their families to pursue higher education; others commented on the many resources available to guide students through the process.
The Graduate and Professional School Fair is only one of OITE's many career- and professional-development services and events. To learn more, visit https://www.training.nih.gov.
This page was last updated on Tuesday, April 26, 2022