In Her Image
Sandhya Panch Named First Sloand Fellow
A talented clinician and clinical investigator in the National Heart, Lung, and Blood Institute (NHLBI), the late Elaine Sloand had a rare skill set that combined hematology with transfusion medicine and blood banking. Physicians rarely get that kind of dual training, but a new NIH fellowship program, named in Sloand's honor, provides comprehensive training in the two fields.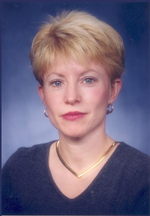 Known for her compassionate and exuberant personality, Sloand affected many lives before her sudden death in December 2010. Her complementary training in the clinic and the lab enabled her to address a variety of issues that bridged patient care and laboratory procedures, ensure the safety of the blood supply during the AIDS epidemic in the 1980s, investigate post-transfusion human immunodeficiency virus activation, and discover interactions between antifungal medications and platelets. Her work also laid the groundwork for advances in individualized treatment of patients with myelodysplastic syndromes, a heterogeneous group of bone-marrow disorders.
"Her loss was not just a loss for our department, but it was a loss for the entire NIH intramural program," said Harvey Klein, chief of the Clinical Center's (CC's) Department of Transfusion Medicine. According to Klein, Sloand was the "poster child" for the assets of dual training in hematology and transfusion medicine.
Yet, it's rare for people to have the kind of dual training that Sloand had. At NIH as well as at other U.S. teaching hospitals, physicians would have to do two completely separate fellowships: a two-year hematology fellowship and a one-to-two-year transfusion medicine fellowship. Moreover, traditional hematology fellowships tend to emphasize blood cancers and give short shrift to the study of bone-marrow disorders and "benign" hematologic diseases such as anemias, clotting disorders, and sickle-cell disease. And few transfusion-medicine fellowships provide comprehensive training in the benign disorders even though the treatment for many of them may require transfusions of blood or blood products.
Recognizing the value and need for more clinicians with the kind of comprehensive training that Sloand had, NHLBI Hematology Fellowship Program Director Charles Bolan helped initiate a new three-year program—The Elaine M. Sloand Combined Fellowship Program in Hematology and Transfusion Medicine—which was supported by the Hematology Branch and NHLBI leadership and unanimously approved by the NIH Graduate Medical Education Committee in 2011.
The first fellow in the Sloand program, Sandhya Panch, is in some ways the opposite of Sloand—soft-spoken where Sloand was described as "flamboyant." But Panch embodies Sloand's spirit in her clinical acumen and caring practice. Bolan recruited Panch to the program because he recognized her potential as an outstanding physician with a drive to pursue clinically relevant questions and contribute to the future of patient care. Panch has excelled in this distinctive training opportunity, he said.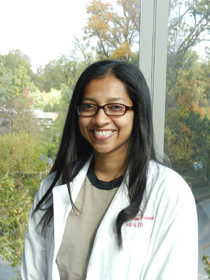 She spent the first year of the fellowship in the Department of Transfusion Medicine where she worked with Susan Leitman, the recently retired chief of the Blood Services Department. Panch helped identify factors in healthy donors that improved progenitor-cell mobilization for transplantation and in patients with severe combined immunodeficiency and chronic granulomatous disease, two life-threatening immune disorders. In 2013 and again in 2014, she received the American Association of Blood Banks Fenwal Award—the top fellowship achievement award in transfusion medicine and blood banking—for this work and other stem-cell characterization studies (Transfusion DOI:10.1111/trf.12854; Transfusion DOI:10.1111/trf.12830). She and Leitman are currently working on another article for the high-impact journal Blood.
Panch's second year was spent doing a clinical hematology clinical rotation, which involves caring for patients who are undergoing stem-cell transplantation and receiving drug therapies for leukemia and other bone-marrow malignancies. She also provides consultative hematology care. Now in the third year of her combined fellowship, Panch is conducting research in Cynthia Dunbar's lab, in NHLBI, on stem-cell mobilization and expansion using a non-human primate model.
"Her formal training in blood banking/transfusion medicine will give her a useful perspective about the practicality of new laboratory cell-processing protocols for clinical use in patients," said Dunbar. This ability to bring practical insight to new therapies in hematologic disorders was a distinctive attribute of Sloand's career, and this fellowship expedites that path for a new generation of physician-scientists, like the rising star Sandhya Panch.
---
Other reflections on Elaine Sloand
"She was absolutely devoted to her patients and the medical research to help improve their care" said Susan Leitman, retired chief of the Blood Services Department in the CC's Department of Transfusion Medicine. Leitman recalls the moving memorial service that filled Masur Auditorium with branch chiefs, directors, nurses, colleagues, and patients alike, all of whose lives were touched by Sloand.
Research nurse Barbara Weinstein (NHLBI) recalled how approachable and tireless Sloand was as a mentor to fellows, postbacs, other research nurses, and (as a physician) to patients. "She loved to teach," said Weinstein. "Even when she was quite busy she always took the time to answer questions, to allay [patient] fears…or just listened." She was both skilled and empathetic in her work with patients, knowing first-hand what it was like having a close family member suffering from a serious health condition. She had cared for her husband, who had passed away the month before her after a long illness.
This page was last updated on Tuesday, April 26, 2022