Celebrating the Career and Legacy of William Coleman
Established Research Program in Minority Health
William G. Coleman Jr., a distinguished researcher at NIH for 40 years, died of cancer on August 18, 2014, at age 72. He became the first permanent African-American scientific director in the history of the NIH Intramural Research Program (IRP) when he was appointed to direct the National Institute on Minority Health and Health Disparities' (NIMHD's) intramural research program in January 2011.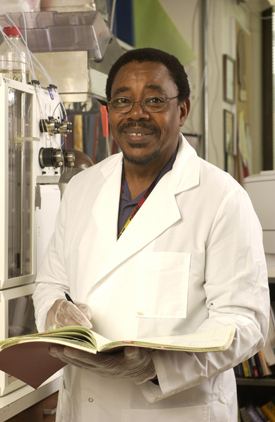 Over the course of his career, Coleman made seminal contributions to the elucidation of lipopolysaccharide biosynthesis, intrinsic gram-negative bacteria antibiotic resistance, and the pathogenic mechanisms and innate and adaptive immune response of Helicobacter pylori. H. pylori, a type of bacteria that causes infection in the stomach, is associated with gastritis, ulcers, and gastric cancers. These infections affect millions of Americans and are more common among Mexican-Americans and non-Hispanic blacks than in non-Hispanic whites.
Coleman continued research on understanding the mechanisms of bacterial pathogenesis, specifically in relation to ulcer disease and other bacterial infections, while serving simultaneously as the scientific director at NIMHD and a senior investigator in the Laboratory of Biochemistry and Genetics in the National Institute of Diabetes and Digestive and Kidney Diseases (NIDDK). Coleman also fostered collaborations with the National Cancer Institute, the National Institute of Allergy and Infectious Diseases, Georgetown University Medical Center (Washington, D.C.), Saint Louis University School of Medicine (St. Louis), and other organizations.
"A longtime colleague and member of our institute family, Dr. Coleman's groundbreaking research has played a valuable role in clarifying fundamental mechanisms associated with H. pylori infection," said NIDDK Director Griffin Rodgers. "His legacy will endure as we learn more about peptic ulcer disease, gastric cancer, and other serious conditions associated with host-defense mechanisms and inflammation."
NIAID Scientific Director Kathryn Zoon echoed his sentiment. "Dr. Coleman was committed to establishing an outstanding research program in minority health," she said. "His energy and enthusiasm to do so was admired by his colleagues."
"Dr. Coleman pursued his important research with great passion and enthusiasm," said NIMHD Acting Director Yvonne Maddox. "He also valued mentorship and dedicated himself to training future scientists to create a more diverse workforce."
As NIMHD's scientific director, Coleman's priorities were to develop mentorship programs, which he felt were critical for a diverse workforce, and to foster collaborations within the IRP to further NIMHD's research on the factors that cause health disparities in underserved communities.
Under Coleman's leadership, NIMHD's intramural program focused on three scientific research areas for which there are significant health disparities: cancer, cardiovascular disease, and diabetes. "The idea that certain gaps exist in outcomes, disease frequency, and severity for particular groups made Bill determined to focus on improving disease outcomes, which he felt would benefit the health of all people," said NIMHD Acting Deputy Scientific Director Kevin Gardner. "He realized that molecular, biological, clinical, medical, environmental, and lifestyle factors all converge to help explain health disparities, and that we needed to figure out how they converge and how to tackle them. He also saw the synthesis of these approaches and disciplines as a major conduit to attract diverse investigators."
Coleman oversaw the NIMHD's Disparities Research and Education Advancing our Mission (DREAM) Program, which was established in 2009 to facilitate the preparation and transition of new investigators to become independent researchers. And, for more than 20 years, he mentored dozens of postdoctoral trainees, college students, and high-school students in his laboratory.
"Bill mentored three generations of scientists and physicians, inspiring each to reach beyond their grasp and approach their experience at NIH with a true sense of endless possibilities," said Gardner. "His passion for outreach and ability to embrace diversity undoubtedly played a significant role in shaping his vision for the mission of NIMHD."
Many of those trainees have gone on to become successful researchers, physicians, and educators.
"Dr. Coleman was a great mentor and an excellent boss," said Lishi Chen, a former postdoc in Coleman's lab who left NIH in 1996 and became a researcher at Memorial Sloan Kettering Cancer Center in New York. "He introduced me to the research of molecular biology and taught me a lot of advanced techniques and laboratory methods. I am grateful for his efforts, which were very helpful to my career." Chen and Coleman stayed friends and communicated often over the past 18 years.
Coleman, who received a Ph.D. degree in microbiology and molecular genetics from Purdue University (West Lafayette, Indiana), came to NIH in 1974 for postdoctoral training in NIDDK's Laboratory of Biochemical Pharmacology, and in 1978, he became a tenured research microbiologist. He received numerous awards for his work, and for more than a decade, he taught several graduate courses at Howard University (Washington, D.C.).
Coleman is survived by his wife of 40 years, Belinda Seto, deputy director at the National Eye Institute, and his three daughters Melissa, Alicia, and Natasha.
This page was last updated on Tuesday, April 26, 2022