The Relevance of Yeast Genetics to Cancer
Geneticist David Botstein Describes Evolution at Work
Understanding the molecular genetics of yeast evolution provides plenty of insights into cancer biology. So says renowned geneticist David Botstein, who presented the second annual Marshall W. Nirenberg Lecture at NIH on January 4.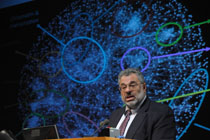 Botstein, the director of Princeton University's Lewis-Sigler Institute for Integrative Genomics (Princeton, N.J.), was an undergraduate at Harvard University (Cambridge, Mass.) when he heard Nirenberg give a talk in 1962. Nirenberg went on to win the Nobel prize in 1968 for helping to break the genetic code. Botstein described how listening to Nirenberg was a transformative experience, affirming his decision to become a geneticist. In 1980, Botstein and three colleagues published a landmark paper that proposed a method for mapping human genes and set the stage for the Human Genome Project.
In his lecture, entitled "Evolution and Cancer," Botstein discussed parallels between yeast biology and human cancer. His laboratory examines how constraints, such as limiting nutrients, affect the yeast Saccharomyces cerevisiae. He found that withholding certain nutrients leads to "fitter" variant strains that are better able to survive without those nutrients. He demonstrated that yeast adapt to limitations in glucose, nitrogen, sulfate, or phosphate in only a few ways, suggesting that yeast regulatory networks use a limited number of altered gene expression routes to improve fitness.
"There are striking similarities between genetic events and the fitness trajectories we see in experimental events in yeast and cancer," he said. For example, breast cancer cells that develop into malignant tumors have acquired mutations that make them lethal through only a limited number of gene expression pathways. This process is analogous to how yeast strains that survive under a constraint develop fitness via only a handful of gene expression pathways.
Botstein is also interested in distinguishing driver mutations from passenger mutations in cancer cells. Driver mutations are those that contribute to cancer development and allow cells to grow and divide more rapidly, whereas passenger mutations do not contribute to cell growth or cancer.
He watched evolution at work as he gathered data from 600 yeast cultures that were put through more than a thousand generations of growth. His lab produced sterile yeast cells that have driver mutations. The researchers then examined sterile versus non-sterile mutants by comparing the DNA nucleotide sequences of each mutant type.
This analysis, said Botstein, mirrored the comparison of driver and passenger mutations in human cancer. He found that sterile yeast cells with passenger mutations in the gene ERG1, which is involved in cholesterol biosynthesis, were fitter than non-sterile yeast cells with passenger mutations in the genes ELO1 and GAS1, which are involved in fatty acid elongation and chromatin silencing, respectively.
Botstein also emphasized the importance of basic science. "Basic scientists do what we do in the pursuit of understanding," he said. "It's not that we don't care [about patients], it's we can't predict—nobody can—the solution to most problems until more is understood. And understanding is what we do."
He urged NIH to understand that "there has to be a balance between basic science, which gives you understanding, and something that will cure Mrs. Jones's cancer tomorrow," he said. "If we starve basic science, there will be nothing left."
NIH Director Francis Collins thanked Botstein for "presenting an eloquent basic science lecture [and] also pointing out its translational significance." He added that NIH "would embrace heartily your arguments about the critical nature of supporting basic science."
Marshall W. Nirenberg, Nobel prize–winning biochemist and geneticist, served the NIH community for 48 years as head of the Section of Biochemical Genetics at NHLBI. The Marshall Nirenberg Lecture Series honors this distinguished researcher and others who have made significant contributions to the study of genomics. To watch a video of this lecture and others in the Wednesday Afternoon Lecture Series, go to https://videocast.nih.gov/PastEvents.asp?c=3.
This page was last updated on Monday, May 2, 2022