Hidden Treasures at NLM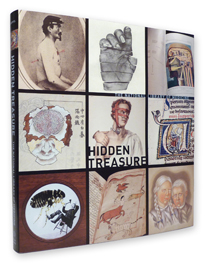 NIH's National Library of Medicine (NLM) has compiled a remarkably illustrated book edited by Michael Sappol, Hidden Treasure, which features rare, beautiful, idiosyncratic, and surprising works in the collection of the world's largest medical library. NLM selected extraordinary pieces largely unseen by the public from more than 17 million items dating from the eleventh century to the present. Each photograph of an object is accompanied by a brief, explanatory essay.
Among the treasures featured are charming hand-painted glass "magic lantern slides," which doctors used to entertain and help cure inmates at St. Elizabeth's Hospital for the Insane (in the 1800s in Washington, D.C.), to surreal views of mechanically sliced cadavers in the photographic anatomical atlas of France's notorious surgeon Eugène-Louis Doyen. Overall, the book encompasses a staggering variety of objects from around the world and seven centuries. The official publication date is in April, but you can place orders through all major online booksellers now.
This page was last updated on Monday, May 2, 2022