Research Briefs
NIAMS: "BUBBLEGRAM IMAGING" OF VIRUSES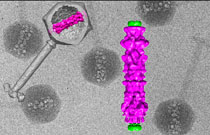 Cryo-electron microscopy (cryo-EM) can image very small particles, but because of its radiation it doesn't image viruses very well. If the radiation dose is too low, it is not possible to see inside the virus; if it's too high, it damages the organism, destroying the very structures scientists want to see. But NIAMS researchers with colleagues from University of Maryland Medical School (Baltimore) developed a method they call "bubblegram imaging" that turns the problem into a solution.
Using low doses of radiation, they image the outer surface of a virus, and using high doses, they view the inner structure, which appears as "a cylinder of bubbles." They then superimpose low-dose and high-dose radiation images to get a clear visualization of the complete viral structure. Future applications for bubblegram imaging may include visualizing the differences between cancer and noncancer cells. (NIAMS authors: W. Wu, N. Cheng, and A.C. Steven; Science 335:182, 2012)
---
NICHD, NIDCD, NIMH: HIV-EXPOSED CHILDREN AT RISK OF LANGUAGE DELAY
Children exposed to the human immunodeficiency virus (HIV) before birth are at risk for language impairments, according to a study conducted by NIH researchers and collaborators from other institutions. The exposed children were twice as likely to have a language impairment as children in the general population. The 468 children in the study were 7 to 16 years old; 306 were HIV-infected; 162 were exposed to HIV during pregnancy but did not become HIV-infected. The researchers found that 35 percent of the participants had difficulty understanding spoken words and struggled to express themselves verbally. Future studies will determine whether the findings can be attributed to HIV exposure or to other unidentified factors, such as family status, maternal substance use, environment, or social or economic background. (NIH authors: G.K. Siberry, H.J. Hoffman, S.M. Allison; J Dev Behav Pediatr 33:112–123, 2012)
---
NIAID, NHGRI: RESEARCHERS FIND CAUSE OF RARE IMMUNE DISEASE
NIH researchers and their collaborators have identified a genetic mutation that causes a rare immune disorder called "PLAID" (for PLCG2-associated antibody deficiency and immune dysregulation). The study included 27 people, from three unrelated families, who all suffered from an inherited form of cold urticaria, an allergic disease characterized by the formation of itchy, sometimes painful hives, fainting, and, in certain cases, life-threatening reactions in response to cold temperatures. The mutation causes the enzyme PLCG2 to function without shutting off. Inhibiting PLCG activity could be a therapeutic strategy to treat people with PLAID and other PLCG2-mutation disorders. (NIH authors: M. Ombrello, E.F. Remmers, I. Askentijevich, D.L. Kastner; G. Sun, S. Datta, H. Komarow, G. Cruse, M.-Y. Jung, A.M. Gilfillan, D.D. Metcalfe, C. Nelson, M. O'Brien, L. Wisch, K. Stone, J.D. Milner, A.F. Freeman, S.M. Holland, P. Torabi-Parizi, N. Subramanian, H.S. Kim, E.O. Long, J. Ho, S. Moir, D.C. Douek; N Engl J Med 366:330–338, 2012
---
NHLBI: HOW THE RED WINE CHEMICAL RESVERATROL MIGHT WORK
Resveratrol, a chemical found in the skin of red grapes and other plants, may confer health benefits, including prevention of diet-induced obesity, improved glucose tolerance, and increased physical endurance. But it's not clear how it works. NIH researchers and outside colleagues found that resveratrol inhibits phosphodiesterase (PDE) proteins, enzymes that help to regulate cell energy. Previous studies suggested that resveratrol directly activates sirtuin 1, a protein associated with aging. The researchers traced the metabolic activity in cells treated with resveratrol and identified PDE4, not sirtuin 1, as the primary target for the benefits of resveratrol. When PDE4 is inhibited by resveratrol, it triggers a series of events, one of which indirectly activates sirtuin 1. Further studies are needed to determine all of resveratrol's protein interactions. (NHLBI authors: S.-J. Park, F. Ahmad, A.L. Brown, M.K. Kim, M.A. Beaven, V. Manganiello, J.H. Chung; Cell 148:421–433, 2012)
---
NIMH, NIDA: TRACKING DNA METHYLATION SHEDS LIGHT ON BRAIN DISORDERS
For the first time, scientists have tracked the activity, across the lifespan, of an environmentally responsive regulatory mechanism that turns genes on and off in the prefrontal cortex (PFC). NIH researchers and others tracked DNA methylation, which is known to affect gene activity and is influenced by environmental factors. Using postmortem brains of non–psychiatrically impaired individuals ages two weeks to 80 years old, the researchers examined methylation at 27,000 sites within PFC genes. Genes implicated in schizophrenia and autism DNA methylation abruptly switched from off to on during the critical transition from fetal to postnatal life.
The investigators suggest brain disorders may be traceable to altered methylation of genes early in life and observed that the overall amount of PFC methylation is low prenatally, when gene expression is highest, but increases as gene expression plummets in early childhood. It then levels off as we grow older. (NIH Authors: S. Numata, T. Ye, T.M. Hyde, X. Guitart-Navarro, R. Tao, M. Wininger, C. Colantuoni, D. Weinberger, J. Kleinman, B. Lipska; Amer J Hum Genet 90:260–272, 2012)
This page was last updated on Monday, May 2, 2022