Ruth Kirschstein Featured in E-Biography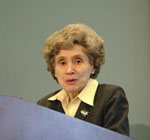 Always There: The Remarkable Life of Ruth Lillian Kirschstein, M.D., by Alison F. Davis tells the story of a rare woman who was a medical scientist, classical pianist, physician, art lover, humanitarian, and research administrator. Kirschstein, who died in October 2009 at the age of 83, dedicated her career at NIH to public health.
As a researcher, she led the development of safety tests for the vaccines for polio, measles, and rubella. While serving as the first female director of an NIH institute (NIGMS), she launched a structural biology program that contributed significantly to the development of human immunodeficiency virus antiretroviral drugs. She was also acting director of NIH twice (in 1993 and from 2000 to 2002) and deputy director for six years.
The biography commemorates her life, personally and professionally, and the many roles she served as wife, mother, scientist, administrator, advisor, and mentor.
The biography is available for download, free, in several digital formats, including for Kindle, Nook, and iPad at http://www.nih.gov/about/kirschstein/index.htm.
To hear a NIH Radio podcast interview with author Davis, go to http://www.nih.gov/news/radio/podcast/2012/archiveindex.htm and click on episode 1053 (February 24, 2012).
This page was last updated on Monday, May 2, 2022