Remembrances: Theodor Kolobow (1931-2018)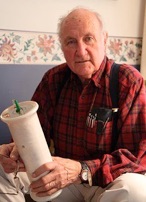 Theodor Kolobow, M.D., passed away on March 24, 2018. He was 87 years old. His contributions while at the NHLBI to the field of cardiovascular and pulmonary research fall nothing short of extraordinary, and include advancements in the development of artificial organs, and the pathophysiology of acute lung injury. Over the course of his career he was actively involved in the innovation and development of new dialysis machines, cuffless endotracheal tubes, and devices to prop open right-sided heart valves, thereby preventing left heart distention during percutaneous cardiopulmonary bypass. He designed special low-resistance endotracheal tubes to limit the necessary ventilatory pressure, in addition to endotracheal tubes that would help to limit bacterial colonization and methods for preventing ventilator associated pneumonias.
Kolobow was born in 1931 in the small island village of Kardla, Estonia. He obtained his Bachelor of Science in 1954 from Heidelberg University (then Heidelberg College) in Tiffin, Ohio, graduating second in his class. Thereafter, he began medical school at Case Western Reserve University in Cleveland, where he started to develop his ideas for a thin-walled membrane spiral lung. It was during this time when Dr. Kolobow met Dr. George H. A. Clowes, a cardiothoracic surgeon who was working on new methods for oxygenation of blood in cardiopulmonary bypasses, specifically examining plastic membranes that would permit successful gas exchange. Dr. Kolobow's partnership with Dr. Clowes' led to several publications throughout his medical education until he accepted a position as staff associate in the Laboratory of Technical Development at the National Heart and Lung Institute in 1962, soon to be promoted to Section Chief of Pulmonary and Cardiac Assist Devices.
As relayed in his death notice in the Washington Post, "While at the NIH, Dr. Kolobow demonstrated that extracorporeal blood pumping with a membrane lung was sustainable for days to weeks. The membrane lung's ability to support prolonged gas exchange without protein denaturation or hemolysis allowed for the transition of cardiopulmonary bypass out of the operating room, helping to set the stage for the implementation of his clinical Extracorporeal Membrane Oxygenation (ECMO)," a unique and phenomenal example of bench to bedside research that drives the work at the NIH. Dr. Kolobow's oxygenator has been one of the fundamental instruments used on patients being treated with ECMO for heart or lung failure. Kolobow's accomplishments in this area are featured in the exhibit in the South Lobby of the NIH Clinical Center, "Innovation and Invention: NIH and Prosthetic Heart Valves."
Kolobow is survived by his wife of 54 years, Danielle (Gigi) of Rockville, his seven children, ten grandchildren and one great-grandchild.
Text contributed by Dr. Bob Balaban, Scientific Director of the NIH National Heart, Lung, and Blood Institute's Division of Intramural Research.
---
Related Blog Posts
This page was last updated on Tuesday, May 3, 2022