Presidential NIH Visits: John F. Kennedy, 1962
Before coming to the NIH's National Institute of Arthritis and Musculoskeletal and Skin Diseases (NIAMS), Dr. Joe Hin Tjio (pronounced CHEE-o) discovered how many chromosomes humans have. Building on techniques for separating chromosomes on glass slides that had been pioneered by T.C. Hsu at the University of Texas in Galveston, Tjio introduced improvements that yielded startling results. On Dec. 22, 1955, he could count quite clearly in human embryonic lung tissue that there were 46 chromosomes, not 48, as had been science's best estimate in the preceding half century.
In the photo below, President John F. Kennedy presents Tjio with the International Prize Award of the Joseph P. Kennedy, Jr. Foundation for his research on intellectual disabilities on December 6, 1962.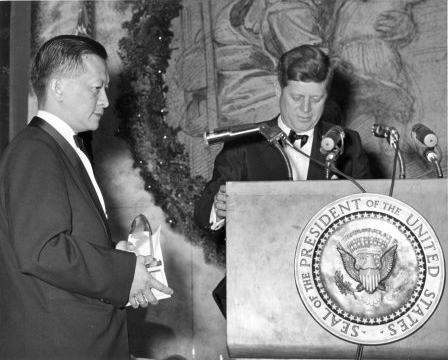 Like many visiting scientists of the time, Tjio and his wife Inga were invited to live on the NIH campus in Building 20. In 1959, the Tjios moved in, largely because "I wanted to remain within walking distance of my lab," he said. Inga added mischievously, "It was because my husband never drove a car!"
At the NIH IRP, Tjio built on the ramifications of his chromosome work, studying leukemia and intellectual disability. Ironically, his son suffered complications at birth and was affected by the latter condition. For many years his lab was in Building 10. Late in his career, his space was moved to Building 8, and in February 1992 Tjio retired with the status of scientist emeritus.
– Excerpted from the February 11, 1997 issue of The NIH Record. Read more about Tjio's life and work, from his imprisonment during World War II to studying plant breeding and cytogenetics in Europe, and being recruited by NIH's Dr. DeWitt Stetten, Jr., to the Laboratory of Experimental Pathology.
---
Related Blog Posts
This page was last updated on Wednesday, July 5, 2023